I. Maria—Pregnancy
Monday was a bad day. Four patients in the ICU ward where Maria worked died of COVID.
The patients had all been in the ICU for two to three weeks. Maria, a licensed clinical social worker, hadn't seen or spoken with them directly; they had been on respirators, tubes in their mouths, unable to communicate, but she wasn't allowed in the rooms with COVID patients anyway. She provided support to their families, facilitating end-of-life discussions in Spanish and preparing them for difficult news.
When she'd met with the families, they had been more concerned for Maria than themselves: "They saw my belly and were shocked." No one expects to see a six-month-pregnant woman working full-time in the ICU ward of a busy urban hospital during a global pandemic.
"They say, 'We were worried to come into the hospital, and here you are working here.' It's a weird position to be in, 'cause here I am, trying to provide support and help them process the information being told to them by the medical staff, and trying to help them through the grief process. And they're worried about me."
This happens more and more with Maria's patients. Worry over her developing baby serves as a temporary distraction from the loss of their loved ones—a chance to worry about new life in the face of a painful death. "A lot of the families tell me, 'We'll pray for you.' And it's like, 'Wait a minute, I'm supposed to be here to help you.'"
Maria has become accustomed to being the object of such anxiety. Her patients regularly fret over her. Other hospital staff express concern. Her friends and family send well-meaning texts with unsolicited advice and links to articles. "'You're putting yourself and your baby in danger,' they tell me."
Such interference is normal during pregnancy; just ask any woman who's tried to order coffee when she's showing. America's culture of pregnancy-related fear-mongering and body policing can cause prenatal anxiety under normal circumstances. COVID has served to magnify this. Many pregnant women are experiencing an increase in depression and anxiety under the pandemic as a result.
Maria hasn't been particularly worried about working in the ICU, though. Her years of work in hospitals have left her feeling prepared for a situation like COVID. "I've been trained to look at the research, and all of it says there's just not enough evidence. So really, I just have to protect myself like I would with the regular flu or any other contagious condition, like TB." She washes her hands, wears her mask, keeps her distance. She also feels supported by her supervisor, who doesn't require her to enter patients' rooms or do anything that makes her feel unsafe.
She found out she was pregnant in January. It wasn't planned and the father wasn't in the picture, but she decided to go through with it anyway. Her doctor began talking to her about COVID at her first prenatal appointment, even though there had been no documented cases in the US yet. He urged her to stop going in to work at the hospital.
Working from home wasn't an option for her position, though. Because she's preparing to become a single mother, quitting wasn't financially feasible either. Maria also had that particularly American quandary of wanting to save her sick days until the baby came. "If I use all my time off now, what will I do when the baby's here?"
Maria likes her job—she likes working face-to-face with families not different from her own, likes being a source of calm and support during a crisis, likes the distraction for the disappointment and loneliness of a COVID pregnancy. "What would I be doing otherwise? Just sitting at home."
A COVID pregnancy is riddled with small, subtle losses. For Maria, there's no prenatal yoga classes to go to. No big baby shower. No birthing classes and making friends with other moms-to-be. No friends touching her belly and remarking on how big it's gotten.
There are instead quiet mornings with her dog. There's a bag packed with snacks to fuel her through the long shifts at work. There are texts with other pregnant friends sharing resources. There are plans for a drive-thru baby shower. There are evenings watching movies with her parents with the subtitles on. There's a stillness and a waiting.
Her biggest fear is being separated from her baby at birth. Her hospital's policy is to quarantine any mother who tests positive for COVID for 14 days—and that includes being quarantined from her own baby. "I worked in the Labor & Delivery ward for a year and a half, and I saw the strain on moms whose babies would go to the NICU. So, it's a real fear. I get really emotional thinking about it."
There are other labor fears. She is planning for her mother to be her one allowed support person. "But my mom is in her sixties. I worry about exposing her while she's in the hospital." She also worries she won't be prepared for labor. In-person birthing classes have been canceled and the online ones don't have the interactive element. "I wonder, am I gonna be ready for the delivery? I haven't been able to prepare the way a mom normally would."
She's largely alone with these feelings. She lives by herself, so she makes a point to see her parents almost every day. "My pregnancy was a surprise, you know, and it's just me. As much as I wanna say I don't need those things—having people around, having a big baby shower—I do. I've felt very isolated. Friends who would normally come around haven't. It's out of concern for my safety, but I still wish I had that support. I wish I had all the pictures to show my daughter, 'This is what we were doing to prepare. This is how excited we were for you.'"
Instead there is Maria, in her mask. Work serves as a welcome distraction, a place where she can be useful to people in a time of need. "There's a lot of grief at the hospital right now. A lot of suffering goes on with COVID, and it's a very stressful situation." Her hospital serves largely immigrant populations, who've been deeply affected by both the pandemic and ensuing economic shutdown. "They come to this country with big hopes and dreams. And then COVID happens to them, and it all ends."
Maria's been crying more about her patients during this time, though it's hard to know whether it's the stress, grief, or pregnancy hormones. "Probably all three." She tends not to be an emotional person. Her role requires her to stay level-headed, and usually she's able to hold it all back. But after that Monday with four deaths, she couldn't take it—she went back to her co-worker's desk and broke down in tears.
"There's just so much pain right now."
She talks to a therapist once a week. And she talks to her baby, telling her how strong she's going to be, how excited she is to meet her, how strange the world is right now. "I keep telling myself, 'At the end of all this, I'm gonna have a beautiful baby girl.'"
It's a strange triangulation: work distracts from her pregnancy disappointments; pregnancy distracts from her work stress; and her pregnancy distracts her patients from the loss of their family members. It's a COVID-carved shape, with a sleeping fetus at its center.
That Friday, there's finally some good news. Two people with COVID leave the ICU. "Not many people get to leave. And even though I'll never see them again, it made me so happy. There's not much good news these days, so I try to focus on that."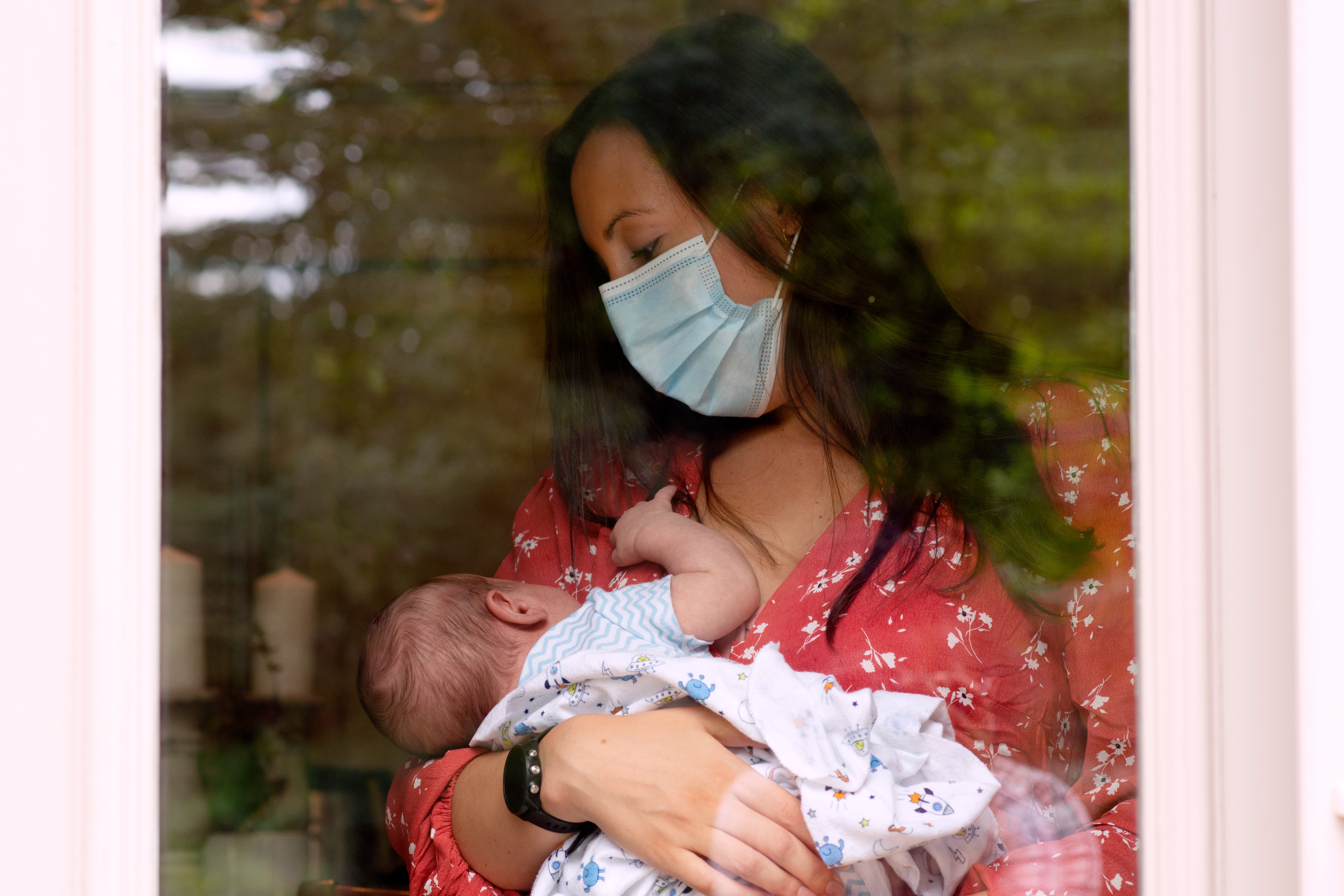 II. Kate—Labor
Kate first thought of going to Canada when they were in line at Costco.
It was early March and the line snaked the length of the airplane-hangar-sized store. Kate stood next to her husband Steven, her eight-month bump bulging.
She looked at the line, the mountains of toilet paper in everyone's carts, and felt an anxiety rise up her spine. She turned to Steven and asked, "Would it be crazy to go to Canada to give birth?"
"Yes," he answered.
After all, they had a birth plan: a hospital they liked, an OBGYN they trusted, a doula they'd paid for. They had a baby-proofed apartment and friends who'd promised to deliver lasagnas. Could they uproot everything to return to Kate's native country, where she hadn't lived in since high school, because of a fearful hunch? A crazy premonition about a pandemic sweeping New York City? "I had to admit, it sounded crazy."
But she couldn't ignore the mounting sense of dread. Kate had started to worry about COVID in December. Her job required her to follow the news closely. At first, it was a low-level, analytical worry. She read articles, amassed information, figured out what they needed to buy online. "It was like, 'Do diapers get made in China? Let's order 300 diapers, just in case.'" She felt like she was playing the stock market. "My mentality was, 'Let's just play it safe.'" She started buying living supplies as well, canned foods and toilet paper. Steven went along with it, indulging the pregnant lady.
By mid-February, the worry became a constant buzz. She began reading reports of people in the US who were displaying symptoms but were unable to get tested. "I realized it was here and no one knew."
Soon, she was only reading COVID stories.  The buzz got louder. "In early March, I realized, 'Oh, I can't leave the apartment anymore.'" She sent an email asking her boss to work from home. His initial response was dismissive; four hours later, he wrote back saying that the higher-ups wanted her to remain working from home. By the next week, the entire office was working from home.
Next was the run on toilet paper. "I felt like I kept being proven right." All the hunches she had, everything she kept doing "just in case"—it all was turning true.
"That's when I said, 'We need to go to Costco today.'" In line, the idea of driving home to Canada occurred to her.
Later that night, their apartment crammed with stockpiled baby supplies and canned food, Kate went online and ordered facemasks.
Steven watched her from the doorway. "Kate, I'm worried about you," he said. "I've never seen you like this."
"I had to ask myself, 'Am I going crazy? Is this all in my head?'" She wasn't an anxious person; her pregnancy prior to that point had been worry-free, relaxed, "like sitting in a warm bath." But this new anxiety kept getting louder. It was worse at night. She'd wake up to use the bathroom, check the news, then lie in bed in terror.
Outside her window, she watched her block change, the restaurants shutter, the soup kitchen close down, the sidewalks empty. She heard sirens all hours of the night; countless ambulances kept returning to the halfway house across the street to take away sick residents. Soon she couldn't even get groceries delivered.
Then at 37 weeks pregnant, she got her first symptoms.
First it was a sore throat. Then the chest pains began. When she called her doctor, she asked her to come in. Kate walked the 45 minutes across the deserted city, no one but the homeless on the streets. "It was eerie."
The doctor ran a slew of tests that all came back negative. The office didn't have any COVID tests so, based on the color of her phlegm, Kate was diagnosed with bronchitis. She was relieved, but couldn't shake the anxious feeling that stalked her. "I knew that we wouldn't be able to get care, even if we needed it. And we had insurance."
Later that week, she found out her husband wouldn't be able to accompany her in the hospital. She was devastated, livid. "I was doing everything I could to stay safe, and I just felt so powerless. New York is an amazing city, but New Yorkers don't listen to their government. America is a country founded on 'fuck this tyranny,' and that's not where you want to be during a pandemic."
Then, Cuomo held a press conference in which he shared the projected date of infection peak in New York City: April 8. The day after Kate's due date.
The fear was screaming now. She couldn't shake it, couldn't convince herself she was being crazy or paranoid. She kept thinking about the story of the frog that got boiled alive, the temperature of the water increasing so slowly, he never thought to jump out.
And all of a sudden, she knew.
Steven was taking a shower. She walked into the steaming bathroom. "We need to go to Canada now." It didn't feel like her speaking the words, but some other force.
Steven looked at her from the shower stall. "Okay," he said. "You've been right about everything else so far, so I trust you."
Everything fell into place. A co-worker lent them a car for several months. Her uncle found them a place to rent. Her cousin in New York took their cats.
They left at noon the next day, their car packed with all the baby supplies and canned goods Kate had amassed over the previous weeks. They made sandwiches and stopped only to use the bathroom. "We wore facemasks and everyone looked at us like we were crazy. But we were just a week ahead of everyone else."
It was a ten-hour drive to the border, and the whole time, well-meaning family members kept sending texts. The border was going to close at midnight. No, the border would be open, but the provincial border would close. Steven, who wasn't a Canadian citizen, wouldn't be able to get in. "We were driving through the countryside and didn't have internet, so I couldn't look any of it up." All they could do was drive and hope, while fear drummed in her veins.
They arrived at the border at 11 p.m. The officer didn't know what to do with them. "I have to call my supervisor and see if we can let you in." Kate sat on a hard wooden bench inside the border control office, 38 weeks pregnant, and surrendered to the fear. What if they didn't get let in?
When the officer told them they could enter the country, she started bawling.
All the terror and anxiety of the previous weeks sloughed off her. "I realized how scared I'd been. In New York, death felt closer than it ever had." Labor and delivery is already a time when one walks with death. Despite relatively recent modern advancements in maternal and newborn care, when labor approaches, one still feels the dark edges of mortality closing around themselves, and their baby. COVID and the American response only magnifies that primitive fear.
Driving through the Canadian night, Kate felt a weight lifting, death's shadow receding. Out of the window, she saw grass and trees, instead of abandoned city streets. It was a sharp contrast. Everything felt safer, the intersections and stoplights wrapped in the knowledge that she would be able to get the care she needed. "I was just so grateful we weren't going to die."
It turned out to be a good thing they'd brought so much canned food—they were required to quarantine for 14 days. They shut themselves inside the apartment her uncle had found and subsisted on tins of tuna fish and beans.
Given their exposure and her unconfirmed bronchitis, Kate's new OBGYN wanted to get her tested for COVID. "I was just so glad to be able to get tested." It was another stark contrast. In New York, the hospital where Kate had been scheduled to deliver had released photos showing nurses wearing garbage bags and bandanas. "I couldn't believe how much better the health care in Canada was. I always thought, 'Oh, I'm in New York, I have great insurance,' but it turned out it didn't matter."
The results came back the next day. Both Kate and her husband tested positive for COVID.
"I didn't have time to freak out." Kate was due in two weeks.The town she was in hadn't had a single case of COVID, let alone an infected pregnant woman about to give birth. As her husband's symptoms worsened, she began talking with the doctors every day, trying to figure out a plan. She felt like an imposition, an entitled New Yorker bringing the world's problems back to her hometown.
One day while Facetiming, the doctor started crying. "We're just so happy you're here. We know the journey you've been through, and we just want to help you and your baby."
"I feel like such an asshole for bringing COVID here and putting everyone through this," Kate said.
"You're doing what's best for your child," the doctor said, "and that's what every mother does."
Steven's case worsened as her due date drew near. Throughout all her fear, he had been her rock; now it was her turn. "We're so much safer here," she told him as his breathing became labored. "We can get care here, and the doctors know us." Their marriage had never felt stronger.
She was hoping that her baby would stay inside until after the 14-day quarantine elapsed and they were no longer contagious. The contractions began several days early, however. Kate would have to deliver without Steven.
"I was devastated. It was so hard saying goodbye and going into the hospital without him."
They tell you not to get too attached to any birthing plan, because labor is unpredictable. Kate had lots of ideas of how she wanted her birth to go: she had a doula booked, had taken hypnobirthing classes, wanted to go natural. Just a month prior, Steven's presence at the birth had been assumed, so much of a given she hadn't included it in her birth plan.
Kate didn't have any of those supports when she went into active labor. All she had was her notebook from the hypnobirthing class and the peanut ball she'd managed to bring. She directed the masked nurses, who'd never heard of hypnobirthing, on how to adjust the peanut ball, unsure if she was doing the positions correctly. "I just kept thinking, 'I have a husband at home with COVID who can't walk; I can't have a C-section.'"
She didn't have to. Her daughter was born at a healthy eight pounds, eight ounces, COVID-free.
Being reunited with her husband upon discharge, several days later, was one of the happiest moments of her life. The first time he held their daughter, she felt a mix of deep joy and profound terror—was he still contagious?
He wasn't. They had to struggle through the first weeks alone, as her husband painstakingly recovered. They couldn't have relatives come help, lactation consultants visit, grandmothers and grandfathers hold the baby. But they were safe and had each other.
And a month's supply of canned tuna fish.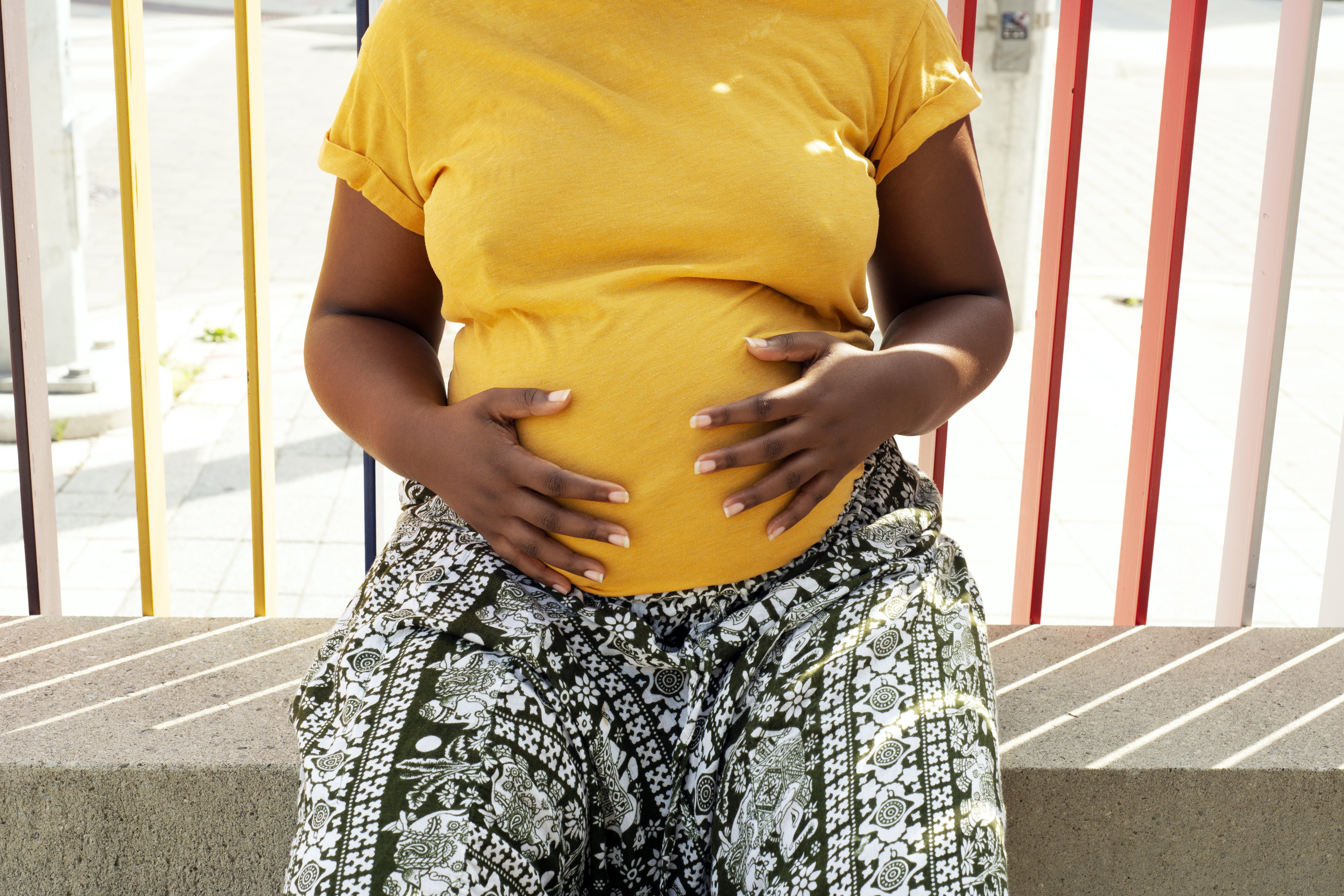 III. Lauren—Postpartum
Five weeks after our daughter was born, the world shut down.
Very little in my life changed. Lockdown was exactly the same as having a newborn, I told friends, only better. I was already terrified of the outside world, already living in my sweatpants, already worried about money and washing my hands like a hypochondriac. The only difference was that now my partner was home with me. So actually, lockdown improved my life.
Our daughter was born in early February, three weeks early and barely five pounds, her skin covered in a rash of pustular blisters. Nothing to worry about, the team of pediatricians told us. A bad case of a fairly common response to the hormones in the womb.
Everything was normal then. My doula coached me through the pushing, my partner stayed with me the entire four-day hospital stay. Our parents visited. An incessant cast of nurses, social workers, lactation consultants and doctors rotated through our hospital room, until we finally hung a Do Not Disturb sign.
There were signs, in the elevators and hallways, warning to get care if you had a fever and had been overseas, but they got lost in the clutter of all the other notices for breastfeeding groups and domestic violence call lines.
We fell into the newborn haze: all-night feeding marathons, diaper changing, rocking and hushing, wondering who this stunned, howling stranger who barely opened her eyes was, and how she could fit into such a small body.
With an early-term, underweight infant, the outside world suddenly became terrifying. I refused guests, and made the few family members who visited wash their hands. I didn't even want to leave the apartment to go sit in the garden. She was so small, I wanted to shove her back inside. She should still be inside me, I'd think whenever I looked at her. Her rash made her seem even more fragile.
The waiting room at her two-week check-up was filled with sniffling children and crying babies. Each one seemed like a contagion threat. We stood in a far corner, pushed the elevator buttons with our elbows, and squeezed sanitizer on to our hands at every interaction.
She was gaining weight, looked healthy, but the pediatrician was concerned about her skin. "The rash should be resolving by now," she said. "She shouldn't be getting new blisters." We were referred to a dermatologist, who told us the rash was likely the symptom of a rare genetic disorder.
I cried. My partner took charge, refusing the skin graft and the herd of young residents who wanted to take a look. The dermatologist gave us a printed-out PDF and told us to watch for seizures.
There was a blur of next steps—geneticists and neurologists and ophthalmologists—and a series of appointments, each one brutal and wrenching in its own particular way.
The ophthalmologist needed to dilate her eyes for an exam; they swaddled and held her down while the doctor inserted Clockwork Orange goggles to keep her lids open. Our daughter screamed louder and harder than anything that tiny ever should.
The geneticist ordered a blood sample to confirm the diagnosis. I used my arms and hair to create a wall around her and shhh'ed while the lab technician pricked her foot and squeezed out blood. She writhed and howled, her mouth a tiny cave of pain. I tried not to cry.
In the background of each of these appointments, there was a succession of increasing safety precautions, a time lapse of COVID preventatives. Hand sanitizer appeared at the reception counters. Screenings questions were asked. Masks were worn. Temperature checks administered, plexiglass barriers installed, waiting rooms emptied. The world around us spun out, but we were able to maintain a singular focus on our little girl. It was almost a blessing.
The week before the world shut down, my partner's office sent him to work from home. It was a welcome change after his too-short paternity leave. We'd been joyous, gleeful. He whistled while he set up the computer monitor on the dining table.
When shelter-in-place began, my single friends grappled with loneliness and isolation, and I felt like I'd won some secret prize. I was relieved to not have to leave the house, relieved to not have guests, relieved to not be alone all day. My boyfriend cooked breakfast every morning. I wore milk-stained nursing tanks and rarely took showers. We binged new TV series and rubbed $60 medicated ointment on our daughter's skin. We told no one about her pending diagnosis. The outside world sank away and it was just the three of us. It might have been one of the happiest times of my life.
Most times I could ignore the lingering disasters waiting in the background, but they found ways of creeping in. I checked the news on my phone while I fed her late at night, watched the death toll in Italy rise and the images of overcrowded New York hospitals. I Googled images of other children with her same condition, examined the discoloration of their skin and conical abnormalities of their teeth, and cried. I watched my boyfriend suit up in quasi-hazmat gear to go stand in long supermarket lines at 7 a.m. I studied charts of developmental milestones and anxiously watched for her to smile and track objects.
COVID was in full swing by the time she was scheduled for a laser eye surgery at seven weeks old. Only one parent was allowed to accompany her, and she was required to take a COVID test.
I caught the technicians in white hazmat gear exchanging nervous glances when they saw how small my daughter was. "We have to keep the swab in for 15 seconds," they told me. "You'll need to hold her arms down."
The swabbing woke her up. She thrashed her head, let out a cry deeper and more pained than I had heard yet. Her small body wracked with sobs. I couldn't comfort her—I didn't want to take her out of the stroller in the middle of the COVID testing lab, and I didn't want to pat her with my gloved hands. She cried all the way back to the car, until I could squeeze out hand sanitizer, take her out of the stroller, hold her to my chest, and cry with her. When had the world become so painful and terrifying?
The surgery ended up being easy. The surgeon showed me images of her eyes, where they lasered the problem areas: "We were able to save her vision." I chatted with the nurses about furloughed shifts and weak unions. They told me how pretty she was.
The effects of the anesthesia were worse than the surgery. She fussed and cried for two days. On the second day, I overheard my partner in a Zoom meeting. "Can I ask what the criteria was?" "I understand." "If there's ever an opportunity to return."
He came and stood in the doorway. "I'm sorry," he said. His company had lost a series of large accounts. It was nothing personal; they hoped to hire him back when this was all over.
He sat down on the bed next to me. I felt our world tremble, start to crack. I put my arms around him, cradling our daughter between us, and we made a little cave like that—an island in an unraveling world.
Ten minutes later, the geneticist called with the results of our daughter's blood work. She was officially diagnosed with incontinentia pigmenti.
Up until that point, COVID and the effects of the shelter-in-place existed outside of us. People died, lost livelihoods, couldn't see loved ones, and I too exhausted and consumed to feel any of it. I'd been waiting for life to go back to normal, living a kind of denial. I realized then that life wouldn't be going back to normal, not for us or the world. COVID, motherhood, and our daughter's condition were altering us irrevocably, in ways I knew I didn't even understand yet.
I cut my maternity leave short and returned to my job as a high school teacher—cue the Google classrooms and Zoom live classes while breast pumping below the screen line. It wasn't the vision of early motherhood I'd had. There were no Mommy and Me yoga classes, no smiling strangers congratulating us, no pushing a stroller to cafes on weekday mornings. All the ideas and sense of security I'd had had evaporated, and I was left with what was.
Sometime in May, the newborn fog began to break. We started getting more sleep. My partner picked up freelance jobs. Our daughter began laughing when we kissed her, smiling at us first thing in the morning, putting everything in her mouth. Her rash faded into swirls of marbled discoloration.
One day I caught a glimpse of myself in the mirror—same stained nursing tank, eyebrows grown out and hair undyed for a year, bags under my eyes and wrinkles in my forehead—and wondered what the hell happened. Where was the person I knew, and would she ever be coming back?
No, I realized. Life wouldn't always be like this, but it would never be the same as it was.
The lockdown that at first felt like a blessing has become stifling. Our daughter has gotten older, sturdier, smilier, and I want to share her with the world. My parents haven't seen her in months, and most of my friends haven't met her. She rarely leaves the apartment or sees faces other than ours. How will that impact her social development?
There's so much uncertainty. How will the rest of her symptoms present—tooth abnormalities, alopecia, learning delays? What will happen when the extra $600 per week of unemployment runs out? Will I even be returning to teach in a classroom this fall? Will our daughter be teased for her discolored skin? When COVID finally ends, what kind of world will we awaken to?
Sometimes it feels like standing on the top of a very high mountain; if I start running down, I don't know if I'll be able to stop. So I have to stay in today, in the present moment. She laughs and babbles and fusses. Right now, we have health insurance and enough money for food and rent. We have each other.
"Daddy invented COVID so we could all stay home and cuddle," my partner tells her.
And sometimes, it feels true.