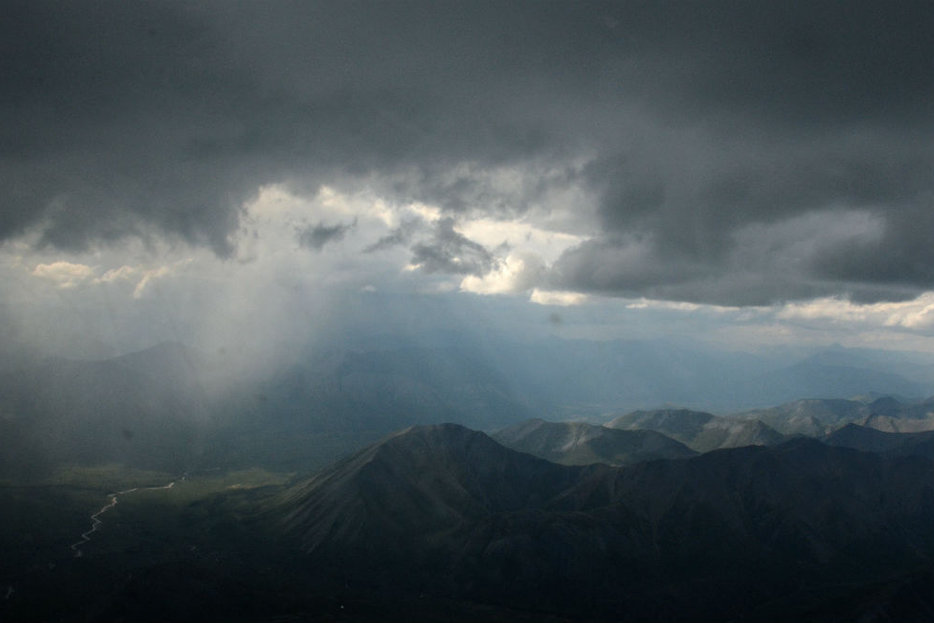 Photographs by Nadine Sander-Green
Our floatplane landed on a lake wedged between the Wernecke Mountains. The pilot cut the engine and told us to jump out ten meters from shore. He turned around to look at us crammed in the backseats. "You're going to get drenched soon enough."
Nobody moved. Then Dad took off his seatbelt, hopped into the hip-deep water and started carrying our gear to the shore: dry bags, paddles, 30-litre food barrels.
"So princess doesn't have to get wet!" he yelled. I looked at my friends, embarrassed. We jumped out to help.
I had been worried about bringing my dad on this 16-day-long trip, concerned that he would tell that dumb ghost story or eat more than his share of the meals or worse, that he wouldn't eat enough, to be polite. Dad is a big man: 220 pounds. I hated the thought of him going to bed hungry. He was 61. I imagined our canoe flipping, Dad bobbing in the rapids. Was he getting too old for long trips in the bush? Months before, when I called to invite him, I had pushed this thought out of my mind. When he answered the phone, his voice was the pay off: high-pitched, startled. "Oh my god, really, Deen?"
"Really."
"Of course I'll pay for your portion, too," he said.
"You don't have too," I replied, knowing he would. The trip was going to cost over a thousand dollars each and I was unemployed, having quit my job as a reporter the year before.
"I want to."
We needed an extra body. Convincing my friends was easy. Vanessa brought her older brother from Ontario along. The other two boats were couples from Whitehorse. Alan and Marie were the working professionals: a social worker and an engineer. Duncan and Sarah wore matching white bucket hats and would soon start an organic farm, which was Sarah's dream, and spend the winter months trapping wolverines, ermines and rabbits at an isolated cabin, Duncan's idea of a good time. We were getting dropped off in the Yukon wilderness with only a couple of tensor bandages and Tylenol to get us out of any trouble; a bit of wisdom couldn't hurt. I told them Dad had a beard and a gnarly frostbitten toenail, and once, when working in the Arctic studying polar bears or plants or something, he got so bored he tried to get high off the smoke from a mosquito coil and threw up all night. They liked that story. He was in.

The floatplane disappeared into the next valley. The silence rang. Mosquitos waited, hidden, in the tall grass on shore. We explored an old outfitter's cabin, the only human-made structure we'd see until the pilot picked us up 16 days later.
Dad and I would share a canoe but not a tent—he snored. He kneeled in the dirt, tying our gear to metal hooks on the bottom of the boat with a thin piece of rope: the reef, the bowline, the clove hitch. That way, if our boat flipped in the rapids, we wouldn't lose our gear and the dry bags, full of trapped air, would help keep the capsized canoe from sinking.
"Do you remember how to tie these knots?" Dad had taught me a handful of times. Learning from him is like listening to a radio, the volume one notch too low. I have to strain to pay attention.
"Sorry," I said, rubbing sunscreen into my cheeks. "Show me again?"
We launched after a lunch of bagels and cream cheese with full bellies and clothes that smelled like laundry detergent. The idea was to navigate a shallow creek for ten kilometers until it joined the Wind River. That was the plan. But we had no idea that the current would be so fast and choked with logs. We waded through the water in our gumboots, pulling our boats downstream with ropes wrapped around our clenched fists, too scared to start paddling.
A mere hour into the trip, we were soaked to the waist and exhausted. Vanessa sat next to me when we stopped on shore for a granola bar.
"We're in over our heads," she said. Her face was white. I had never seen her look scared before.
Alan yelled at us to come check something out. He was crouched in a carpet of wild strawberries. Dad developed an instant crush on Alan because he reminded him of his younger self. Alan had carved a paddle for Marie out of Birch. (Dad sewed my mom a sleeping bag as a wedding present.)
I started picking and eating the tiny, sour fruit, until I noticed Dad on his hands and knees, squinting at the earth and muttering to himself. I passed him a handful of berries. When I was a kid one of my favourite games was how colour blind are you? I pointed and he told me what colour he saw. The sky was purple. The grass, orange. Dad took time to answer each question seriously, as if it were an exam to see how good of a father he was.
The guidebook recommends taking your time the first few days: the valley is narrow, the mountains so tall you have to tilt your chin back to see the peaks. Untouched land is hard to understand. My eyes kept creating objects that I was used to seeing: a fence, a bench, a bridge in the distance. None of them existed. We were surrounded by hundreds of kilometers of wilderness in every direction, but I couldn't feel it. I was still wound up in my real life back in Whitehorse. It would take days to let that fall away, to see what the valley actually looked like.
*
Drive through a parking lot in Whitehorse and you'll see Protect the Peel bumper stickers everywhere. What to do with the Peel Watershed, which lies in the northwestern region of the Yukon and takes up fourteen percent of the territory, has been up for debate for a over decade. It's not a new argument: the conservative, territorial government wants to open the majority of the land to mining. Most locals want the pristine wilderness left alone. Three First Nations—the Na-cho Nyak Dun, Vuntut Gwitchin and Tr'ondëk Hwëch'in—who have traditional territory in the Peel have been adamant about protecting it. They depended on the health of the ecosystem—especially animals like the Porcupine caribou that migrate through the watershed each year—to survive for thousands of years and believe it's our job, as humans, to keep it safe.
In 2010 the government put a moratorium on new mineral staking (essentially halting any plans for industrial development in the region, for now) but as the tension between locals, the territorial government and First Nations escalates, it's anybody's guess as to what this gigantic swathe of land might look like in just a few years.
*
By the second day Dad and I found rhythm. I dug my paddle on the left in pace with his right strokes. When our shoulders ached we switched. He sat in the back—the stern—legs crunched towards his round, hard belly. He wore a baseball cap, shorts and a purple lifejacket that swelled with gear: an emergency whistle, bear spray, knife and half a dozen granola bars. Whenever we rounded a bend and saw waves I shrieked "Rapids! " from the front of the boat, the bow.
"I see that," he would say, calmly. Then we shifted to kneeling to lower our centre of gravity, calves tucked beneath us as if we were praying. When the waves tipped our boat, we braced our legs and leaned in the opposite direction. If water got over the edges of the canoe—the gunwales—we steered to shore and Dad bailed with an empty bleach container, cut in half and secured to the boat with a carabineer.
"Wanna stern?" Dad kept shouting from the back.
"Maybe later," I said, knowing I wouldn't.
Sterning means sitting at the back of the canoe and steering. The front of the boat is the power, while the back navigates the river carefully, avoiding deadheads (stumps poking out of the water), or strainers (trees that have collapsed across the current from eroding banks). Strainers look fairly harmless. One of the first things you learn in a paddling course is how deadly they are. A strainer can flip your canoe, pin you underneath it and drown you.
Dad rested his paddle on the gunwales when the rest of the group stopped to pee on the bank. We floated with the current. The water was so clear you could see every smooth stone on the riverbed. I leant over the side of the canoe, scooped river water into a plastic mug and drank, the cold burning my throat.
"Do you have to go?" Dad asked.
I shook my head, watching the others climb out of their boats. They were laughing. I wanted to be laughing, too.
For lunch we stopped at a bend in the river where the water had deepened and pooled into a large eddy, the aquamarine current completely still.
"Bet there's some fish in here, lots of cover," Dad said, pointing at the fir and spruce hovering at a 45 degree angle over the river, their exposed roots gripping the edge of the eroding river bank. A few trees had already collapsed into the current and lay on the bottom of the river. I thought they looked like dead witches. I took out my waterproof notebook and tried to describe the scene. On the opposite page was a list of sixteen dehydrated dinners that I knew sounded better than they would taste: Peanut ginger stir-fry, Pad Thai, mashed potatoes and sausages.
Duncan and Alan assembled their fishing rods, rolled up their pants and waded into the river.
"How incredible is it to see a river with no riparian disturbances?" Dad asked no one in particular, hands on his hips, staring at the bank. When Dad gets excited he speaks like he's giving a lecture, throwing in a Latin name here and there. He had already gone off about the fields of cottongrass, Eriophorum angustifolium, and arctic sorel, Oxyria digyna, a tiny relative of rhubarb.
A few minutes after casting his line, Duncan caught an arctic grayling he thought was too small to keep.
"C'mon, let's eat him for dinner," Dad said. He spent his career as a fisheries biologist and working with First Nations in southern British Columbia to protect wild spaces much like the Peel. My friends had already started to defer to him as the wilderness expert. I felt a well of pride in my chest when he showed us how to hold the fish down with one hand, and with the other, slam a stone into its scales, right above the eye. The quivering stopped. Dad used his pocketknife to slit a line from the grayling's anus to the base of its gills, removing the intestine and kidney with bloody fingers.
It was the same pride I had felt, years ago, when Dad came as a guest biologist on my grade seven camping trip to Kikomun Creek, a provincial park near my childhood home. He gathered all the kids on a bridge and stood below, ankle-deep in the water. "Look, a smallmouth bass! A rainbow trout!"he said, thrashing about, pretending to try to catch them with his hands like a bear. The kids shrieked and looked at me with wide eyes, as if to say I cannot believe that's your Dad.

He left later that afternoon. I still had two more nights left at the camp. He hugged me and his armpits smelled like sweat, which was comforting. When he got in his car I felt like I would never see him again. I missed him already. He started the engine. I panicked and tapped on the glass. He rolled down his window.
"I want to go home with you," I said, holding back tears.

As Dad crouched on shore after cleaning Duncan's fish, rinsing blood from his hands in the current, I wondered why I invited him on the trip. I knew how happy it would make him. He had been talking about wanting to canoe in the north for years. What I didn't want to admit was that it was also a selfish decision. I didn't have a boyfriend. I wanted someone who could take care of me. Even though I knew how to read the river and steer the boat through rapids, I wanted him to guide us. It would be safer that way.
*
Dad used to brag that he was good buds with David Suzuki. I would have rather watched Care Bears or whatever cartoon kids brought on their lunchboxes, but we only got CBC with the bunny ears so The Nature of Things it was. We lived in a tiny A-frame on three acres of property on Vancouver Island. It may have looked like we were back-to-the-landers, but we weren't: Mom was sick with Chronic Fatigue and Dad was always working. My siblings and I built forts in our forest and had a series of cows called Lawnmower I, Lawnmower II and Lawnmower III we "played" with by throwing apples at their heads. On Sunday night I would sit in front of the TV and think, Hey, there's Dad's friend. I liked David Suzuki because he had a nice beard. It looked like Dad's beard. David seemed like he would be a nice dad.As I grew older I realized Dad had only met David at a conference once and spoken to him briefly; they weren't friends at all.
Still, when Suzuki flew to Whitehorse to talk to media about the Peel, I thought, Hey, Dad's friend and felt stupidly excited for the press conference. I was working as a reporter for Whitehorse's daily newspaper and walked the four blocks across town, past the pastel green hotel where Cancan dancers still performed, and the sushi restaurant that served rolls with iceberg lettuce, to an old miner's house that had been converted into the Canadian Parks and Wilderness Society office. The four other Whitehorse reporters were in the stuffy living room, notebooks and recorders ready: CBC, Northern Native Broadcasting, the Yukon News and CKRW, the top 40 station. Jimmy Johnny, a Nacho-Nyak-Dun elder, was there, too, sitting quietly in the corner in his cowboy hat. I'd spoken to Jimmy a few times. He has been hunting and guiding the Peel since the 1950s and acts as the unofficial spokesperson for his people. He is adamant in protecting the land, not only so communities downstream such as Fort McPherson, Tsiigehtchic and Inuvik have clean water and food to hunt, but also so future generations can explore ancient campsites and learn how to survive in the wilderness.
Suzuki's timing could not have been better. It was the summer of 2011, a few months before the territorial election. The Yukon Party, the territory's conservative party, was in power. Just one week before, after seven years of work, an independent, government-appointed commission released their recommended plan for the Peel, urging the government to protect eighty percent of the watershed. Existing oil and gas and mineral claims could remain, but it would be hard, if not impossible, to access them as no roads would be allowed. First Nations and environmental groups were gunning for one hundred percent protection, but were willing to compromise. The Yukon Party remained silent. They didn't want to say anything that could hurt them before the election.
Suzuki had come to Whitehorse to go one a canoe trip with his family, but he wanted to fit in the press conference. Suzuki admitted he didn't know much about the over 67,000 km of wilderness that made up the Peel Watershed. A few reporters looked at each other and smirked. He sat on a stool in the middle of the room, spine straight. He was a serious man, angry even. It didn't matter how much he knew about the region, he explained. No wilderness on the planet should be harmed anymore.
"We're one species out of 30 million species, and we think we can take over 88 per cent of the land and still survive. It' s madness. It's completely suicidal." Suzuki asked reporters to imagine the world as a candy factory. "In order to manage that factory you need to have an inventory of every product and blueprints of how these products work. We're trying to manage an entire planet and we have no idea how many species we have. I guarantee you could send an entomologist into the Peel and every day, he or she would discover a new species," he said, looking around the room, meeting our eyes. "We just don't know anything."
*
Dad kept losing his hats. It was starting to get hot, 25 or 30 degrees, we had no way of telling, and sunstroke was a serious threat. He didn't know where he lost his first baseball cap. He said he must have left it at a campsite. Vanessa gave him her extra cap. It said Alive Outdoors on the front, a youth camp she had worked for in Ontario.
I back paddled when I saw the strainer, like I learned in the whitewater course I took earlier that summer. Point your boat towards the object you don't want to hit, dig your paddle in at your hip and push the water away. Fighting the current gives you time to think. Dad laughed at my frantic movements. He thought there was plenty of time to avoid the massive tree bobbing a foot over the current. He paddled forwards, relying on his strength to pivot us around the strainer, while I yelled "back paddle!" and stared ahead with dread. And there it was: the tree, an inch away from my face.
"Dad!" I screamed, instinctively. I limboed under the trunk, back arched, the tendons in my neck bulging. A thick branch got caught under the strap of my lifejacket and somehow, in a fraction of a second, I unhooked it, my heart pounding in my throat. The other canoes were far ahead. The tree between Dad and I. Fuck. I heard the gush of water over the gunwales. We were stuck in a logjam, the boat flooding. We were going to flip and it was his fault. I looked ahead to see where I would be swimming: there was a gravel bar a few hundred meters ahead but what about the capsized boat, our paddles? Had we tied all our gear in?
A painful grunt from the stern. And then we were zipping downstream; the boat upright. I looked back at Dad, red-faced and sweating, eyes locked on the river. His hat was gone, ripped off by the tree. So was his bear spray. He must have grabbed the tree and reefed us out a moment before it was too late. I thought he would apologize. He just steered to the shore to empty the boat of water. I stayed in my seat in the front, swallowing the words I wanted to yell: why didn't you listen to me?
We decided to scramble up a peak the next evening, without Dad. He was too tired He had missed all of the hikes so far, and he often lay in his tent while the rest of us gathered wood for a fire or set up the mosquito tent. I wondered if my friends liked him. Maybe he was starting to seem like a burden.
"Are you sure?" I asked. " We can go slow."
"I'm a big boy, I'll be fine," he said, leaning back into his camping chair on a wide river delta, lacing his fingers behind his head. He had constructed a new hat out of a thin, stretchy piece of material—a Buff—that clung to his head like saran wrap. "I might do yoga."
I had been leading awkward yoga classes every morning, our hands pressed into the dirt, bellies full of oatmeal and weak coffee. Dad, who has the flexibility of a potato, was the last person I suspected would want to do more.
I left him with my bottle of bear spray and ran to catch up with the others. At first I felt guilty for leaving him, but as we gained elevation, I realized I didn't have anyone to worry about. I felt lighter, free. Wind blew in gusts once we neared the top. I put on a jacket and toque and scrambled up the last patch of scree. When it got too steep, I used my hands and crawled, the sound of rocks grinding under my weight a reminder of just how far we were from the river valley below.
We rested at the peak to slow our hearts. A herd of Dall sheep traversed a section of loose rock below. Dad's green tent was just a tiny dot. The Wernecke Mountains extended for as far as we could see, the Wind River, a glittering blue under the late day sun, meandered through the valley below us.
Even from the middle of it, it was hard, if not impossible, to grasp how far the wilderness extended. The size of Scotland, I had heard. It was even harder to imagine what the land might look like if one of the oil giants like Chevron—who found and staked an iron ore deposit over 50 years ago—moved in.
*
Shortly after Suzuki's visit to the Yukon, the Yukon Party won another term in government. They rejected the commission's recommendation to protect 80 percent of the watershed, insisting 29 per cent was enough. Yukon's premier, Darrell Pasloski, called the size of Chevron's deposit "astronomical." He thought it would be irresponsible to protect that much land, the party argued it would result in costly lawsuits from companies like Chevron with claims in the watershed. The Yukon Party even went as far as saying that protecting eighty percent could bankrupt the territory.
Chevron's project, though, is still a pie in the sky idea. The company would have to figure out how to bring a huge amount power to the middle of nowhere and build a rail line to Alaska, which, it's estimated, would cost upwards of 11 billion dollars.
For the past two years First Nations, along with two environmental groups,  have been fighting the government in the Supreme Court of Yukon and Court of Appeal. They claim the Yukon Party made dramatic changes to the plan without consulting First Nations, consequently disrespecting land claim and self-government treaties signed in 1993, and in a larger sense, undermining reconciliation.  Last December the group brought the issue to the Supreme Court. 
The mountains flattened into a wide plain. The river slowed and spilled into a handful of channels. Dad steered toward whichever one looked the deepest. The only sound was his paddle slicing the water. The trees disappeared, replaced by what Dad said where white dryas and purple saxifrage, clumps of tiny flowers that bloomed between rocks. It felt like we had finally reached the North, like we were at the edge of something. The sun rose hours before I woke up in the morning and refused to set in the evening. The only time I saw the night was when I stumbled out of the tent to pee and looked up, the stars a ceiling of shattered glass. I let go of math, no longer counting down how many days we had left and dividing it by the number of clean underwear in my bag and the weight of my Ziploc full of trail mix. Was it day ten, or twelve? I didn't know, or care.
As the days seeped into each other we became wild things. We watched, unafraid, as a caribou galloped straight towards us, its enormous antlers curving to the sky. After a few moments it halted, as if shocked to see humans, then galloped back to join its herd. On hot days we swam naked. Dad gave us space. When he saw Duncan or Sarah unbutton their pants, always the first to strip, he wandered back to his tent to take a nap. We left our clothes in piles on the shore and dove into the river, the cold a relief.
One afternoon I wandered to the far edge of and island where we were camped to dry off, my hair a wet rope twisted down my neck. The others had started a fire to cook dinner. A billow of smoke drifted across the river. I was relieved to finally be alone. Wrapped in a towel, I sat down on a flat rock and held my knees in my arms. A small stream trickled down the shore until it disappeared into the Wind.
There was a patch of green leafy ground covering next to the stream that I knew was called kinnikinnick. A shaft of late afternoon sun, the hue of an orange peel, angled over a patch of purple fireweed. But everyone knows fireweed. It's Yukon's official flower. What about the flowers and grasses and rocks and insects and fish around me I didn't know, or more likely, couldn't see? The only way I knew these species existed was the charged, almost electrical, hum of the land around me, a feeling that a complex network of life was working seamlessly and silently, hidden, as if behind the velvet curtains of a theater. Suzuki was right. There I was in the middle of the watershed, and I knew almost nothing.

The next morning after we had packed up camp, Vanessa pulled a package of dollar store face paint from her dry bag and said "Surprise!" We had decided to each pack a surprise for the trip. Dad and I brought chocolate. Sarah, who worked at the organic bakery in Whitehorse, baked a batch of brownies over the campfire. Marie brought a bottle of sherry that we passed around at night, a few sips to light us up.
"What do you want?" I asked Dad. He thought about this for a moment.
"War paint."
I drew an orange line down his nose, across his cheeks and on his forehead, repeating with green and blue. He stood patiently, his eyes closed. His skin was warm from the sun; the feeling of stubble on his cheeks a vague comfort. I realized I hadn't touched his face since I was a kid. The moment felt tender, too tender, and I rushed to finish. When it was dad's turn, he drew a rainbow on my forehead and a stick figure doing a cartwheel on my cheek.
"I'm not six years old anymore," I said, when he told me what he did. Dad stared at me, wide-eyed, trying not to smile.
"You aren't?"
I woke to water hitting the tent. Vanessa slept beside me. I lay in bed for what seemed like hours, listening to the rain, for the sound of Dad's tent zipper. I had started to dread mornings: climbing out of my sleeping bag, wedging my feet into wet gumboots, the hard seat at the front of the canoe.
The wind tore through the valley; the sky, dark grey, not even a pocket of hope in the distance. As we started paddling, it felt like we weren't moving at all. I was wearing most of the clothes I brought, layers of wool and fleece underneath waterproof jacket and pants, but I was still soaked to my skin. How could it still be July? I sang the first four lines of "You are My Sunshine" to distract myself from the cold.
"Stop singing. Start paddling," Dad said. He has only used this voice with me a handful of times in my life.
I turned around. His lips were blue, thighs trembling. He was wearing shorts because he always wore shorts camping. I begged him to put his pants and gloves on, but he refused; he didn't want to stop. I kept turning my head to look back at him, to make sure he was okay. He wouldn't look at me.
The rain had flooded the channel into a shallow pool stretching across the valley. The boat ground against the bottom. We had to get out and drag the canoe. I was at front, dad at the back. The wind cut to my skin. The current sloshed into my gumboots, the cold numbing my entire body. It seemed insane that we had gone swimming in the same river just a few days before. I cried a little and then lost the energy to cry. I thought about home and how stupid it was to ever leave.
Finally, land. We pulled out on a marshy island. There was no wood to start a fire. Vanessa cut up block of cheddar cheese. Sarah and Duncan did jumping jacks, but their cheerful"C'mon guys, join in!" was more irritating than helpful. Dad was rummaging through his dry bag and muttering to himself.
"Give him this, and you need to hug him, body warmth" Vanessa whispered to me, handing over a chunk of cheese.
Dad had lost the colour in his face. His hands were shaking so violently he couldn't get his gloves on. I couldn't hug him. I didn't even want to look at him. Here I was, peeking around the corner to my future, and I was balking. I was not supposed to take care of him. Dad was supposed to take care of me. Didn't he care that I was cold, too?
I grabbed the neoprene and held his hand steady, wedging the stiff material onto his fingers. "Thanks," he mumbled so quietly I could barely hear him, keeping his gaze lowered.
Dad wandered away to walk slow laps of the pebbly shore. Back and forth. Back and forth. The rain and wind weren't letting up. I knew the line between uncomfortable and hypothermic was blurry. The cold slows the brain. Then confusion sets in. Was he trying to warm up, or in a compete daze?
"What's he doing?" I whispered to Vanessa.
"He'll be ok," she said, looking at me in the eyes. I loved how Vanessa stayed calm in emergencies.
"But what if he's not?"
And then she called everyone over and yelled "Group hug!" At the centre, Dad. As arms enfolded him, he didn't object. We huddled our soaked bodies around him, smelling of sweat, smoke and rain. He was like a toddler in a big familial embrace. Maybe we all needed it to stay warm. Or maybe the hug was just for him. Either way, his shaking has slowed.
"Ok, Ok, I'm fine," he said, pushing us away with his elbows. We got back in our canoes. As soon as we started paddling, the clouds broke.
An hour later we found a campsite. On the sandy shore the word BEAR! was written in stones: a message from a group that had set up in that same spot, probably weeks before. We were too tired and cold too care. Besides, the bear would be long gone by now.
Dad went to bed without saying goodnight. I lay in my tent with Vanessa, unable to sleep. It was past midnight and still light out. My sleeping bag was too hot. Then I took it off and I was too cold. I lay in my underwear, my back and thighs clammy and sticking to my nylon air mattress.
I thought about our little A-frame. I was four or five. Dad lay on his back on the carpet, feet in the air. Black tube socks. Hop and Pop, I called it, running at him as fast as I could. I landed in his hands. I stretched the moment for as long as I could, his thumbs pressed into my ribcage. I remembered his hairy fingers French braiding my hair for school at the kitchen table, those days Mom was too sick to sit up. When he finished I stood on a stool and looked at myself in the bathroom mirror. It was lopsided, bumpy. I scampered back to the kitchen, crying it's terrible!
How could I have not realized Dad was, eventually, going to die? I was 26, he was 61. We were both getting older, but he was, slowly, growing old. I had never thought about what it might feel like to take care of him. My chest grew tight when I imagined Dad like I had seen my grandparents: nursing home, single bed, white walls, silence.
A gunshot. Someone must be hunting nearby, I thought. No. Nobody was hunting. We were alone. Another shot. Vanessa and I scrambled out of our tents in our underwear and ran barefoot to the river's edge. Alan was standing beside the fire pit, bear banger in hand. A cub was staring at him, not even two meters away.
"He's not leaving," Alan whispered.
We froze. I looked for a hump but there was none: a black bear disguised in a cinnamon coat. Alan fired another shot. It exploded in the sky. The bear twitched, then turned around and lumbered up the valley. We were all there, bleary eyed —me, Vanessa, her brother, Duncan, Sarah, Alan, Marie — all of us except for Dad. We looked at each other and laughed, nervously.
In my sleeping bag, again, I listened to Dad's snore in the tent beside me. He hadn't even woken up.
*
On Thursday, June 9, 2016, much to the relief of Peel supporters, The Supreme Court announced that they would hear the appeal brought forward by First Nations and environmental organizations. The group believes the Yukon government failed to respect land claim agreements. They want an earlier decision by the Yukon Court of Appeal, which allowed the government to press ahead with their plans after more thorough consultations, overturned. The First Nations don't think giving government another shot at the planning process helps advance reconciliation, or gives any predictability to the land use planning process.
In a statement, the Yukon government said that although continuing to have the Peel Watershed issue in courts is not their preferred approach, they're hopeful the Supreme Court can provide clarity to how the territory's land use planning should work. Chief Roberta Joseph of the Tr'ondëk Hwëch'in said the decision confirms that there are significant legal questions raised by the Yukon Government's conduct during the Peel planning process that deserve the Supreme Court's—and Canada's—attention.
Although it's still unclear when the case will be heard, Thursday's announcement is a major win for the First Nation and conservation groups, putting both the Peel Watershed and reconciliation in the national spotlight.
*
We waited for the floatplane on the sandy shore, barefoot, backs against an overturned canoe, drinking black coffee from dirty mugs. The food barrels were empty, minus a few extra cups of oats and our trash from the past two and a half weeks. Our skin was darker, legs and arms marked with mosquito bites, bruises and scratches. We had learned to work fluidly together without having to speak, or even look at each other. Unload the canoes, start the fire, set up the tents, cook, dishes, bed. It was hard to believe we wouldn't wake up together the next morning.
"I can't wait to see Hank again," Duncan said. Hank was his old beater truck that barely ran. "I just love fixing him. Is that weird?"
Vanessa said she wanted to see her boyfriend. I couldn't wait to turn my phone on and see how many messages I had, I announced, then felt my cheeks grow red when Duncan looked at me and said, "really?"
"What about you, Wild Bill?" Alan asked. Dad's new nickname had wiggled its way into our vocabulary. He didn't object. Dad laced his fingers behind his head and leaned back so the sun hit his face, eyes closed. It was a cloudless day, his cheeks burnt crimson, gnarly toenail out for everyone to see. I thought he was going to say he didn't want to go home.
"Sweet and sour chicken balls. I've been jonesing for Chinese food since day one."
Inside the floatplane we noticed how terrible we smelled. I looked over at Dad as the plane gained speed on the river. He was smaller. All the paddling and dehydrated meals had carved weight off his body. There he was, knees crammed into the seat in front of him, nose pressed to the window as the plane's skis lifted from the Wind River. There is that moment of weightlessness, when your stomach rises towards your throat and you are neither on the earth nor in the sky, but somewhere in between. That was Dad and I. Somewhere in between. Whether I liked it or not, the line between parent and child was beginning to fade. The engine groaned into a whine. Outside my window the Wind River narrowed until it was a dazzling blue ribbon draped over the land.
Research editor: Daniel Viola