"All these girls have to wait for is a man with $70 and an itchy cock. I have to wait for someone with $3 who reads literature."
—Crad Kilodney, Excrement (1988)
Writing and whoring—selling a body or a body of work—what's the difference?
Toronto, December 1983. Crad Kilodney, the legendary self-described "failed writer," is selling his self-published book, Terminal Ward, from a vacant storefront on the Yonge Street strip, somewhere between Gerrard and Dundas. Hanging from his neck each day is a handwritten sign, and today's placard reads, "Pleasant Bedtime Reading."
Other notable signs include "Books for Clueless Twits" and "Literature for Mindless Blobs." In his memoir, Excrement, Crad writes, "I choose my most provocative or insulting signs to wear when I'm in my most aggres­sive moods because deep down I want to strangle these people."
This—writing and selling his wares in the street, getting accosted by drunks, ignored by the masses, and making very few sales—is his full-time job. Crad comes back every day to sell his books, published by his personal imprint, Charnel House. By the end of his life, he'll have written more than thirty books, and spent seventeen years selling them out on the street.
Like writing, sex work is a game of endurance. Whether in the club or on the street, scribbling in a journal or revising the last draft of a manu­script, the writer and the whore must learn to "stick it out" and be patient with the process.
"For me, being on the street is like treading water: the object is to expend the minimum amount of energy and hold out as long as you can. This is why I don't solicit people. I keep my mouth shut and just stand there waiting for someone to stop."
Crad's philosophy on selling his work sounds a lot like how I approach my hustle at the strip club: stand there, look pretty, and wait for a man to approach me. Sure, I could probably make more money if I hopped from table to table asking, "Where ya from? Want a blowie?" but I'm looking to conserve my mental and emotional resources, not expend them on timewasters. If you want me, come get me. I'm not casting my pearls to swine. Quality over quantity, baby.
My introduction to Crad was through my boyfriend's dad's book collec­tion. He'd bought a few original works from Crad himself back in the '80s when he was a University of Toronto student. I read Bang Heads Here, Suffering Bastards first. "The Story of a Man with a Broken Toaster," about the tragic end that can befall teachers who dole out passing grades willy-nilly, gripped me by the throat. This is the kind of writer I want to be! I thought. I read more, voraciously, and while much of his writing struck me as in need of a good editor, I deeply appreciated Crad's do-it-yourself approach to publishing. That he was part of what inspired Nicole, my creative partner, and me to self-publish the first edition of Modern Whore would be an understatement.
Nicole's father, Dan Bazuin, used to co-run a famous little bookstore in the Village called This Ain't the Rosedale Library, one of the few shops that sold Crad's books. When I expressed my newfound love of his work to Nicole, she told me Dan and Crad were friends. She'd actually met him a couple times. Wowee!
I eventually got my hands on more of Crad's work by trading copies with Pete, the strip club's night-shift front desk guy, who had also bought books directly from the author. Thanks to him, I read Crad's memoirs, Putrid Scum, Excrement, and the short story collection, I Chewed Mrs. Ewing's Raw Guts and Other Stories. In exchange, he got my copies of Terminal Ward and Suburban Chicken Strangling Stories. It felt like dealing contraband. The strip club, of course, was the perfect setting for our clandestine Crad book club.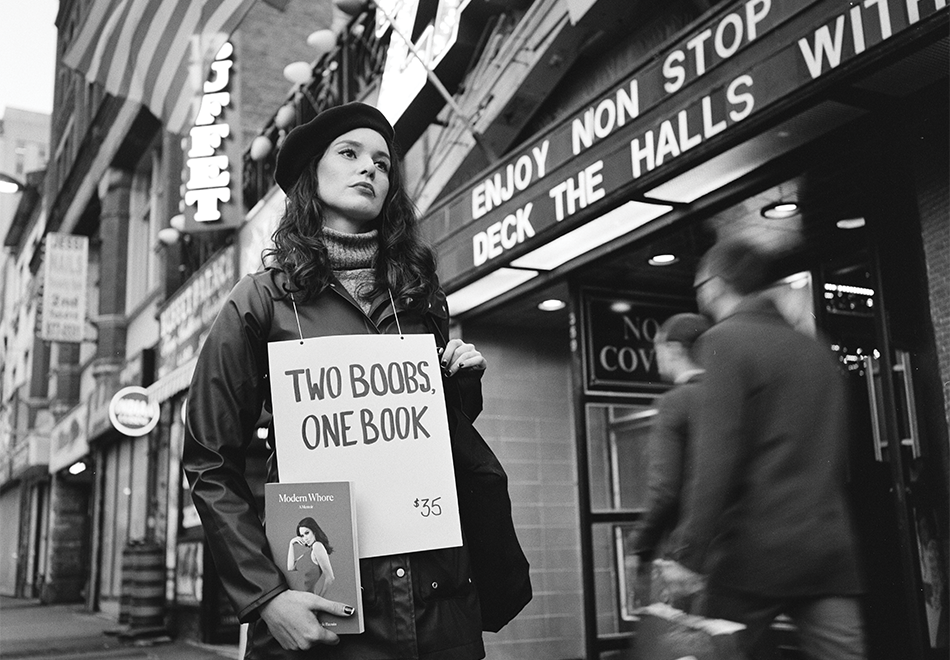 Not everyone is cut out for the hustle of the writer or the whore. For those who are, it can feel like a matter of life or death. Many writers feel they don't have any other options—they must write, or they will die. Have you ever met a more miserable workforce? Writers love waxing poetic about the tortuous miseries of writing. Is there such a thing as a happy writer? At least I like whoring.
Whoring is a means of survival, yes. When faced with the option of working more hours for less money with no control over their schedule, the sex worker may feel "forced" to preserve their dignity and return to whoring. For some, whoring is simply a means to an end: a way to pay the bills, put food on the table, and keep the lights on. For others, whoring is vocational: a calling, a connection to one's higher purpose, the thing they are meant to do in this life.
Evidently, Crad's resiliency and determination to make it as a living writer—which is to say, both a full-time writer, and one who was also alive—suggest writing was his calling.
"Whenever I considered giving up on the street, several thoughts hit me: I imagined myself in the future as another failed writer about whom it would be asked (as it was about every flash in the pan), "Whatever became of him?" I hated to think of myself as being cast into the hell of whatever-became-of. Then I thought of all the lousy jobs I'd had before walking out on all that to become a full-time writer. I couldn't go back to another shit job; neither could I work up any enthusiasm for a better job requiring some commitment. All I wanted to do was write."
Writing is a calling for me, too; whoring is somewhere between occupa­tional and vocational. Sex work is my job, the thing I do to pay my bills—and, it must be said, the frequent subject of my work—so that maybe, one day, writing—perhaps about something else!—can be my full-time job. May a whore dream?
Sex work puts the mind, body, and soul on display—as does writing. Writers and sex workers are public figures ripe for dissection. We peddle our guts for a living, our incredibly intimate bodies of work for sale, whether it's on Yonge Street, at the strip club, or on the shelves of Chapters Indigo. Buy my story. Buy my body.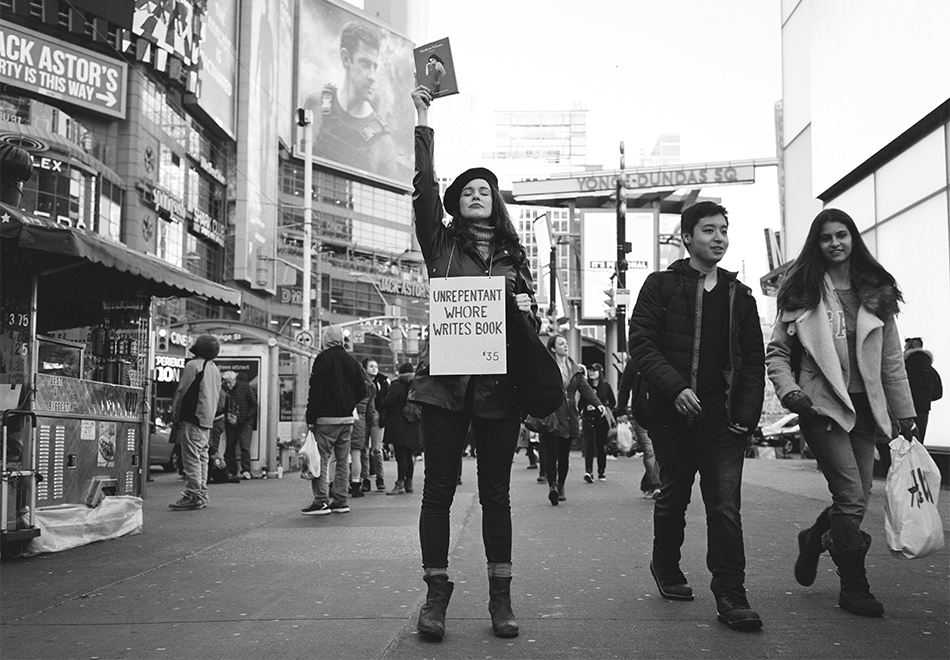 For the writers who claim their lives are misery, we, the reader, only validate and glorify that pain. We support their addictions, feed their demons, because they give us what we want: their body of work. Is the reader exploitative, then? Are you, dear reader, a dirty john?
In early 2014, Nicole told me Crad was sick with cancer. Did I want to go with her and Dan to visit him in the hospital? I felt starstruck and intim­idated by the notion, so I said no. A few months later, after reading yet another one of his books, I mustered up the courage and gave Nicole a ring: I was ready to visit Crad. Too late, came the response. He was dead. Seventeen years on the street and thirty-three books later: gone. I was gutted.
How stupid I was. In Crad's name, I vowed I would never hesitate to visit someone—let alone a hero—on their deathbed. He would have liked me, I think. Street meat, just like him.
Excerpted from Modern Whore by Andrea Werhun and Nicole Bazuin, out now from Strange Light Books.