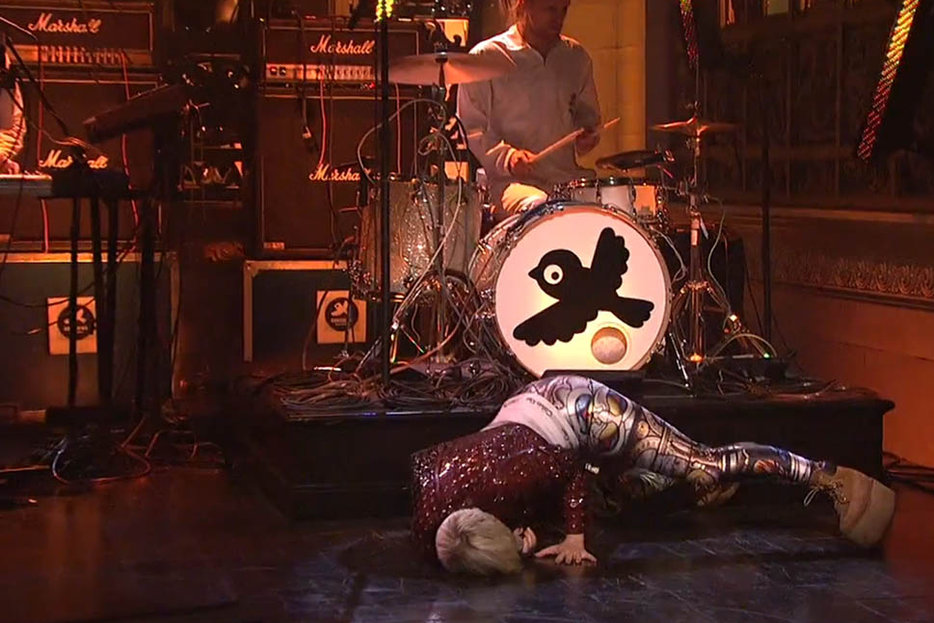 Once upon a time, I had a blog. I started writing it when I was 16 and called it "Hipster Musings" because I'd just learned who Allen Ginsberg was. Mostly I wrote about fashion. I would post goofy pictures of myse' my outfits, obsess over quilted Marc Jacobs handbags and catalogue my incredible thrift store finds (a Moschino purse on clearance for $10! Ferragamo bow flats for $6!). From 2006 to 2012, that blog saw me through more than one drastic stylistic transition: from my Amadeus phase, where I owned more ruffly blouses than Mozart himself, to my stint as a vaguely clothed American Apparel employee. Most importantly, it gave me a space to voice my opinion when I was still figuring out what that was.
When I started Hipster Musings, I was going to high school in Belleville, ON, which wasn't really a bastion of cultural creativity. None of my friends were super into fashion, but online I found people who were equally likely to get heart palpitations over Olivier Theyskens' ethereal ball gowns and strappy Vivienne Westwood pirate boots, and together we formed a community. I still remember my favourite bloggers: Soul Tanggg, a crazy girl from Las Vegas who always found Gucci at the thrift store; Riika, the Finnish journalism student whose poofy skirts dominated the flickr group Wardrobe_Remix; Style Bytes, the beautiful Norwegian with blunt Nico bangs and a pet pig.
None of them blog anymore. The blogosphere is a graveyard; some people lost interest, letting their urls become virtual tumbleweeds, while others just disappeared. Fashion blogging is dead.
This may seem counterintuitive, since the term is more widespread than ever—CBC just produced a feature on "a new trend at Fashion Week: bloggers," essentially recycling a headline from 2009. But most of the bloggers who pioneered the medium have completely moved on. Take Tavi Gevinson, who first entered the public eye with her blog Style Rookie, writing circles around the established journalists who wondered why she had a better seat at the Dior couture show. Tavi is now appearing in Hollywood movies alongside James Gandolfini, and she runs her own online magazine, Rookie. She's no longer a fashion blogger—she's an editor in chief.
There's also Elizabeth Spiridakis (now Olson), a '90s culture enthusiast who wrote the pee-your-pants-funny Feels Like White Lightning. Elizabeth loved polyester dresses and clog platform shoes, and Kanye West got mad at her when she called Amber Rose his "beard." Spiridakis was so ahead of the blogging curve that she quit her full-time job at T, the New York Times style magazine, to take advantage of the freelance opportunities that came with blogging. (In summer of 2010 she let me crash on her couch for a few nights, and took me to parties and I felt like an NYC media socialite.) Her last blog post was on December 14, 2011, the same year she returned to work in the magazine world as Art Director of Bon Appétit.
Most people I knew took up blogging because no one wanted to talk to us in real life. Blogs were a refuge from our desperate unpopularity. But once cool weirdoes like Tavi and Elizabeth started to gain clout, the practice started to attract more and more attention seekers. We used to think of blogs as public diaries. Now they are more like portfolios.
Early outfit sharing communities like MyStyleDiary.net housed countless out-of-focus photos of girls contorting themselves into grimy bedroom mirrors that revealed messy bedroom floors. The mess didn't matter—it was about showing off the clothes. (One of my favourite amateurs was Fashion Robot, an Illinois high schooler whose creative outfit photos were always shot in dingy lighting.) But as fashion blogging exploded, the image quality got more professional. Blogs like Denni Elias' slick Chic Muse present each outfit in a different backdrop, as its own magazine editorial. (The concept of having a "photographer boyfriend" has become clichéd.) Blogging is no longer an activity for girls alone in their bedrooms—the most well-known blogs smack of resources, time, and effort.
As an outlet for misfit teens, blogging seemed democratic. In 2006, the fashion blogosphere was a like a simple bowl of yogurt, a culture of tiny microbes just doing their thing. But some of those microbes began to grow, and nab coveted sponsorships. Soon enough, blogging had become exclusive, almost too exclusive for the kinds of girls who started it in the first place. Ironically, bloggers are still hailed as "real girls," an antidote to the cookie-cutter conception of beauty promoted by the fashion industry. Yet, anointed bloggers like Chiara Ferragni of The Blonde Salad and Carolina Engman of Fashion Squad seem to fit it just fine.
The new guard of fame-hungry bloggers has inspired a number of parodies. The Twitter account @fashionxblogger mocks the desperately earnest tone of its namesake with tweets like, "LEATHER OR LACE?!" the young fashion blogger shrieks as she sets the Alexander Wang boutique on fire, her screams rising above the flames." A hysterical video series called "What the F*shion" features a painfully trendy girl in John Lennon sunglasses sharing sarcastic nuggets about the fashion universe in a Valley Girl drawl: "Today we're talking about streetwear, which is the hottest proliferation of subculture that I'm currently unaware of."
The funniest of all these is not even a joke. LOOKBOOK: The Series, a web series produced by the style community LOOKBOOK.nu, follows a Gossip Girl-type plotline wherein a young fashion blogger moves to LA and finds her footing in "the scene," with hilarious earnestness that rivals that of The Room. She strikes up a friendship with a Bieber-esque street style photographer and a love triangle ensues, with over-the-top pornographic closeups of studded boots, leather purses, and shearling jackets. The series reduces fashion blogging to a trite soap opera. Perhaps the most profound snippet of dialogue is: "You're showing thousands of people your personality and it's inspiring them. Don't take that lightly."
Blogging is a target partly because of how seriously it takes itself; but in order to have a good blog, you probably should take it lightly. The less you care about attracting unique visitors, and projecting an idealized version of yourself, the more honest it is going to be. There are still a few good blogs out there—Latter Style and Zero Style come to mind—but what was once about sharing your style and creating a community has been replaced, for the most part, by a desperate clambering for the latest luxury handbag in the limited-edition colour. Fashion blogs are designed for product placement. Knowing this, I let my own blog go; perhaps I held on to my own definition of fashion blogging so tightly that I smothered it by accident.