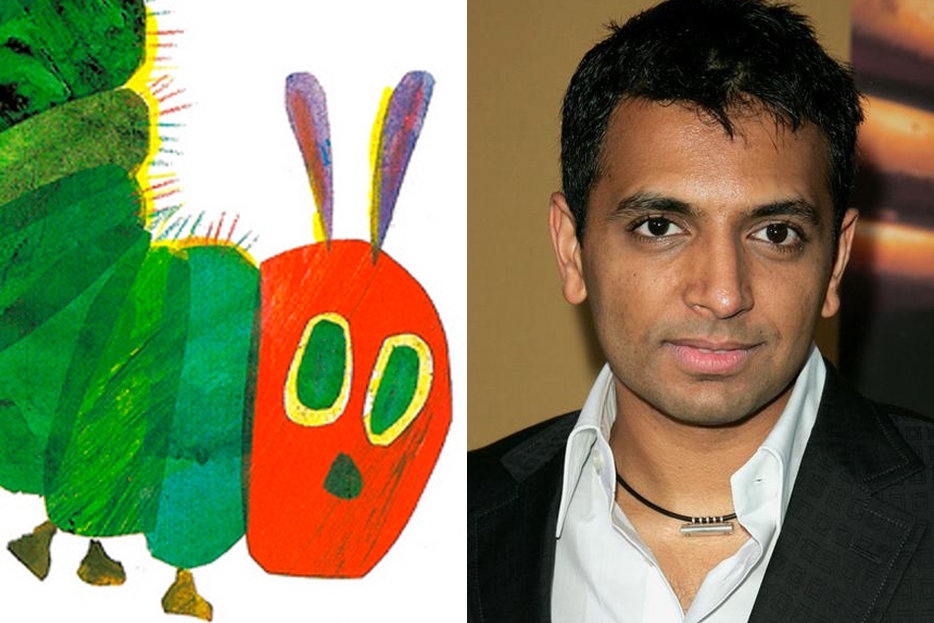 We're living in an age of adapted screenplays, and baby, I'm not about to get left behind. For every Hunger Games, there's a Great Gatsby, and for every Life of Pi, a Silver Lining. Yes, Hollywood has clearly run out of original content, and it's screaming for further literary inspiration.
Fortunately, I've heard its cries. And instead of condemning what could otherwise be described as glorified plagiarism, I will run to its aid, bringing with me nothing but a backpack of resources, all classic series for the taking. So step aside, Peter Jackson—adaption isn't just your game anymore.
The Boxcar Children (directed by Steven Soderbergh)
After years spent squatting in an abandoned boxcar, four siblings (Jaden Smith, Willow Smith, Quvenzhane Wallis, and Tyrel Jackson Williams) team up with their grandfather (Morgan Freeman) to solve the mystery of what type of railroad company even abandons boxcars to begin with—and why.
The Giving Tree (directed by J.J. Abrams)
On his 12th birthday, the vice president's son (Asa Butterfield) realizes he can communicate with the backyard tree (voiced by Helen Mirren). However, days of apples and branches are now behind him: her leaves have been privy to years of government planning, and only Boy can thwart a cyberterrorist's plan to overthrow the United States government.
Green Eggs and Ham (directed by Martin Scorsese)
On his first day on the force, an officer (Leonardo DiCaprio) apprehends notorious mob boss, Sam-I-Am (Ray Liotta), who's convinced he can flip the rookie if he can just get him to try the traditional I-Am specialty, green eggs and ham.
Tuesdays With Morrie (directed by Joel and Ethan Coen)
The weekly life chats between Mitch (George Clooney) and his former professor (Elliott Gould) become a lot more interesting when they realize they've both witnessed murders committed by the same man (Steve Buscemi)—a man they've both happened to have seen over the last few days.
Catcher in the Rye (directed by Wes Anderson)
Ditching school and responsibility, Holden Caulfield (Logan Lerman) brings his sister Phoebe (Mackenzie Foy) along with him on hot air balloon ride from Philadelphia to New York City, where a trip to the zoo prompts questions about growing up, and why only Holden and Phoebe can hear the animals speak.
The Poisonwood Bible (directed by Sofia Coppola)
Unhappy with their parents' choice to move from Georgia to the Congo for missionary work, the Price girls (Abigal Breslin, Elle Fanning, Chloe Moretz, and Hailee Steinfeld) rally together to turn the jungle into a unique theatrical backdrop to suit each of their narratives.
A Million Little Pieces (directed by Tim Burton)
James (Johnny Depp) meets Leonora (Helena Bonham-Carter) at rehab after a particularly bad bar fight. Fortunately, she knows her way around the joint. Soon, they decide to overthrow the facility and transform it into their makeshift dream space—provided Leonora doesn't find out about James's real story first.
How to Win Friends and Influence People (directed by Woody Allen)
Based on the famous self-help book of the same name, Woody Allen stands in front of the camera for a couple hours as a testament to how wrong said book actually is.
Northanger Abbey (directed by Quentin Tarantino)
Catherine (Carey Mulligan) and Henry (Tom Hardy) may be in love, but poverty, familial alliances, and corruption stand between them. With gothic literature in hand, Catherine vows to make Henry her own, and is more than ready to shed blood in the process.
The Very Hungry Caterpillar (directed by M. Night Shyamalan)
A bright day in Philadelphia turns dark when the city's food supply quickly begins shrinking. Is it the apocalypse? No, worse: a caterpillar, whose insatiable appetite subtly parallels society's own consumerism. How can it become a butterfly if it never stops to rest?