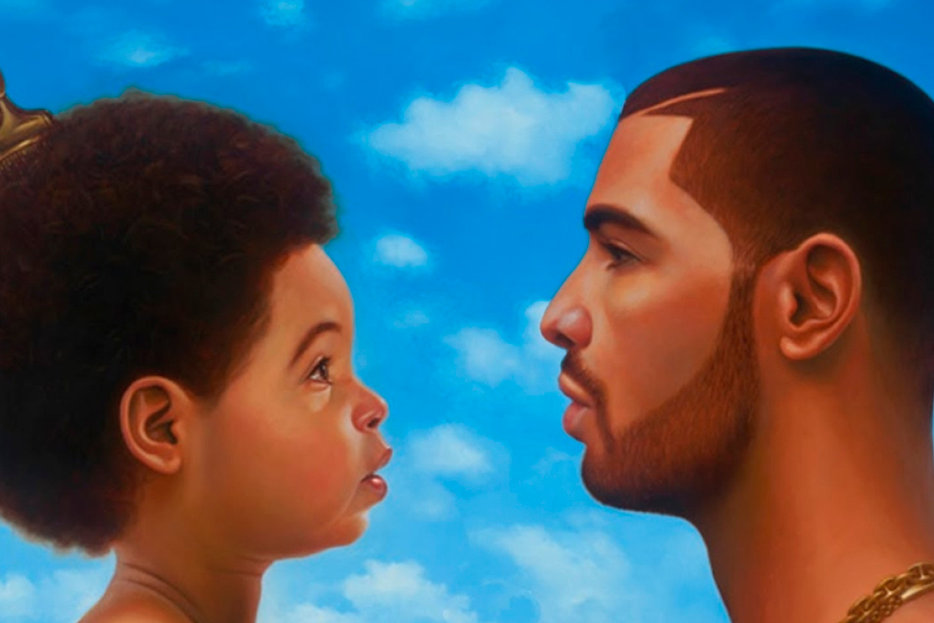 Drake's new album, Nothing Was the Same, will be officially released tomorrow. Anupa Mistry and Rawiya Kameir talked about it. 

Anupa Mistry:
HELLO Rawiya,
Drake season is upon us. It's time to feel latent feelings and caption Instagram photos with Nothing Was The Same lyrics. We've also been tasked with parsing NWTS for Hazlitt: Sheezus just rose again.
We were on Gchat when the album first leaked, superlate last Sunday night, and one of your first reactions was pointing out how ~TORONTO~ the record felt. I was a few songs behind and hadn't reached the apogee of this yet: the part on "From Time" where Drake's boy Baka, aka Not Nice, aka Best Alias Ever, goes in on the "wasteman" dem of Toronto, "wasteman" being Greater Toronto Area patois for a dude who is especially useless/a chump. We've expressed our mutual affection for the term. Would you say Not Nice's little rant, delivered with that east-end lilt, felt like home?
Aubrey's currently living in L.A., though his presence never looms far from the city. The downtown condo and a Forest Hill basement, Acura days, jubbies from Jungle, white wine spritzers at Vivoli—all are indelible to his geospecific narrative. Between the slang and the restaurant call-outs, the street references, and the "same city, same friends" mentality, Drake continues to mythologize his version of Toronto on NWTS. I love visualizing early morning light over the massive, 16-lane 401 as Drake drives east to Markham Road against traffic, while listening to "Connect."
On "Wu-Tang Forever," a rap head-trolling song that felt initially underwhelming but is fast becoming a fav, he says: "I just gave the city life / It ain't about who did it first / It's about who did it right." You recently moved back to Toronto from London; does Drake's mythologizing feel even more potent because you've been away? What makes this record feel so ~TORONTO~ to you? And, most important, do you agree with his statement? Did he do it right?
*
Rawiya Kameir:
You got it, Anupa. Toronto is obviously central to Drake's narrative and he's determined to keep his driving-glove-sheathed grip on that. Like you said, NWTS is peppered with literal references to Toronto—the Baka aka Not Nice interlude at the end of "From Time" should totally be released as a single. But there are subtler references, too; "Worst Behaviour," on which he proclaims "hate to leave the city but I've got to do the overtime," has the phrase "dun know" looped throughout it. That's some Toronto shit, and it may go over your head if you're not from here. Hardly home but always repping, etc.
Beyond those kinds of details, though, I feel like there's something decidedly Toronto-in-2013 about the record. The city I recently came back to, after four years of being away, is immeasurably more confident, even aggressive about its identity. The collective chip-on-shoulder of yore has been replaced with a palpably more self-assured resolve, and I hear that all over NWTS. Americans don't take Toronto very seriously, in sort of the same way that hip-hop as an industry doesn't take Drake seriously. Just like Canada, he's been a punch line (to a very lazy joke) from time, G. On NWTS, he's had enough of that. And rightly so: Dude blew up after Lupe yet he has the most No. 1s in the history of Billboard's Rap/R&B chart.
Despite being Toronto through-and-through, the record features undeniable nods to Atlanta, where current hip-hop trends are originating. Drake's remix of Migos' "Versace," on which he raps "born in Toronto but sometimes I feel like Atlanta adopted us," was the true song of the summer—Daft Punk, be damned!—and songs like "The Language" borrow heavily from that.
In some ways, we're getting a totally new Aubrey on here. What do you think? Is this the boy all grown up?
*
Mistry:
I LOVE THE "DUN KNOW" BIT.
Let's not forget that once upon a time Toronto christened itself the "Screwface Capital." The local hip-hop scene is long-standing and robust—I went to a Maestro tribute at Massey Hall the other night; a hard-won win for Canadian rap, still—but for Drake to move past cyphers to critical mass he elbowed through a shit ton of skeptical teeth-sucking, bottle-throwing, Wheelchair Jimmy-joke making, self-loathing "muhfuckas" who never loved him (myself included). Remember? It was much easier to rep "BaKardi Slang" or "Grindin' (Selector Remix)," because those songs sounded like this motley city, or "Father Time" or "Too Much," because those songs sounded like "rap." So what you're feeling now—that giddy confidence, that lightness in this beautiful city's air—means the Screwface Capital era is over. Drake deaded it. Nothing was the same, etc., etc. He took a frustrated city rife with the disjointed identities of a generation of third-culture kids, and gave it something it could hold up as its very own.
But despite eventually winning Torontonians over—the high school graduation speech was a nice touch—and everyone else, too, he's still fighting an unprovoked authenticity battle (see: the "Started From the Bottom" truthers).
So now, I'd say his music matches that frustration, the dieseled body, the L.A. compound, and left-handed tennis matches with Serena. The distance must've helped. He's rapping more here—I don't know if I'd say he's better—and his flow feels less grating and more athletic, the beats nimble compared to the woozy lethargy of Take Care. Sad is balanced with smugness. Grown up, though? It sounds like something Aubrey'd write himself to say, "we're always growing."
I'm confused by the way the zeitgeist is backtracking on Drake this time around. I'm not going to make excuses for the misogyny, but part of the appeal on Take Care was that Aubrey's emotional honesty felt universal. Drake's telling the story, and when he says all that terribly, cringingly vulnerable shit—"Next time we talk, I don't want to just talk, I want to trust" or "Don't treat me like a stranger, you know I've seen you naked"—the sentiments feel too intimate to escape your own POV. (Let's also take a moment to give narrative agency to Jhene Aiko, who wrote her part on "From Time.") Drake's ex-doxing aside, why are critics acting like the women are victims here? THEY GOT AWAY.
*
Kameir:
I go into most rap records like I go into the real world: bracing myself for misogyny, preparing to roll my eyes or cringe or sometimes disengage altogether. There are levels to this. But when it comes to Drake, I've never been particularly offended by his women issues; they're more boring than they are odious. Yeah, he's an unrelenting douchebag in real life, so what? I know plenty of those.
He's played the "nice dude" card a little disingenuously in the past, but that's all over now. On "From Time," over a lithe piano assist from Canada's own Chilly Gonzales and alongside a colder-than-ice vocal from Aiko, he facetiously puts it to an ex who's apparently (luckily for her) moved on: "Who you settling for? Who better for you than the boy, huh?" You can almost hear the smirk in his voice. This is Drake at his most contemptuous, even a little confrontational, and—unpopular opinion alert!—that's his prerogative.
As ever, on NWTS, we're hearing very specific stories about very specific women, not broad strokes about half the population: among others, there's Courtney from the Hooters on Peachtree, Bria from the Beverly Center Macy's, and, of course, Paris Morton. We've gotten used to anonymity being pretty 2000-and-late, but naming names gets dangerous when it's done without permission; I pray for those women's Twitter mentions. But, as we saw with Yeezus earlier this summer, fans are riveted by the stories, the mythologizing of women who've, ahem, served as muses for the music. Why read Media Take Out (hypothetically speaking, of course) when Aubrey's giving us the exclusive himself? Have you heard? Apparently he and Nicki aren't talking anymore.
It's maybe worth pointing out that it's not just women—Drake's naming his boys, too. On "Wu-Tang Forever" he calls out former homie, collaborator, and Degrassi alumnus Mazin Elsadig. Speaking of Aubrey's BFFs, though, 40's command is all over NTWS, their bromance and signature partnership standing the test of time. I hear a slight evolution in the duo's approach this time around but it's less musically progressive than I was hoping for. How are you feeling about the record sonically? Do you think there's a chance that Whitney sample will go away if we don't talk about it?
*
Mistry:
While we're at it, I subscribe to the Joan Morgan school of "hip-hop feminism," which states: "And how come no one ever admits that part of the reason women love hip-hop—as sexist as it is—is 'cuz all that in-yo-face testosterone makes our nipples hard? … I need a feminism brave enough to fuck with the grays."
Not that sonically, or thematically, there's anything particularly lusty about NWTS. It feels more dominated by open space than in-your-face melody. Take Care was often described as lush, and I think that wall-of-sound approach is what made it so musically and emotionally suffocating (and, so, "Pumpkin Spice Music"). Like Drake, this record is confident in its relative sparseness (the Yeezus effect?) and diminished reliance on those dominating hooks.
NWTS isn't as musically cohesive or even interesting, really, but Aubrey is a purposeful dude. It's clear that with NWTS he wanted to reclaim and/or exploit a certain strain of canonical rap nostalgia. That explains all of these relatively obvious rap motifs: the mid-'00s 9th Wonder/Kanye West chipmunk vocal loops, Wu-Tang allusions, the Prodigy and Ma$e call-outs, the hand-rubbing Birdman outro on "The Language," that new stentorian flow he uses throughout, the Jay Z appearance over Boi-1da's autumn-crisp Timbs-and-bubble-goose beat for "Pound Cake"—even NWTS's man-baby cover art alludes to classic Nas and Biggie albums. And what reason is there to have Jay Z on your record in 2013, other than the fact that you can? Drake's just as tethered to the idea of rap credibility as Jermaine "Let Nas Down" Cole, but not creatively hinged on it either—unlike Kanye, he's attempting his takeover from within hip-hop's confines. Musically, I'm not super invested like I was when he and 40 flipped Jamie XX and Jon B. on Take Care (the Whitney flip, until we get the credits, seems to be the most musically confrontational idea here). Right now my most pressing concern is: What happened to the rumoured Anthony Hamilton and Saukrates features?
I just loooove shouting in rap songs and find it difficult to comprehend all the hate for DJ Dahi's Wall-E-all-turned-up beat for "Worst Behaviour." Is no one feeling as good about that very un-American –our as we are? I'm happy with this record. Let's close out with this: How does NWTS hold up vis-a-vis Drake's musical stature?
*
Kameir:
YES. YES. YES. Yeezus bleeds all over NWTS. My theory is that Drake and 40 spent a bunch of the summer listening to/dissecting Kanye's latest album and made some composition and editing choices accordingly. The aforementioned sparseness of "Worst Behaviour" (which I agree is a PULLUUUUUUP-worthy jam), the way some of the songs bleed into each other like an extended interlude, and the generally unorthodox song structures all bear the mark of Yeezus. He is musically progressive in some ways, but Drake's approach to structure has been fairly conservative—he "came up in the underground," after all—and NWTS sees him trying a ting.
Sonically, though, who knew it was possible for an album to be so boring and disjointed all at once? I love it, but 40's dark, moody signature is not as innovative as it was in 2010—is it just me or is Drake's man Friday starting to sound a little expendable? Rather than 40's hand, though, Drake's voice plays a starring role on NWTS, and I applaud that. Dude's clearly been working on his singing ("Hold On We're Going Home" is a leap ahead of Thank Me Later's "Karaoke," for instance), but there's also a new depth to his snarl that I feel in my gut, making songs like "305 To My City," a slightly condescending "Make Me Proud"-style redux, resonate both in the club and on the treadmill. He gets a bad rap for being emo, but Aubrey doesn't just emote self-pity and inward-looking sensitivity; on NWTS, he really leans into the bombastic self-mythologizing. And, autobiographical or not, that's a good thing.
NWTS is, despite its inconsistency, an incredibly enjoyable listen and confirms that the respective successes of Thank Me Later and Take Care were no lucky break; Drizzy has an unlearnable knack for tapping into the zeitgeist, rivalled only by Kanye at this point. Ultimately, though, the contradictions of persona on the album point to NWTS perhaps being a point of transition for Aubrey. He struggles to contend with the circumstances success has wrought while finding a balance between sustaining the respect of Team Real Hip Hop (as he attempted with Thank Me Later) and winning over, well, Ellen DeGeneres (for the likes of whom clear overtures were made on Take Care). Or, more pointedly, whether he has to do that at all. Drake wants to run the establishment more than he wants to upset it; the boy isn't going anywhere.
Follow Anupa and Rawiya on Twitter.