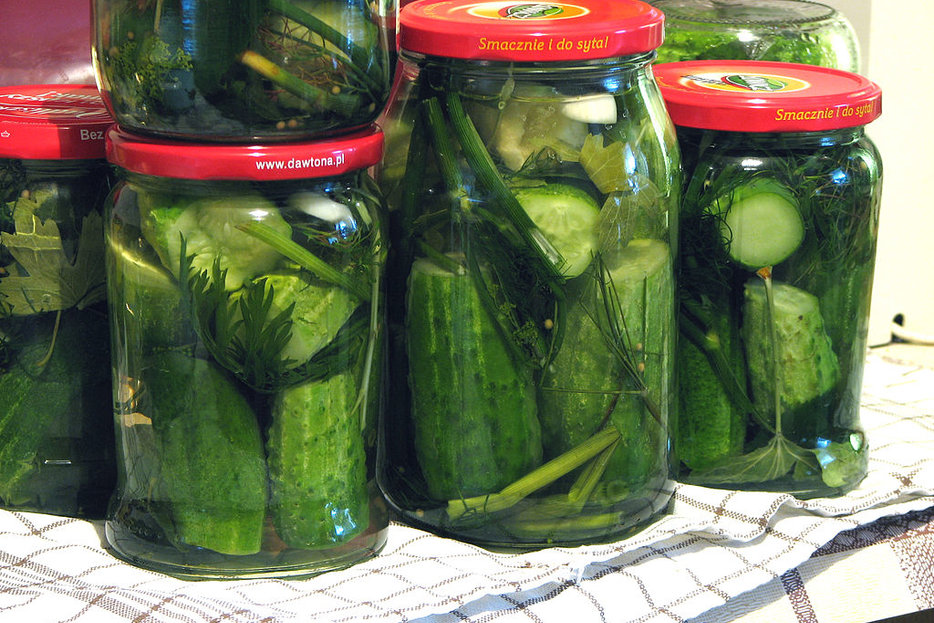 Image by Mariuszjbie via Wikimedia
Restaurant culture is cyclical and churning. It comes in waves, always spitting out something old and dragging up something new. I can pretend to be baffled by the trends and fake-appalled at the idea of certain themes being in style while others languish on the shore shriveling up like day old jellyfish, but the truth is, I rely on my instincts to keep ahead of these so-called trends. I want to get there as first as possible, which sometimes means watching as something I nurtured, fussed over and talked people into liking boils over and becomes ubiquitous.
This is ultimately a good thing. It's how culture re-jigs itself, shedding the leather skin of '80s excess for the soft flannel of '90s pretend poverty; turning disco into electro (and back again); and going from ultra refined, heavily sauced plates to casually mussed, perfectly distressed ones. We are in a time, as we were ten years ago and will be ten years from now, where anything seems possible; the rules are all but forgotten (unless you count the new rule of refusing to obey the rules as its own rule). We construct "original" spaces, choose "unique" flatware and do things "our own way." ("Won't these old- timey dish towels make fun napkins?") We sit pretty; comfortable in the arrogance of imagining this is all happening for the very first time, that we are the groundbreakers. It's an affliction of youth, this imaginary narrative we construct around our innovations, as though they all have the gravity of, well, gravity. It never occurs to us that we are here because someone else was here first.
There'd be no Black Hoof without London's St John, New York's Momofuku, or Montreal's Joe Beef. When St John opened (what seems a shockingly long time ago) in the mid-'90s, no one but grandmothers made such thorough use of whole animals. It was a learned frugality, passed down through generations, simply economic, now expropriated into the smart liberal populist movement of not wasting any part of a thing that has given its life (begrudgingly, no doubt) so we can eat tasty morsels of fatted meat. When Momofuku opened in the mid-2000s with its uncompromising attitude—a linear vision that was almost its destruction, but turned out to be its (and David Chang's) greatest asset—it turned the idea of stuffy restaurants coated in flowers and linens on its end. In fact, it flipped the whole table over in a necessary rebellion that revelled in its own dimly lit rock and roll chaos, but with great food and, eventually, great service. These and others took risks. Whole beasts, no table cloths, dim lighting and loud music bouncing off painted brick hardly seem like gambles today, but back then they sure were.
Closer to home, Jamie Kennedy Wine Bar was an important step toward the casual dining that now clogs our scene. How quickly we forgot what a vibrant, energy-filled room that was. Jamie's cooking was some of the most exciting the city had ever seen, executed by Toby Nemeth, who, incidentally, went on to open the adored Edulis. (She and her husband, Michael Caballo, are two of the best chefs in the country.)
Nemeth didn't forget Jamie's influence, but the Wine Bar has long since closed, and as a city, we casually turned away from Kennedy. We collectively settled into our idea of him as the old guard, despite the fact that he continued to cook his trademark fresh and local food at Gilead, which we didn't allow to flourish (Gilead closed its doors for good at the end of March). An extremely ungenerous review didn't help, but it's part of my point. Jamie's a leader in Toronto's food scene, and we let a critic—one whose questionable knowledge and understanding of how restaurants work irks me constantly—hammer in the final nail.
We forgot about Kennedy, but we kept his influence (preserves in mason jars filling whole walls, anyone?), proclaiming each "new" fresh and local concept hot instead of hot copy. We did the same thing to the extraordinarily talented Marc Thuet, who, without question, was an early adopter, bringing the charcuterie and choucroute of his beloved Alsace to the Toronto hoards, who were so excited to finally have access to real French food.
I'm aware that both these men are pushing 60, but so are many of the great European and American chefs—hell, the crown jewel of Lyon (and the world), Paul Bocuse, is a year shy of 90. America's iconic Thomas Keller will be 60 this year. (I'm not directly comparing Bocuse or Keller to Thuet or Kennedy, just holding them up as examples.) Influential European and American chefs are treated with reverence and creative respect well into old age, but in Canada, we soon forget.
Sadly, Kennedy and Thuet are not isolated examples of our collective short memory. It's what we do. Our youthful insecurity is both an asset, as we build and shape an exciting, morphing culture from scratch, and a liability, as we bog ourselves down with an obsession to prove our worthiness as a World Class City.
Coming from a perspective of subaltern, kneeling, trophy in raised hands—"Here's the shiniest newest thing we have to offer"—instead of proudly honouring our predecessors, does harm to protecting our history. We should be safeguarding our talent. They should know they have home team support, a place to grow and achieve greatness (obviously, there are exceptions, but those we lionize are few). Driven by our instinct to run screaming toward the doors of the latest thing, our short memories pockmark our history, fill it with black holes, and we are worse for it. We are still growing, in every sense. We have so much we think we have to prove to the world, that we only want to hold up the shiny, new things—ideas that only exist because someone generations ago sanded a piece of wood; someone else nailed it into a door frame; someone hung a door and then someone pushed it open a crack. We need to stop pretending we just breezed through that door on the merit of our brilliantly fresh ideas.
Toronto doesn't have the necessary self-awareness, and we'll never have the confidence to protect and keep our innovators if we continue to so badly need the approval of not-Toronto—if we continue to toss aside our talent in all fields because of our short attention spans. It's why so many creatives move away.
That is not to say we are on the wrong path. It's an exciting time to be in the restaurant business in Toronto, and even more exciting to be a diner: we are rounding a corner, spoiled with a wealth of options that will consequently lead to better restaurants. The stronger the competition, the more good food there will be—the ultimate in democratic capitalism. You have to be great to compete (or at the very least, have a great PR team and money to burn).
Internationally renowned chefs have started to take notice and set up shop here—most notably, Daniel Boulud and the aforementioned David Chang—so we must be doing something right. Although I expect it's more economic than anything else, we should be proud of creating a pie base the economic superpowers of the restaurant world want to slice into. But we should try to remember that we did this ourselves over the course of many steps taken over many years, and that we aren't special just because the New York Times finally noticed. (Although it's AWESOME that they did, right?)
How quickly we forget everything. We are so plugged in to à la minute updates of one anothers' lives that we've subconsciously substituted "new" for "good." Which means shitty, milquetoast versions of great restaurants get mobbed with people for a few months, and restaurants that have been putting out consistently good food for years get abandoned. I'm not referring to my restaurants in this rant, by the way—I don't feel forgotten, or pushed aside. But I know it's always just around the corner.