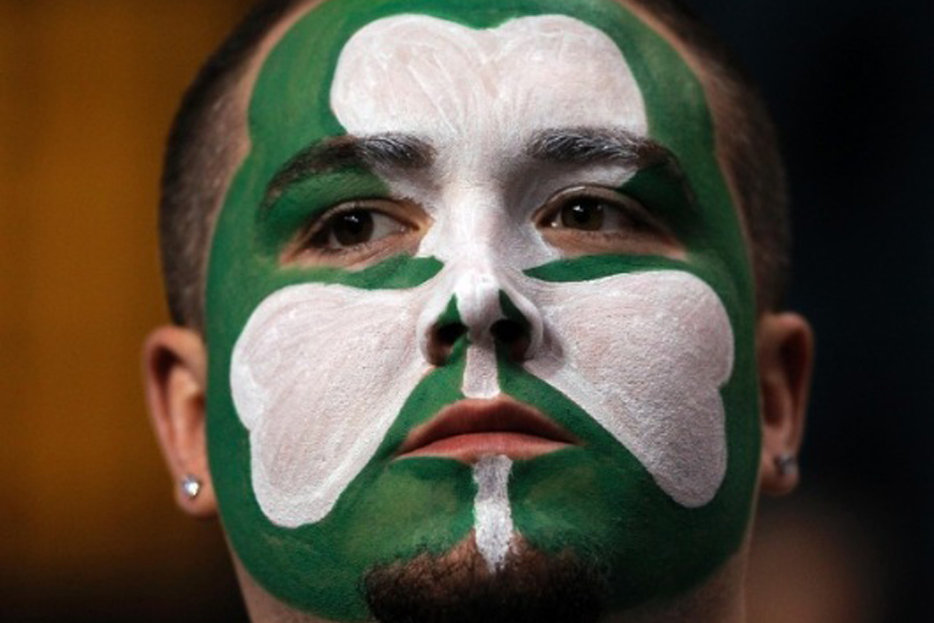 Most of us probably think of St. Patrick's Day as a festival of amateur drunks and green vomit. With that in mind, I asked some people what the day meant to them. Here is a sampling of the results.
Arthur Paglia, 38 years old
My parents got divorced when I was very young so I didn't get to see too much of my father, but every St. Patrick's Day we'd get together. I looked forward to that day more than any other, more than Christmas. Dad would always take me to McDonald's before the parade and we'd each have a Shamrock Shake and sit there telling one another knock-knock jokes.
Knock-knock.
Who's there?
Shamrock.
Shamrock who?
Shamrock shakes.
And then he'd start twitching and shaking and I just could not stop laughing.
Mandy O'Keefe, 53 years old
When I was in grade seven my mother made me wear a ridiculous green gown to school to celebrate St. Patrick's Day. I looked like a giant, green whale. It wasn't a Catholic school or anything, but just a regular public one and sending me in there, dressed like that, was like sending a lamb to slaughter. Naturally, all the kids started to call me Mandy O'Beef. I became branded. I was the fat girl from then on, and I wasn't even that fat! It was the worst day of my life. I actually burned the dress in the cemetery behind the Dairy Queen that night.
Allan Logue, 26 years old
One year I got asked to DJ an event at a massive, illegal party in some factory loft. I knew it was going to be a crazy gig, but I took it anyway. It was utter madness, of course, and half-way through my set I was told that the featured DJ wasn't going to be able to make it, so I had to play another two-and-a-half hours. I was already kind of tipsy and didn't know what I was going to do, when all of a sudden about 50 cops in full riot gear came in and started arresting everybody. I packed up all my stuff as best I could and left, watching all the cops on the street loading up the paddy wagons. One of them asked me for a cigarette and I gave him one, and then we just hung out, smoked and chatted for the next hour. The guy was completely hysterical, even giving me a ride home in the cruiser, and I think that was the most fun I've ever had on a St. Patrick's Day.
Jane Balforte, 8 years old
St. Patrick's Day is all about luck. I have two good luck charms. One is a seashell I keep in my pocket and the other is a stuffed giraffe named Angus. When I need luck I pet Angus, and then maybe I'll find some money or meet a dog. It's bad luck to kill a ladybug and if you do St. Patrick will strike you down with snakes!
Malcolm Stroud, 32 years old
2010. The year it all went to shit.
My girlfriend was Irish and St. Patrick's Day was always a big deal to her, so I had been planning on proposing to her that night at the Acorn pub. Well, on that day, I got fired from my job. It was my first "grown-up" job and I was actually really proud of it, and when they canned me I didn't see it coming. I thought I had been doing great and was completely devastated. I didn't tell Shelagh, though, and was still planning on proposing that night, but I ended up getting really drunk and Shelagh, without even knowing that I'd been fired, broke up with me, telling me that I had a drinking problem and that she couldn't take it anymore. I never told her I was going to propose to her and I never will. That was three years ago, and if I didn't have a drinking problem then, well, I think I do now.
Sarah Peat, 48 years old
When I grew up, St. Patrick's Day was always freezing cold and I had to wear these thick, wooly tights that made my legs itch. I never got to go to the parade but had to watch it on TV, marvelling at all the perfectly tanned American girls twirling their batons in front of elaborate floats. They were like goddesses to me. I so wanted to be one of them, but I was also secretly hoping for them to screw up, for the batons to fall into their perfectly coiffed hair, something I would later have to reveal at confession.
Gerald Hammersmith, 62 years old
I was 36 and had never been to New York City, so one year I took a bus there for the St. Patrick's Day parade with a bunch of other tourists. But first I went to St. Patrick's Cathedral and lit a candle. It was for love. I'd been lonely my entire my life, and this was where I hoped it would all change. I went to the parade and there just so many people, thousands and thousands streaming by. It was so beautiful, the entire world in front of me. I wondered if each woman I saw might be my love story, and I closed my eyes and tried to imagine her—maybe a little shamrock on her cheek, smiling up at me with such warmth and grace. It would be in slow motion, and she'd be glowing, an ever fresh and radiant possibility, and I don't know if it was the presence of God, but when I was feeling this, when I was trying to will her into being, I suddenly knew that everything was going to be all right and that love was everywhere, and then, as if for the first time, I opened my eyes.