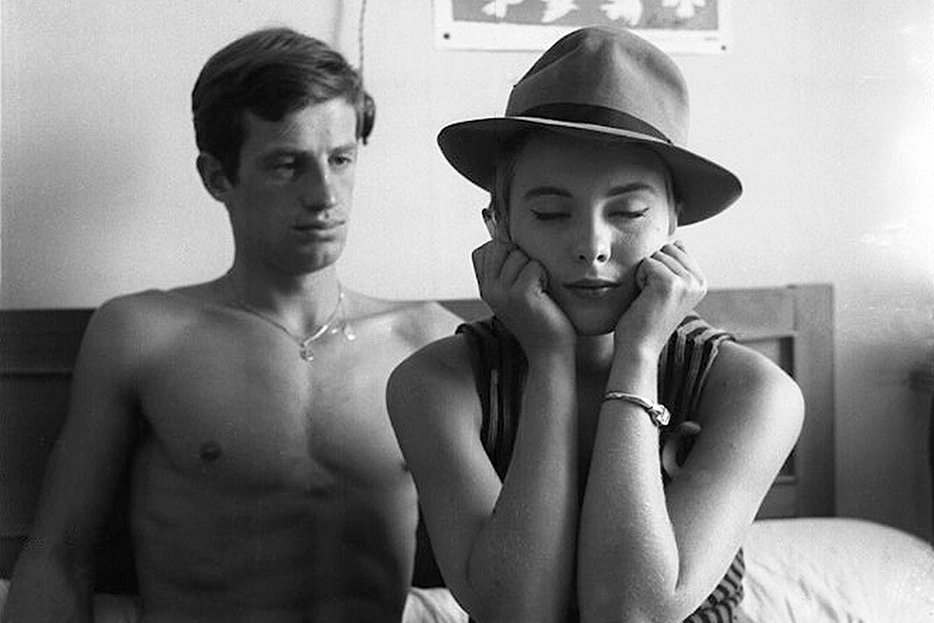 "All you need to make a movie is a gun and a girl," goes the quote attributed to Jean-Luc Godard, but consider the auteur's oeuvre and you see the gun is optional.
Godard has over 30 features to his name and dozens more short films, the most notable of which he made during the 1960s French New Wave—that Francophile's dreamscape, all cigarettes and winged eyeliner. Godard was a filmmaker focused on the visuals, and unafraid to let his style affect his story: add a few jump cuts, switch the light filters from red to blue mid scene. You always become aware that you're watching a Godard film: he immerses you in a facsimile of Paris (or Rome, or the Mediterranean sea) and then breaks the fourth wall, reminding you that cinema is filled with illusions.
Godard fancied himself political, skewing anti-capitalist and anti-war. His ideologies, en vogue with youth of the '60s, paired well with his tinted sunglasses and the cigarette constantly dangling from his mouth. I don't think Godard was inauthentic in his beliefs, but he was very conscious of how he displayed them. His message was always tied to an aesthetic, and the most important part of his aesthetic was his women. The face of Anna Karina, Godard's wife, collaborator, and muse, is synonymous with his contributions to the French New Wave; her blunt bangs and coquettish smile appear on the posters for seven of his films. But she was more than ornamental: while Godard's men served as mouthpieces for his politics, the women lived them.
The male heroes of Godard's films are as image-conscious as he was. In À Bout De Souffle, Michel (Jean Paul Belmondo) is a nihilistic petty criminal, wanting to detach from contemporary society while simultaneously idolizing it. On the run from the law, he mimics the heroes of American cinema, specifically Humphrey Bogart, that paragon of Academy Award–approved masculine cool. In Masculin Feminin, Jean-Pierre Léaud plays Paul, a man who is fed up with consumerism and the superficiality of art. He decries the contradictions at the heart of his generation (the "children of Marx and Coca Cola"), yet he's enchanted by Madeleine, a commercially palatable pop star played by real life Yé-Yé girl Chantal Goya (the precursor to Zou Bisou Bisou-ing Megan Draper on Mad Men).
Many of Godard's most iconic movies are about men—Pierrot le Fou, Bande à Part, Alphaville—but women are the real stars: women who sell sex, women who break the law, women on the run, women who are maybe still girls, women who aren't sure if they're unhappy because they're not free, or not free because they're unhappy. Women who, at their lowest, still look coiffed; they embody that je ne sais pas quoi temerity associated with French women, regardless of whether or not they are actually French. (Jean Seberg, the star of Breathless, was American; Anna Karina is Dutch).
Discussions of whether Godard's work is feminist bore me (as do most discussions about whether a piece of art is or isn't feminist, as if it's an either/or matter). I suppose boredom is an appropriate reaction, since ennui never looked better than in his films. Susan Sontag argued that Godard's movies offered proofs, not analyses, in that he did not question why things were, but rather showed them as they were. For all the deliberate artifice, his films did expose truth: they were sincere about the freedoms, and limitations, of aesthetics. And they were honest about who gets to bedisillusioned with society: the men who were part of it to begin with.
In Pierrot le Fou, Ferdinand (Belmondo again) decides, at a party, that he is fed up with the bourgie lifestyle. He abandons his wife and children and runs off with the babysitter, Marianne (Karina, of course). Marianne is involved in a smuggling plot, and being chased by terrorists after having killed a man. Like many of Godard's women, she is reckless and enigmatic, an outsider even within her own movie. Her backstory is the catalyst for Ferdinand's Rousseau-like fantasies of escape. But on the road, Ferdinand quickly becomes bored of Marianne, who, like Patricia in À Bout De Souffle, wants to return to society: she can't fulfill his fantasies of escape, because she's too busy figuring out what she wants herself.
The women in Godard's films are always aspiring to their roles: Patricia, the aspiring journalist in À Bout de Souffle. Angela, the aspiring mother in Une Femme est Une Femme. Nana, the aspiring prostitute in Vivre sa Vie. While the men try to break away from the world, the women try to break in. Like the films themselves, they allure (male) onlookers with the suggestion of sophistication and fantasy, but their shit is way more complicated than the faces on the posters suggest.
Godard's politics—anti-capitalist, anti-bourgie, pro-undiscerning references to Marx and Mao—may feel superficial (and dated), but his films survive as political artifacts. And five decades later, we remain focused on the women, frustrated as ever.
Godard Forever: Part 1, a 17-film retrospective on Godard's work, is now screening at the TIFF Bell Lightbox in Toronto.