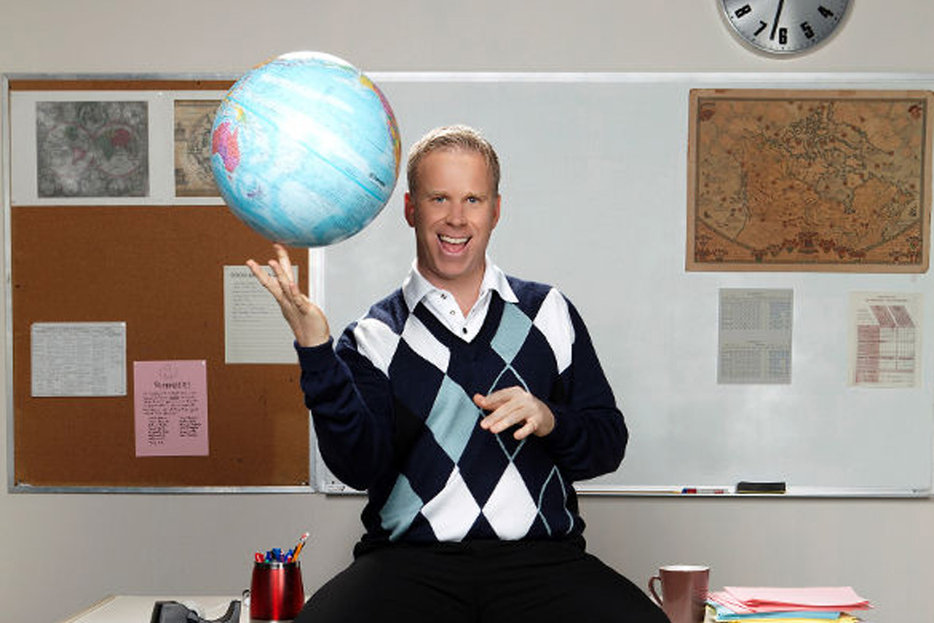 Before Gerry Dee was a top Canadian comic with his own CBC TV show, he was a gym teacher and hockey coach at De La Salle College in Toronto. His new book, Teaching: It's Harder Than It Looks, delves into experiences from his ten-year teaching career. Dee details run-ins with parents, kids, and other teachers, losing student exams, and how to make it through class hungover, all while pursuing a career in stand-up comedy. Before he starred on his own show, Mr. D, Dee placed third on the fifth season of Last Comic Standing, performed at the Just For Laughs festival in Montreal, and in 2008 won a Canadian Comedy award for Best Male Stand-Up. Dee talked to Hazlitt about his favourite five comedians and breaking into the Canadian comedy scene.
Who are the top five comics that you love and why?
These are in no particular order, but Bill Cosby is somebody that had a big influence on me because number one he was clean. He was a storyteller. I'm not as clean as him, but still pretty clean, and a storyteller. He took his path and made it a sitcom, which is what I did. So, I certainly look at a guy like that for someone to model my career after.
Dane Cook in a roundabout way. He was the first star I got to see live and work with. I was blown away. I was blown away by his business skills and how he marketed his brand. I liked his earlier stand-up too. I saw Dane destroy rooms and I'd never seen that before at that level when I was in L.A. I saw it over and over again, because I'd do the same room as him and he would always go last and I would stay. My first-ever paid club gig in the states was MC-ing for him and I didn't know who he was. And he was a rock star.
Russell Peters because he's done what we all want to do, in the sense of selling out arenas. It will never happen for me. I don't know if anyone in Canada will ever do that, maybe ever, or not for a long time. He's an anomaly. So that's an inspiration. To see someone sell 16,000 seats when you're trying to sell 1600. And 1600 is a lot. No one can really do that. So that's a really big motivation for me.
Brian Regan is someone that I sit and laugh at a lot. He's got amazing delivery and voice. He's very unique and it's almost so effortless with him. He's doing sold out theatres in the States and most Canadians probably don't know who he is.
Louis C.K., because he's the modern day comic-turned-TV star that we all look to. His comedy is brilliant. My comedy is not brilliant, it's just comedy, I mean, it's good. But his to me is brilliant, the way he takes simple stuff and makes it great. He's also a big comedian for fans. He's very tied in to being fan-based.

Has working on a sitcom changed your comedic timing? Are there any TV shows that you look at now and think they're funnier than you would have before?
Having done a sitcom, I appreciate how hard it is to translate something from thought to paper to acting it out. So, some shows now that I thought were funny, I look at now and say that's not so funny, and other shows I think yeah, that actually is pretty funny. I think as far as my live shows it gets easier when people know who you are. When I started in stand-up no one knew who I was. Which is the case for a lot of Canadian comics. You really have to get the crowd's attention by being funny. Well now I get the crowd's attention right away because they know who I am. So it's a little bit of an advantage, but then you need to build on that.
Do you think that now it's harder to be funnier because now you're a bigger act and the audience has different expectations?
It's harder to be funnier in the sense that it's harder to keep writing funny because the turnover now is so fast. A lot of the comics in Canada that you won't have heard of, that are really good, can tour with the same 45 minutes for 10-15 years. They haven't been on TV, but they're very funny. Once you get a following and a name you have to have a quicker turnover. So it's harder to be funnier as fast. I had eight years to develop my first hour. But once I went through that, and everyone knows this joke and that joke, then I get into my second hour, and then you get two years and then one year. So that's where it gets harder. You have to write faster, and newer, and more.
Are there any up and coming Canadian comics that you'd like to see make it?
Yeah, there are a lot of guys on my show. The three guys, Darrin Rose, Mark Forward, and Mark Little who are all on Mr. D are just starting to really break into comedy. Up-and-comer in our business can mean someone who has been doing this for 12 years. But I would watch for those three guys, who I think are going to be TV stars first, then you'll see they can really bring it on stage too, which a lot of people don't know. I don't get to the clubs now to see the younger comics and nobody is really good in the first five years anyway. You see potential, but those three guys work hard at it and are good at staying fresh and different.
What was the best show you've seen as an audience member?
I don't get to see a lot of shows. I watch some stuff on YouTube. There's nothing live that I've sat down and laughed at. Comics are very hard to make laugh. We almost don't even laugh, we just laugh inside. When I watch a Brian Regan or Louis C.K., I'm not laughing. Ricky Gervais I laugh, but stand-up is not really his thing. You're more going "Wow, that's so good." That's what comics do when they watch a good comic. You're not laughing, because we're in that world. So it's different for us. It's a different response.