In the summer of 1983, when he was 14 years old, Andrew Slorance fell out of a tree and broke his back. He never walked again.
After he got out of the hospital, Slorance was given a wheelchair—one of the first so-called "lightweight" wheelchairs, which had come down from 25 kilograms to 15. It was considered a major advance in wheelchair design by the medical community. To him, however, it was worse than awful. It sapped him of any individuality he had, turning him from Andrew into "the kid in the wheelchair." By the time he was 16, Slorance vowed that he would reinvent the wheelchair one day.
It took 30 years, but he did it. Unable to find the wheelchair he pictured in his head, Slorance re-mortgaged his house, racked up credit card debt, and took out personal loans to make it himself. In 2012, the Carbon Black wheelchair was finally a reality.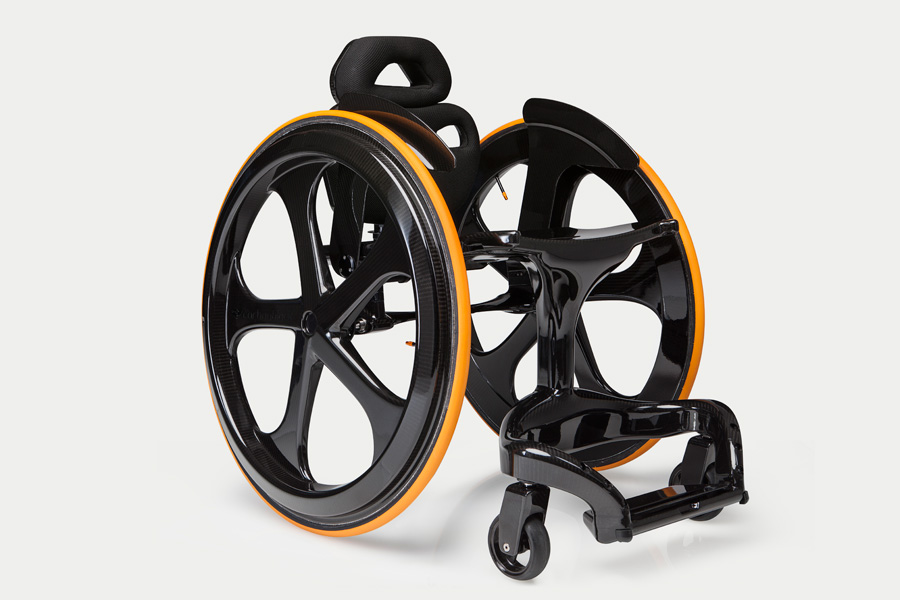 That year, Carbon Black was nominated for the London Design Museum's Designs of the Year Product Award. It has been called "sleek," "intelligent," "stunning," and "the Ferrari of wheelchairs." Yet, Slorance emphasizes that Carbon Black is not just about a nice looking chair. Its true purpose, he says, is "to genuinely improve lives through positive design."
"Wheelchairs have always been perceived as rather unfortunate medical devices," Slorance tells me from his office in Nairn, Scotland. "When you are the user of what is commonly perceived as an unfortunate medical device you don't feel empowered."
If one wanted, say, a Scotch tape dispenser designed by Philippe Starck, they need go no further than their nearest Target. An Internet connection is all that stands between you and a Karim Rashid trash can that looks like a work of art. Starkey's Zōn hearing aid literally is art—the Smithsonian Cooper-Hewitt National Design Museum recently added one to its permanent collection. Andrew Slorance calls Carbon Black "a piece of kit that would make any design or tech fan go weak at the knees." And it is—though, unlike a $30 Normann Copenhagen dustpan, a $15,000 wheelchair (the standard Carbon Black carries a price tag of £9,950; all of the optional extras bring the cost to £12,620) isn't a feasible purchase for a large part of the population. For them, the choice is pretty much limited to the x-frame wheelchair, the old workhorse patented back in 1937, in chrome, chrome, or, well, chrome.
AN UNTOUCHED MARKET
It's not that the numbers aren't there. Rich Donovan is the founder and CEO of Fifth Quadrant Analytics, an equity index and ratings firm in New York City that focuses on the disability market. By his count, there are 1.3 billion disabled people in the world (the United Nations pegs the number at around 1 billion). And though Andrew Slorance tells me there tends to be a perception that disabled people don't have much money, Donovan estimates them as a demographic three times the size of the US Hispanic market, controlling more than $8 trillion in disposable income. The exact number of wheelchair users within this group is hard to pin down, but a 2010 fact sheet from the World Health Organization puts the figure at roughly 10 percent of the total disabled population. By any metric, that's a lot of people.
"In no other market do we force people to simply take whatever product gets shoved down their throats, especially one of this size," Donovan says. "It's really sort of unbelievable."
You'd think that companies would have figured out long ago how to sell to a cohort this size. For some reason, it remains barely-touched.
Herman Miller entered the healthcare market in 1971, with the Co/Struc line, a storage system used in hospitals. The company's ubiquitous Aeron Chair was originally designed for seniors. And according to Herman Miller spokesman Mark Schurman, healthcare continues to generate "hundreds of millions of dollars a year for us." However, with the exception of a brief flirtation with licensing components to a Danish assistive device maker (the model is apparently no longer in production), Schurman said they have never produced a wheelchair.
Knoll refused to grant an interview or even comment on the record, except to email a statement saying, "We have not designed or manufactured the products described below."
I asked Michael McAllister, an associate professor of industrial design at Philadelphia's University of the Arts and Lead Designer at Knoll from 1987-2000, if he might shed some light on what goes on behind the curtain at the company. He told me that wheelchairs and such were not part of the mission at Knoll when he was there, and that they simply aren't its area of focus. However, McAllister believes the issue is a broader one than whether or not wheelchairs fit into one company's business plan.
"I don't think we're ready to look at people with disabilities," he said. "Maybe we don't have the stomach for it. Or enough will or concern. I don't know how much louder people with disabilities can scream without being heard."
DISABILITY AS AN ASSET
If manufacturers have paid little attention to the category, it barely even registers on retailers' radar. Joseph Piekarski, founder and president of 1-800-Wheelchair, happens to think about these things more than most people ("I have always had a passion for rethinking assistive devices," he says). Piekarski also carries strollers, which he describes as "essentially the same product—a wheelchair for a younger person who is unable to walk." Since he went into business in 1997, Piekarski has watched stroller design totally eclipse that of the wheelchair.
As babies grow out of strollers, however, baby boomers will be growing into wheelchairs. By the year 2030, approximately 20 percent of the North American population will be 65 or older. And just as Andrew Slorance's entire world changed in an instant, he points out that "All it takes is a careless driver, a misjudged dive into a swimming pool, an instant sports injury, or a disabling condition such as MS, and that individual has hit a life changer."
Things might be different if those tasked with making assistive devices viewed their creations a bit more "socially" and a little less "medically," says Graham Pullin, a professor of digital interaction design at the University of Dundee in Scotland, and the author of Design Meets Disability. He says viewing "disability" as one distinct bloc tends to neglect the fact that disabled people, are indeed, individuals.
"The industry has always has a very monolithic view of the people they are designing for," Pullin tells me.
Such generalizations, he says, have resulted in the stereotype of "wheelchair-user-as-frail-old-woman" being swapped out by society for a new one of "wheelchair-user-as-athletic-younger-man"—neither of which, of course, are entirely accurate. Pullin calls the design cues wheelchairs have taken from mountain bikes over the past several years "a revolution," but fears this convergence may usher in a new era of further stasis.
"It's surprising, but it feels like most of the people in that field feel like, 'Okay, we've optimized it,'" he says. "For the most part, things are now far more about additional refinements, or the occasional new material—all very much within the notion of the wheelchair-as-sporting-vehicle."
Somewhat counterintuitively, creating something meant to be used by a few often ends up benefiting the masses. Aside from the Aeron, one of the best-known examples of Universal Design—a product designed for the broadest spectrum of users possible—is the OXO Good Grips line of utensils and tools.
Rie Nørregaard was part of the team that designed and launched Good Grips, which were originally intended for people suffering from rheumatoid arthritis.
"In studying how to help older arthritic people with their problem," she tells me, "we found that you and me and young children and everyone else in the world who doesn't have arthritis likes a bigger handle, too. If you learn from the outer edges of ability, you make a better experience for everyone in the middle."
Nørregaard, now the creative director and president of Omhu (Danish for "with great care"), won the prestigious iF Product Design Award in 2011 for her signature birch-handled cane. There is no question that herding something as simple as this through the required regulatory processes prior to release is a good bit less expensive and onerous than doing the same with a wheelchair. Andrew Slorance has nevertheless proven it possible, and Fifth Quadrant Analytics' Rich Donovan believes that simply considering the needs of the disabled during the design process can only add to a company's success.
"What can disability bring to Knoll's core customer?" Donovan asks. "How can you innovate around disability to make chairs better for everybody? We encourage companies to look at people with disabilities and say, 'Okay, where is the real commercial value here? How can we leverage these insights to benefit everybody?' Now, all of a sudden, the whole thing gets flipped on its head, and disability becomes a big asset."
AN ECONOMIC TWILIGHT ZONE
Wheelchair makers have been making their products the same exact way for so long, changing any part of the process means a lot of work and a lot of money, says Andrew Slorance. The challenge with Carbon Black, he explains, was throwing all of that out the window and starting from square one. Using carbon fiber required that Slorance hire specialist engineers who normally work in aerospace and Formula 1 auto racing. He says they had to completely rethink each component, design it, test it, re-design it, then produce it for a reasonable amount of money.
"Meanwhile," says Slorance, "other wheelchair companies are buying their parts by the container load from China, paying very little for them, and not wearing any development costs."
If, somehow, the stars align and a new wheelchair does get made, getting it into consumers' hands promises to be even more daunting.
"The conundrum we have found," Herman Miller's Mark Schurman said, "is that if we were to make something like a wheelchair, there is no channel to market for a company like us, there's no place that individuals go to buy 'best in class' products for their personal health and well-being. We've gone way down the road in developing some of these things, with considerable investment, then put them on the shelf because the appropriate distribution model didn't, and doesn't, exist."
Now, if a true miracle occurs and you manage to get your wheelchair into the proper retail setting, actually selling the thing is where the rubber truly hits the linoleum tile. It's not about getting designers interested, it's not about having new, better ideas. It's not even truly about where you buy this stuff. It's how.
"Durable medical equipment, which is the category wheelchairs, walkers, and et cetera are in, doesn't get bought in the same way as can openers or office furniture or tape dispensers do," says healthcare economist Adam Powell. "That's why this stuff looks so homely."
"The customer isn't the person using the chair," explains Powell, president of Boston-based consultancy Payer + Provider. "The insurance company—or Medicare or the NHS is. In actuality, you're selling to the payer, not the buyer."
Though the Canadian and American healthcare systems are obviously quite different, the end result, as it pertains to something like a wheelchair, is largely the same. Here's how it plays out: In the US, more than 49 million people, both aged and disabled, receive health coverage through Medicare, run by the federal government. When a new competitive bidding process for durable medical equipment was phased in last year, it generated a downward price spiral, in which the lowest bid, naturally, wins. Normally, this would benefit consumers. In practice, the man-made distortions in this bizarre insurance alterna-economy has done exactly the opposite.
"In the city of Boston, there's a total of one authorized durable medical equipment supplier for Medicare recipients," says Powell, "which carries one brand of wheelchair, from one manufacturer. In New York City, there are three suppliers, two of which are in Chinatown. Again, one brand of wheelchair."
By definition, those in wheelchairs are less mobile than those who are not. Leaving town to shop around for something that largely doesn't exist anyway is not an option for the majority of people with disabilities.
In Canada, the provincial healthcare systems generally offer wheelchair users a far greater degree of choice than does Medicare in the States, though "premium" chairs like Carbon Black are still not an option. Ontario's Assistive Device Program covers 75 percent of a wheelchair's cost. However, nothing on their approved list is even close to Carbon Black's price of entry. Quebec pays 100 percent of an approved chair's cost; British Columbia only pays in the case of financial need. Again, affordability is the primary concern. And, as in the US, an absence of competition changes the calculus of innovation.
Says Powell, "You can start to see why wheelchair users don't have a large degree of choice."
NEXT?
Michael McAllister, the ex-Knoll designer, is hoping against hope that a new cultural shift is coming with the next generation.
"For 10 years now, I've been teaching design students of the importance of considering all populations to the best degree that they can," he told me in a follow-up email. "Also, with businesses and manufacturing becoming smaller and lighter, there is a chance that there will be small startups catering to this demographic."
Mark Schurman of Herman Miller expects "rapidly-aging baby boomers moving into the healthcare system in a really big way, with much higher expectations for their own satisfaction and well-being" to create market pressure that someone, somewhere, will recognize as a huge opportunity.
"Could someone be the Best Buy of personal healthcare one day? I think so," he says.
In "Design for Disability," Graham Pullin mused, "How different if one could go to Habitat….to browse the latest trends in wheelchairs, not just a specialist retailer of aids for daily living."
Thanks to the irrepressible Fiona Jarvis, the London style-maven (and wheelchair user) behind the blog BlueBadgeStyle.com, Pullin's pipe dream may soon come true. Jarvis, who describes her site as a "Michelin/Vogue-Like Guide for the Discerning Less-Able," says she recently struck a deal with Conran's to carry a curated collection of Blue Badge Style-recommended items.
"We're hoping to produce a premium range of products with a former supplier to the NHS," Jarvis says. "They have just been bought by a venture capitalist who sees the disabled market as being huge, and that's why they bought them. So, you can't tell me there isn't a market for this."