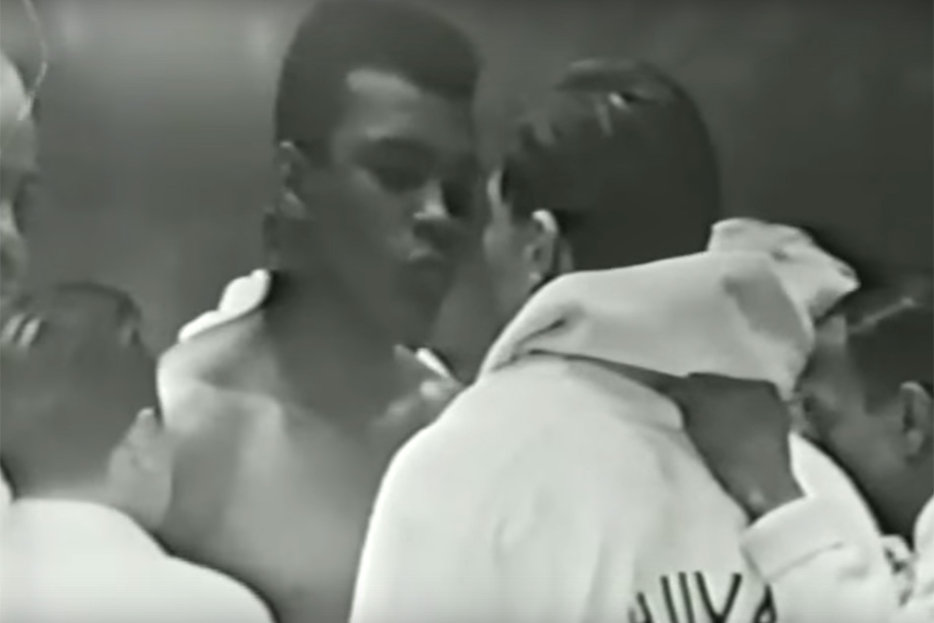 George Chuvalo has always enjoyed being a little famous, enjoyed strolling into restaurants in his hometown and being treated like a king, enjoyed being stopped on the street, enjoyed the perks that go with celebrity. Nothing about his face betrays the fact that he fought ninety times as a professional and faced all of the top heavyweights of his era. (Though, thanks to Joe Frazier's left hook, there is that little piece of plastic inside his face that holds one of his eyes in place.) Chuvalo is erudite and charming and, these days, fit as a fiddle. In other places, if they remember him at all, it's as a catcher, an absorber of punches, as a fighter good enough to hang in with the best, but not good enough to beat them, as a bit of a boxing masochist, a guy who would take any manner of punishment and simply refuse to go down. Once, while watching a half-talented Canadian fighter take a beating, one of the Americans in press row automatically turned back towards his Canadian confreres and hollered a single word: "Chuvalo." Everyone understood the reference.
But in his home country, where sports icons have almost invariably come from the hockey rink, it's different, and as a fighter, Chuvalo stands alone, his name instantly recognizable, at least to those of a certain age: Chuvalo the courageous; Chuvalo the hard rock; Chuvalo the toughest man in Canada. Chuvalo, who in 1966 stood up to the great Muhammad Ali for fifteen rounds and never took a backwards step, defining a national stereotype: the plucky underdog; the gritty competitor, unfazed by long odds or the overwhelming Goliath to the south, undefeated even if, technically, truthfully, that fight in '66 was a loss. Forget all of his other fights, forget the twenty-year career, forget even the second time he met Ali, under very different circumstances, in 1972. Forget that he was a far more skilled fighter than his one-note reputation would suggest. That night in Toronto at Maple Leaf Gardens in 1966 is, for Canadians, a cultural point of demarcation. The only sporting moments that compare are the country's hockey victories over the Russians in 1972, over the Americans in 2002, and the twin 100-metre gold medals won by Donovan Bailey and the later-disgraced Ben Johnson—moments when, for an instant, the country stood tall.
But what a double-edged sword to have most of your finest moments forgotten, while being remembered for a night when you were clearly, definitively second best. And what a thing, later in life, to become famous all over again, for enduring unimaginable personal tragedy, for watching three sons and a wife all die by their own hand. "In my own mind, I was, like, special. In my own mind, I always said to myself that I couldn't be hurt. I felt, a crazy part of me felt, indestructible," Chuvalo says. "If somebody else said they were indestructible, I'd start laughing. But in my own mind, I had to play to my own sense of ego, my sense of who I was. And I was supposed to be a pretty tough guy." He never wanted to have to prove he was quite so tough, though. Taking on Goliath was one thing; he sure never wanted to play Job.
*
Canada has never been much of a boxing country, which, all told, is not such a bad thing. All of its greatest fighters were produced in the late nineteenth century and the first half of the twentieth, foremost among them Sam Langford, the heavyweight from Nova Scotia who might have been champion but for the colour of his skin, and Jimmy McLarnin, the brilliant welterweight champ, who was born in Belfast but grew up in Vancouver. There is a scattering of others who held titles, but just one heavyweight king—Tommy Burns, notable as the smallest man to ever hold the title, and for losing to the first African-American who was given the chance to challenge for the belt, Jack Johnson. Lennox Lewis might be considered his successor, except that Lewis was born in England, and though he was raised in Canada and won a gold medal for the country at the 1988 Olympics in Seoul, was eager to reclaim his British heritage because of the commercial possibilities it offered.
There are various cultural reasons why Canada failed to produce more fighters, the most obvious that it is a small country, in terms of population, and a relatively prosperous place, that it has long enjoyed a social safety net, that there simply weren't as many who fit the demographic that has perpetually produced the sport's best raw material: the poor and the desperate. That plus the fact that any boy with athletic potential immediately gravitates towards the hockey rink, eager to follow in the footsteps of those heroes who had gone before.
George Chuvalo grew up with different dreams. His parents were part of one of the great post-war immigrant waves to Canada, arriving from Bosnia- Herzegovina, setting up house in a working-class neighbourhood near Toronto's stockyards. His father, Steve, worked on the killing floor. He so feared that he might lose his job, lose his footing in the new world, that he spent his two weeks of annual vacation sitting outside the plant, watching the man who replaced him. His mother, Kata, plucked chickens in a poultry plant. At lunch hour, she'd run to the schoolyard, hand her boy—a momma's boy, he'd acknowledge—a bag of potato chips or a pomegranate, and kiss him through the fence. Chuvalo was big for his age, and he sometimes fought on the street, but he was secure and comfortable and would no doubt have lived out the same immigrant dream that his parents had realized. But then one day he picked up a copy of Ring Magazine at Morgan's Cigar Store, and all at once saw his future.
He trained diligently, developed a bodybuilder's physique and (counter to his father's low expectations) didn't quit the first time he suffered a bloody nose. He left school at the age of fifteen and worked with his father at the meat factory. In 1955, at seventeen, he was the amateur heavyweight champion of Canada. (Many, many years later, his sons Steven and George Jr. would take that medal and sell it to buy heroin.) The title qualified him to represent his country at the 1956 Olympics in Melbourne. "You know what I knew about the Olympics?" he says. "What I read about in the history books. I didn't have a television. I was picked on May 7, 1955, to go. [Chuvalo has an impeccable memory for dates.] The Olympics were in November 1956. I couldn't wait that long to turn pro. I was starving."
"George Chuvalo fights rough and tough like a washerwoman," Ali announced. "I ain't going to fight him. He fights too much like a washerwoman."
Chuvalo became a professional heavyweight on April 23, 1956, entering a "Jack Dempsey Tournament" at Maple Leaf Gardens. Originally, the competitions for novice heavyweights were designed to produce white hopes, but by the time Chuvalo entered, they were integrated. He knocked out four opponents in a total of twelve minutes and thirty-six seconds, earned five hundred dollars and had his hand raised by the great Manassa Mauler himself. Already, some of the locals were comparing Chuvalo to Rocky Marciano.
By the time he fought Ali the first time, Chuvalo would have already completed what for most boxers would be an entire professional career. He was pushed too fast by managers who didn't entirely know what they were doing. He wasn't given the chance to fully develop his talents. He was beaten before he should have been. He won the Canadian title, and then lost it. He was in and out of the Ring Magazine top ten. For a while, he stayed away from the sport entirely. And then, just when it seemed that he'd played out his hand as a local hero, Chuvalo reached another level. Late in 1963, Ernie Terrell was scheduled to meet Mike DeJohn in a televised fight from Louisville, and whoever won the match would take on a young up-and-comer called Cassius Clay. Then Terrell pulled out, and Chuvalo was summoned as a last-minute substitute. "That's when I remember seeing Ali for the first time," Chuvalo says. "And I remember thinking that he dressed more like a preppie white guy than a black guy. Very straight pants and a three-button suit. I remember posing for photos with Ali. I felt his left bicep. And I remember thinking to myself, 'This guy's got pretty small biceps.' For a heavyweight, he didn't look that imposing. So I made a little joke. I said, 'Hey Popeye, what's happening?' He says, 'Why are you calling me Popeye?' I say, 'Hey Popeye, you must have pretty big forearms, because you've got awfully small biceps.'"
Chuvalo won the DeJohn fight spectacularly, creating a lingering image: his opponent stretched over the top rope, helpless, and Chuvalo just pounding away. It's from seeing that, Chuvalo figures, that Ali came up with the nickname "the washerwoman"—his arms pumping up and down like someone using a scrub board. "George Chuvalo fights rough and tough like a washerwoman," Ali announced. "I ain't going to fight him. He fights too much like a washerwoman."
And why take that risk, given that he'd already signed to challenge Sonny Liston for the title in Miami Beach in February 1964?
*
After that, Chuvalo had his chances, but the fates weren't with him. If Liston had beaten Ali in their rematch in Lewiston, Maine, the Canadian would have been Liston's first title defence. Then came the phantom punch, the suspicious blow with which Clay knocked out Liston. If Chuvalo had beaten Floyd Patterson in 1965, he would have been in line for a shot at Ali's title. He fought the fight of his life that night at Madison Square Garden, and a lot of people thought he won, but he didn't get the decision. If Chuvalo had beaten Ernie Terrell right at home in Toronto later that year, he could have claimed at least the World Boxing Association portion of the title, which had been stripped from Ali. "Well the bell rang at the end of fifteen rounds," he remembers. "I go back to my corner, and everybody was in my corner. Photographers, reporters, friends, taking pictures and talking. Everybody's excited. In my book, photographers are going to go to the winner's corner. Reporters are going to jump in the winner's corner. They're not going to jump in the loser's corner." Then the decision was announced: Terrell was the victor. "There's a mass exodus over to the other side of the ring. But those people knew I won the fight. Why would they want to take a picture of me? Why would they want to take a picture of the loser first?"
In terms of the big picture, the championship picture, it seemed he was out for good. Then circumstances, for a change, began to break Chuvalo's way. Ali was scheduled to meet Terrell in Chicago. But by that point, his decision not to enter the draft was setting off huge political repercussions. Illinois wouldn't host the fight. Neither would any other American state. Montreal was briefly considered, but when the American Legion threatened to boycott the World's Fair there, Expo 67, the mayor got cold feet. Finally, Harold Ballard, the owner of Maple Leaf Gardens, offered to host the bout. But Terrell pulled out seventeen days before it was scheduled to take place, and so the call went out for a substitute, any substitute, so that the promotion could be saved.
Chuvalo was sitting in his manager's office when the promoter called. They listened on the speakerphone.
"I gotta call my wife first," Chuvalo joked, "to see what I'm doing on the twenty-ninth."
Then, after a theatrical pause: "It's okay. I'm free."
"The immediate horizon didn't look good for me," he says. "It was going to be awhile before I got another crack. I knew that. So when the opportunity arose, I had to go for it. Seventeen days or whatever. I had to go for it. … It was like a rush job. Like getting ready for a date—in five minutes you've got a date with a beautiful woman. You've got to get cleaned up and shaved and showered, brush your teeth, comb your hair. Everything real quick. And you don't get a chance, really, to prepare the way you're supposed to prepare."
It seemed to Chuvalo like he'd been pursuing Ali forever. Several times, in a lame effort to embarrass him in public and shame him into a fight, he'd actually dressed up as a washerwoman and crashed Ali press conferences. Chuvalo admired Ali's showmanship. "He was really doing a takeoff on Gorgeous George … that's where he got his act from. It was cute to watch. The poems, everything else. It was refreshing." As for his politics, at the time they seemed entirely beside the point, especially to a Canadian. "The cat's got his troubles, I've got mine," Chuvalo thought.
But when Ali arrived in Toronto for the fight—a different Ali, less boastful, more restrained, more sombre—Chuvalo's plight took on a sudden gravity. "The whole thing was quiet. I remember the press conference. It was quiet. He felt the sting of being a social pariah in so many ways. Today the man's an icon. Today the man's revered. Today the man's the most recognizable face on earth. And they love him—but he wasn't loved then. Far from it. People hated him. A lot of them. I remember people talking to me, saying 'My kid's in the war, my kid's in Vietnam. What the hell is he doing, what the hell is he doing refusing to go?' I heard people talk like that. They were angry. War veterans were angry.
"I lost the fight. So people see me and they say, 'Oh George, you went the distance with Muhammad Ali.' I say, 'No, he went the distance with me.' When people say to me, 'You must be so proud of the fight,' I say, 'Proud of what? I lost the fight.' But in a crazy kind of way it made Canadians feel good."
"That must be a hell of a thing, when they don't want you in your own country. And they didn't want him. The general populace didn't want him. They were angry with him. And I remember thinking, this must be a pretty strong guy, facing the wrath of the U.S. government, facing possible imprisonment, facing possible exile from the fight game itself, and he's standing up to a lot of people, a lot of powerful people. And for what, for what gain? As far as the black Muslims were concerned, he was a hero. He was a hero to a lot of people. He made a lot of people feel proud of being black, a lot of people who were previously downtrodden. It was like giving them a new face. He made them feel good about themselves. And it was very easy to root for somebody like Ali if you're black—very easy to root for him."
*
Romance aside, national pride aside, the fight itself was brutally one-sided. Chuvalo won a round or two, but only because Ali stopped punching for the heck of it. He let his opponent pound his body (which is why, afterwards, he suffered bleeding in his kidneys) because he was too skilled, too fast, too everything for a fighter whose greatest weapon was his sheer doggedness, his unwillingness to be discouraged. The combinations rattled off Chuvalo's head, rapid fire, but still he kept coming forward. And in that unwillingness to surrender, in that courage in the face of impossible odds, he was defined as he'd never been when he was winning. Simply hanging in against the greatest fighter in the world—at that moment, in 1966, perhaps the greatest heavyweight of all time—was all that Canadians asked of him. They didn't expect to beat the United States, in the ring or anywhere else. But after fifteen rounds, everyone would understand that it had been a fight. Though the pundits had called the matchup a disgrace, had urged fans to boycott, afterwards they gave Chuvalo credit for courage, for honest effort, and a few even wrote that it was the kind of night that could save a sport apparently rotting from mob influence and corruption.
"To me it's kind of negative," Chuvalo says. "I lost the fight. So people see me and they say, 'Oh George, you went the distance with Muhammad Ali.' I say, 'No, he went the distance with me.' When people say to me, 'You must be so proud of the fight,' I say, 'Proud of what? I lost the fight.' But in a crazy kind of way it made Canadians feel good. When I see people and they talk about the fight, I hear them say it made them feel good. Kind of proud. I made my fellow Canadians feel proud about being Canadian. And that part makes me feel good, made me feel nice. I can feel proud of that part. I can feel happy about it.
"That's what people remember me by. So that fight kind of will live forever. How many times do people come up and say, 'Hey, my dad saw that fight, my uncle saw that fight, I saw that fight. I was still a kid.' No matter where I go it's always the same. 'What a great fight. You fought Muhammad Ali.'"
*
There's that, and then there's other, terrible reasons why so many Canadians know George Chuvalo's name.
He met Lynne Sheppard in 1957, when she was thirteen years old. They began dating when she was fourteen, and were married when she was fifteen. "Lynne did not look fifteen," he says. "She had the body of a woman. Lynne was very mature. Not only mature physically. She was a lot smarter than girls I went out with who were more my age. I felt like Jerry Lee Lewis. I used to kid her—I told her I raised her, and did a lousy job. She was tough. A smart girl. She was street-smart. You couldn't fool her. She would spot you. She would read you in two seconds."
Lynne was always, at the very least, ambivalent about her husband's chosen profession. "She never liked the fight business. She never liked too many people in the fight business. She always viewed them as nothing more than pimps. Really, that's the way she would talk about it. … 'They don't love you,' she would tell me. 'They don't love you. They just want you to be there for the glory. They want to be there for the money.' That's what she would say."
By the time she was twenty, four of their five children had been born, all boys: Mitch, Steven, George Lee and Jesse (a daughter, Vanessa, would follow three years later). Mitch is old enough to remember his father's glory days as a boxer, to know the rhythm of training camps and fights. His brothers, though, really came of age after Chuvalo was past his prime, as he hung on in the game far too long, embarrassing himself in the end, failing to find another line of work that offered the same instant payoff. He wandered from one get-rich-quick scheme to another, never settling down, always on the move. (However, even fading celebrity had its benefits: Chuvalo hosted a television show in Canada called "Famous Knockouts" and had a few small roles in movies, including a memorable scene arm-wrestling Jeff Goldblum in the remake of The Fly.) Though the family, as far as the outside world knew, lived a comfortable suburban life, there were tensions on the home front. "In a lot of ways my father's lifestyle was at odds with what was happening in the family," says Mitch, who became a high-school teacher, and a very successful football coach. "When I was six or seven, we moved out to the suburbs. What are you supposed to do in the suburbs? You're supposed to settle down and do the nine-to-five shtick. You're supposed to cut your lawn. George couldn't do that. On the other hand, my mother wanted the suburban dream. She thought my dad was going to take some corporate job, make x number of dollars, and that would have been it. But he just can't live like that. He can't do that square crap. He just can't. I know him almost like I know myself. He couldn't do that. It would stifle his soul."
When he was eighteen months old, Jesse bit through an electrical cord, suffering burns that disfigured his face. He was constantly taunted by other children. And the Chuvalo boys, in general, found themselves targets, simply by being the offspring of the Toughest Man in Canada. "Growing up a Chuvalo is an object lesson in macho ethics," Mitch says. "I still get it today. 'Mitch Chuvalo … so you think you're tough.' You can see their minds clicking. Everybody becomes an icon of their own insecurities. Their chests puff up. They shake your hand with tremendous vigour. Everybody becomes a cartoon character. And I think my brothers really suffered because of that. My dad is such a mythopoeic structure: People who would never think of approaching him would, in a very sick way, project onto my brothers."
"I often asked them what heroin was like. My brother Steve described it to me. He said it's like the delicious moment when you're falling asleep. Except it's intensified a thousand times and it lasts for hours. It's just a wonderful free fall. Except you wake up an addict."
No one seems to know for sure why Jesse first started using heroin: He had a knee injury that left him in great pain; he met some people at a party; he was the victim of bad influences around the boxing gym where his father hung out. "I used to see the kids in the gym, and I used to say, 'Get the goddamned kids away from those people,' and George would really be offended by me saying something," Chuvalo's long-time manager Irving Ungerman says. "One time I did say, 'I wish those kids were like Mitch. I wish to hell you'd train your kids to be like Mitchell.' He didn't like that." Everyone agrees that it was Jesse, a strong personality, who led his brothers, Steven and George Lee, to the drug. They became addicts, junkies, shooting up right in the basement of the Chuvalo's suburban home, and George, it seemed, was the last one to know what was going on.
"I knew something was wrong," he says. "But when you've got five kids, you're running around trying to make a living. You get a little bit screwed up yourself. You have other priorities. If I knew what was happening to Jesse, that would have been my number-one priority. But I wasn't aware of it. Even when I found out he was using, I somehow thought he'd quit. You'll be all right. You're a tough kid. I thought my kid was a little more exceptional than somebody else."
The one who did know was their older brother, who was somehow fundamentally different. "I'm haunted by it in a lot of ways," Mitch Chuvalo says. "Sometimes it submits to some kind of logic. Then again, I had to deal with the same things in a lot of ways. But I don't have an addictive personality. Does it have anything to do with my dad fighting when I was growing up, in my formative years, and being in semi-retirement afterwards? Maybe that's it. I know I was a very goal-oriented kid.
"I know that you've probably heard tons of stories about my brothers. But my brothers were sensitive kids who would have people hold them down and spit on them. Who had cops burn cigars into their foreheads. Whenever my brothers responded violently, which eventually they had to do, they were demonized as Chuvalo's kids. How was my brother Jesse going to forge his own identity? He was going to become the tough guy that people are forcing him to become."
Mitch does think he understands why his brothers continued to use heroin, why even when it seemed like they'd beaten their habit, they inevitably went back to the needle. "I think it goes back to depression," he says. "I think it goes back to desperation. The pain gives you a reason, but fundamentally you don't do it for pain. You do it because you want to drop out. I think they wanted to travel inward. Society at large, the way they were treated by most people, the way they were expected to be—they couldn't take it. I often asked them what heroin was like. My brother Steve described it to me. He said it's like the delicious moment when you're falling asleep. Except it's intensified a thousand times and it lasts for hours. It's just a wonderful free fall. Except you wake up an addict."
Hearing that, knowing that, he long suspected it would end badly.
"I knew they were either going to kick it cold turkey," Mitch says, "or someone was going to die. I got a very cold rush."
One night in February 1985, nine months after Jesse Chuvalo first experimented with heroin, the rest of his family went out for dinner, leaving him home alone. When they returned, his brother George Lee was the first one into the house and found Jesse lying dead or dying from a self-inflicted shotgun wound. "The shock of seeing that, you can't describe it," George says. "You're frozen. You see it, but you don't believe it. It's hard to believe, hard to swallow." It was after Jesse's death that Lynne proposed a suicide pact to her husband: If anything happened to another one of their children, she said, they should both kill themselves.
Life was never easy after that. Steven married, and fathered two children, but he and his brother George Lee were always in and out of trouble, in and out of jail, with drugs always at the root of their problems. They were, in the truest sense, pathetic. Once, the two of them robbed a pharmacy, stole narcotics, swallowed them during the getaway and passed out on the sidewalk, one on top of the other. During one two-month period, Steven overdosed fifteen times.
"After my brothers started getting into trouble, there was always the sense that my father could never commit to any kind of upwardly linear pattern in his life," Mitch says. "He was sacrificing a lot of time and mental energy—both of my parents sacrificed a lot of time and energy—to straightening their lives out."
George found Steven passed out in a snowbank, on a night when he might have frozen to death. He found him after he'd escaped from a drug treatment facility and was running across the city in the middle of winter, trying to find his way home. "I figured he was being kept alive for some greater purpose," he says. "Something is going to happen to this kid. He's going to be a success story."
Three sons dead. A wife dead. Chuvalo might have imagined himself invincible, but never thought he'd have to put himself through such an unimaginable test.
On Halloween night in 1993, George Lee Chuvalo checked into a flophouse hotel known as a haven for drug addicts. "He was up there with a girl and a guy, some shit from the street," George says. "They woke him up from an overdose. He told the ambulance drivers to fuck off. The hotel phoned him the next morning at 11:30 to get out of there. By quarter to twelve he was dead." They found him with the needle still sticking out of his arm.
His mother had long been at odds with George Lee, who in some ways was a rougher, harder-to-manage character than his brothers. She took his death exceptionally hard.
"You've got to remember that when that happens, it's not like I'm walking around in a sober mind," George says. "You can't stand looking at your spouse. It just brings to mind what's happening, every second of every minute of every hour of every day. You hear about couples who lose their kid and then split up. I understand that."
Four days after George Lee's death, Lynne retreated to Jesse's old room. "She took the Bible," George says. "She took his cremated remains. She wrote a letter and left it on the kitchen table. She wrote it on the back of a grocery list. My wife wrote, 'Couldn't find love, couldn't even find proper paper. …' Some people were supposed to connect with her and they didn't. She was very let down.
"I was out. I came back, went to my room, and heard her fiddling around in the chest, a trunk. Apparently there were some pills there. I remember I didn't say anything to her and she didn't say anything to me. I'm up at eight o'clock in the morning and gone out of the house. She was lying in an orange tracksuit, her back to me. I said, Lynnie, I'll see you later doll. Let's talk. I came back at 1:47—I saw the clock. She was lying in the same position. That's how I knew she was dead, without even looking at her. That's too still."
Steven survived until August 17, 1996, but probably only because while in jail, he'd been forced to temporarily kick his habit. After being released for the last time, he was clean, as far as anyone could tell. Healthy. Ready to take one more crack at a normal life. He planned to stay with his sister, Vanessa, at least for a little while.
On a Saturday, Vanessa made plans to spend the night away. She left Steven with a hundred dollars and seventeen cigarettes in a pack. When she returned the next afternoon, the door was bolted shut from the inside. Steven was sitting slumped over a desk. The indentation in his neck from the furniture's edge made it look almost like his throat had been cut. He was wearing only underwear, and there was an unlit cigarette in his hand, and ten still in the pack. Obviously it hadn't taken him long to score, and the heroin had hit so fast that he didn't even have time to light up.
Three sons dead. A wife dead. Chuvalo might have imagined himself invincible, but never thought he'd have to put himself through such an unimaginable test.
*
It's become a cliché in Canada to talk about how George Chuvalo is still standing, about how, in life as in his boxing career, he's absorbed devastating amounts of punishment, yet never went down. But the fact is, he has managed to come back from the brink. There have been some tough financial times, to the point where fundraisers were held for his benefit, including one in Rochester, New York, at which both Ali and Joe Frazier shared the head table. And there have been some embarrassing moments—most notably, a front-page newspaper story in 1993 that reported how Chuvalo and one of his pals had been hired to "encourage" the tenants of a Toronto apartment building to move out so that the property could be converted into condominiums by its owner.
These days, though, Chuvalo seems to have found personal stability. He is remarried, to a woman named Joanne O'Hara. He is a devoted grandfather to Steven's kids. He spends much of his time speaking to students and community groups and anyone else who'll hire him about the evils of drug use, and about what it did to his family.
And he's been rediscovered by a new generation, not old enough to remember, but curious about Ali, and about the one Canadian who faced him down.
"I'm sixty-three years old now," he says. "That fight's over thirty-five years ago. But that's how people still remember me. It may even be young people who weren't alive at the time. They ask me about a part of history before they were even born. I kibitz with them. They say, 'You lost the fight,' and I say, 'Guess who went to the hospital after the fight? And guess who went dancing with his wife?' So that fight will kind of live forever. No matter where I go, and I go all over this country, and people come up to me and say, 'I remember that fight.' I like that."
Originally published in Facing Ali: The Opposition Weighs In by Stephen Brunt (Knopf Canada, 2002).