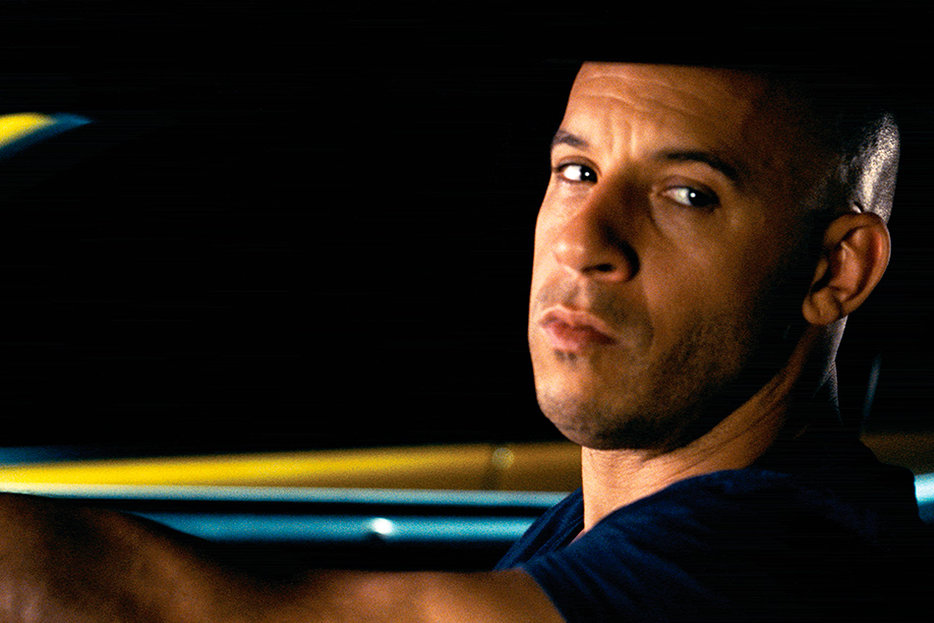 In early May, Billboard announced—citing an excerpt from a Los Angeles Times profile—that brofessional multi-hyphenates Vin Diesel and Steve Aoki had collaborated on a "monster" dance track, featuring Diesel's vocals. Aoki and Diesel declined to play the track for the reporter, or even reveal its name. But Aoki was clearly pumped: "What Vin brought to the table, I've never experienced before." Diesel, who recently appeared on Kygo and Selena Gomez's track "It Ain't Me," hooted: "I'm gonna get a Grammy before I get an Oscar!" Be that as it may, it was clearly a pivotal moment. With the EDM youth-cult bubble already on the verge of popping, here was the pinprick we'd been awaiting. This had to be where the circus tent deflated to a mere pup. One could imagine Aoki and Diesel hopping in the 1993 Mazda RX7 from the original The Fast and the Furious and driving the whole molly-poppin' pageant of underage savagery off a set-designed cliff in a ginormous Abu Dhabi blood-money warehouse.
This was the Death Strobe of EDM…
March 18, 2016
10:30 p.m., Lincoln Road, South Beach
Miami, Florida
"Let's go for a little ride."
Vin Diesel, the man born Mark Vincent, known to his mom as Mark Sinclair, and internationally recognized as Xander "XXX" Cage and Dominic "Fast and the Furious" Toretto, strides pecs-first out of South Beach sushi citadel Doraku. Diesel spins the keys to his 1970 Plymouth Roadrunner around a meaty digit and a smirk traverses his pan-ethnic hardman visage. The car, which appeared in the 2006 The Fast and the Furious: Tokyo Drift, was airlifted in for the day, per Diesel custom.
"You're the boss, bro," says his sidekick for the night, eternally leaping EDM mogul/really-a-DJ Steve Aoki, who had been patiently waiting outside. Aoki turns his face to the right and then launches his trademark, straggly mane over his left shoulder.
Inside Doraku earlier, the duo had met for dinner pre-Ultra Festival, the fêted dance-music debauch invading downtown Miami that weekend. They held court at a long table, joined by Doraku owner, Aoki Group macher, and Steve's brother Kevin, who learned the restaurant hustle at the knee of the boys' boldly ingenious father Rocky, a mustachioed Lothario, Wrestling Hall of Famer, powerboat racer, hot-air balloonist, backgammon world titlist, porn publisher, deep-sea treasure hunter, and founder of Benihana, the chain of Japanese-American chophouses that, well before Salt Bae, brought knife flipping, produce tossing, and catching shrimp in one's hat to eager American carbo-loaders.
Though raised in California, Aoki was born in Miami and has been given to exclaiming, "Sprinkle my ashes at the Fontainebleau pool, South Beach lives in my heart forever." But he'd arranged a sitdown with Diesel—and flown him in via the private "Aoki Jet" from the Dominican Republic where the actor/producer/director/writer was shooting xXx: The Return of Xander Cage—because Aoki was in a sketchy, potentially expensive bind with some notorious locals. Not all his doing, but that was irrelevant now. He needed immediate counsel and his old pal Vinnie would know best practices.
So, they went for a little ride.
"Where are we headed exactly?" asks Aoki, trying to sound casual. He's dressed in a Camo Gingham button-down, billowy white slacks, and Chipkos flip flops.
"God is my co-pilot, bruh," bellows Diesel, wearing a snug Margiela white tee. "Evolution is a spiritual process."
When Vin is geeked, Aoki just nods like he knows what his friend is talking about. For instance, when he was going on about being a "saga visionary," then immediately switched to his theories about anti-aging stem-cell experiments, and how crushed frangipani blossoms were excellent for the skin. Life comes at you fast with Vin.
The general itinerary, as Aoki understands it, is to meet some "extremely qualified individuals" at a condo downtown, near Bayfront Park where the Ultra Festival is located. Admittedly, Aoki had made some feckless mistakes. But this type of activity was worked out all the time, right? No need for violence or gunplay. Or so he hopes.
Only thing was, he'd read the front page of the Miami Herald this morning and an incident had really jostled his nerves. Typical Miami exotica, but still. It was a story about a dude named Ticky Holcomb, jailed for fraud, who had unexpectedly committed suicide in his cell. Just prior to his demise, he'd moaned about stomach pains and begged to go to the infirmary where he'd gulped a half-pint of Pepto-Bismol and claimed that he was cured. But while in the clinic, Ticky had snatched a long coil of intravenous tubing and sneaked it back to his cell. No one checked on him for hours until they found him cold and dead. Fashioning the tube into a noose, Ticky had managed to hang himself from a water pipe. Naked, of course. When the sergeant on duty was asked why none of the other inmates had alerted anyone to Ticky's wailings, the sergeant said diplomatically that the scrawny white mechanic from Okeechobee was "just not all that well-liked."
Sure, Aoki was an opulently wealthy, splashy star, but unlike certain people in his orbit, he had a conscience and didn't engage with EDM's seamier quadrant—the brand extortion, the trafficking (you name it), the short selling, the infamous Glow-Stick Massacres, the rendition sites. He also didn't have his dad's outrageous confidence verging on self-destructive nihilism. Sometimes, Aoki did doubt himself. Was he just a "prancing lapdog for American fuccbois," like Afrojack once said while they were wakeboarding in Ibiza?
Aoki mutters to himself, "Yeah, where's Paris Hilton, you simp?"
Meanwhile, Diesel maneuvers through the jammed-up Venetian Causeway like a Formula One kamikaze, waving at fans to let him cut in. "Thanks, babe," he shouts at a woman in a Ferrari convertible. "My God, you're so beautiful, I don't know how I'm supposed to drive. You are, like, wow! Tell me something, Stevie, look at this girl, oh my God, she's so fucking sexy!" He pulls the Roadrunner ahead of her and moves on to his next conquest.
11:10 p.m., Four Seasons Residences, Brickell Avenue
"It's go time, boys," announces Diesel with a fresh seriousness, as he no-look passes the Roadrunner's keys to a valet. Briskly swerving left through the marble lobby to the elevators, they ascend to the penthouse of this brightly shining, azure blue tower. Upon entering the apartment, they pause, and share a wry chuckle. On a cylindrical wooden platform in the middle of the main floor sits an absurdly oversize champagne-bottle sculpture, bathed in soft light, which leads the way to a vast wine collection. There are enough bathrooms to take care of the Miami Heat starting five, plus one for sixth man James Johnson.
Unfortunately, the twosome have wandered into the middle of an argument. A woman who looks uncannily like Aoki's auntie Kiko drifts slowly across the living room to a wet bar in turquoise, bejeweled slides. Aoki is drawn to her, the way she moves, the way she raises her hand to brush her hair from her face. But as the voices of the two men in the room become more agitated, he nervously glances at Diesel, who shrugs uneasily.
"Baby, you don't any more know what my business is than they do!" one of the men yells at the woman. "Make me a goddamn vodka tonic, princesa!"
Vodka tonics had been auntie Kiko's favorite drink. When she'd had a few, she liked to reminisce about Miami in the golden days, when old retired people from New York sat on hotel porches wearing hats, their noses painted white. Now it was the "hip place" to be in South Florida, she would grouse. Guys with sunglasses in their hair posing skinny girls on the beach. No place to park anymore on Ocean Drive.
Another woman walks into the room—a dark-haired Cuban stunner in a leotard and severe heels. She has a majestic sort of authority. Is she the one in charge? She certainly seems more sure of herself than the other two: "Max, que pasa, papi?" She sits down on the white sofa and Aoki can see that she has two guns resting on the cushion on either side of her. Unassuming little guns, but nothing guileless about them.
Max slowly pulls a black and yellow stun gun from the back of his pants' waistband and points it at the enormous window overlooking Biscayne Bay. Then he pushes in the plunger and the plane of glass instantly explodes. The shards fall with a weirdly deafening tinkle. Everybody freezes, except the woman on the sofa, who picks up one of the guns and blasts out Max's legs. As he screams, two more men emerge from a back room and the other woman ducks behind the bar. Diesel is motionless, a statue. Aoki shakes him, and they both turn and run, escaping to the hallway and the bank of elevators.
"Fuck, bro, what the fuck, Vin?!?" Aoki, yelling and quivering, looks over his shoulder as the elevator opens. They step inside before anyone emerges from the apartment. Diesel is silent. Aoki's mind is frenetic, racing back to auntie Kiko's elaborately frightening Miami stories—the secret fundings, the carcass of a tiger strapped to the front of a limo, the conspiracies tucked under conspiracies, an alligator in a pool behind a house on Star Island, the Mariel boatlift, floating human body parts, the plot to assassinate the Costa Rican ambassador as a pretext to military intervention, the U.S. government's plausible deniability.
She always said, "Spanish is the language of power in Miami."
Diesel is coming around, but he still looks dazed. He finally turns to Aoki and says, "You know, man, I love to sing in the car. Me and my twin brother Paul, we used to drive around New York and listen to Britney Spears songs. This is back in the late '90s, right? Two thirty-year-old dudes shouting, 'Hit me baby one more time!' like fourteen-year-old girls." His eyes loll, and then he looks away. "Views are overrated, man," he muses. "It's light that counts. I have an apartment on South Beach, but I get tired of looking at the ocean. Even that view gets old after a while. Sunlight streaming into a room—that never ages."


"Goddamnit, Vin, snap out it, man!" Aoki is angry now. They exit the hotel, jump in a cab to the Park, as he nervously twirls his hair around a finger and tries to imagine what his father would do in this situation. Then Aoki immediately clears his mind.
11:45 p.m., Bayfront Park, 301 Biscayne Boulevard
Aoki directs the cab into an Ultra Festival side entrance to the VIP zone, where he hopes they can hide out in the artists' lounge while deciding what to do next. Diesel has regained his senses somewhat, but he's surprisingly unconcerned about what just happened. "Only a glitch, man. We'll get this sorted, Stevie. Relax, enjoy the music, vibe out."
DJs, managers, corporate sponsors, et al., filter through the docked yacht that houses the lounge. Skrillex strolls by, geeked as always, earnestly charming. "You know what's special about Miami?" he chirps. "It's the collision of cultures, the Cubans and Nicaraguans and Hondurans and Salvadorans, the café con leche and guava pastries and Calle Ocho and the pachangas mixed with the white sand and palm trees." He's jumping from one foot to another, swinging his inky hair around. "And the celebrities, I mean, I'm not good at star-spotting, but the energy, the atmosphere. It's like post-apocalyptic Barbie world, rebuilt after a tsunami. Everywhere you look is pink and people in crazy sunglasses, warehouses with sick parties where girls are covered in spikes and black leather. It's a different world, man." And just like that, he bounces off like a tiny emo Tigger.
Aoki is still stressed and edgy, stroking his goatee. Somehow, everything just got a thousand times worse. How did he get into this mess? It all happened so fast. The gambling, it'd been like an unseen hand controlling him. And the rush, he'd never felt anything like it, which he knows is ridiculous coming from a dude who's been a party brofessional for twenty years. A guy who gets onstage in front of more than a 100,000 people and hurls birthday cakes at kids for a living. A man who rides inflatable rafts and lounge chairs across crowds of Molly-coddled teens. A dude who has turned taking pictures of himself jumping in the fucking air into an unstoppable social-media gimmick. Yes, that guy had never felt a rush greater than a slot-machine jackpot or a thousand-dollar double down at the blackjack table. For him, it'd felt like all the unfairness and injustice that everybody spends every day denying, the same world our fellow citizens see as normal, just to survive, all of it poured out in those fluky victories, those breathtaking confirmations of pointlessness. It wasn't about beating the system, it was about beating the everloving shit out of reason and sanity.
"Stevie, you know what we oughta do? We oughta make a track together!" It's Diesel, suddenly energized, speaking at breakneck speed, eyes alight. He's gulping water. "We could get Devon involved [mentioning Steve's actress/model sister who appeared in the Diesel-free 2 Fast 2 Furious], or my cousin Kwame, you know, the polka-dot rapper dude that Biggie merked, remember him? Hey, you still bros with Lil Jon? Listen to this line: 'It's sweaty in Miami, but my diamonds keep me cool.' That's my shit, that's the hook! This could be so dope, bro. So dope. We could drop Easter eggs for my film about Dungeons & Dragons. You know I'm a total D&D head, right? Maybe we should call J Balvin; I was just kickin' it with him in the DR! Did you know I used to rap? I can't believe we didn't do this already. You know those Fyre Fest fuckwads who said, 'Let's be legendary?' Fuck that shit, dude. Let's be fucking historic!" Sweat pours off Diesel's pate.
The roar from Martin Garrix on the main stage is at peak blast. Diesel bangs his head, pumps his fist, and mouths the words: "We. Are. The. Fuckin'. Animals."
Aoki's not listening. He already knows what he'll do with the track. Blaze up, let Vin sing and rap and screw around with some beats on his laptop. Then he'll chop the shit up and make it sound like Daft Punk at Coachella for Dummies. It'll be historic. It's always historic. We're always making history. Every moment. Every incredible, breathtakingly pointless moment. Unless you're sleeping. Or dead. No regrets, kids. No regrets.
Special thanks to Joan Didion, Carl Hiaasen, and Frederick and Steven Barthelme.