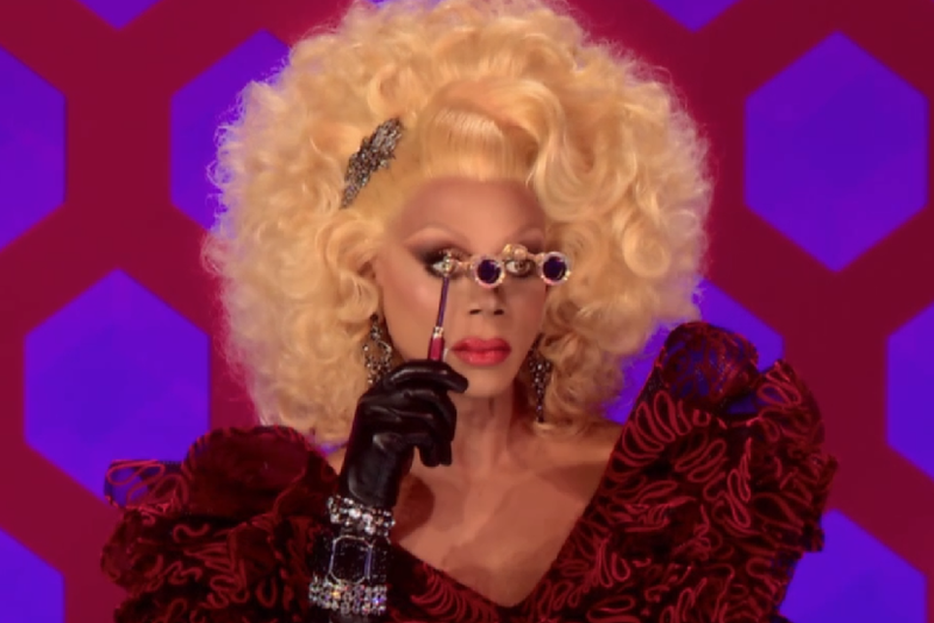 Year after year, the Emmys fuck up.
Remember when Jon Cryer of the men's rights support group that is Two and a Half Men won for Outstanding Lead Actor in a Comedy Series, beating Larry David and Louis C.K. and Alec Baldwin? Or when they hosted the awards on a circular stage like it was a Dane Cook special? Or how they've nominated talking haircut Ryan Seacrest for awards six times?
But we all know about the indignities of Arrested Development or Mad Men or Louie not getting enough nominations. What they've really been screwing up is Outstanding Reality Program, a category that happens to be a missing a seven-foot tall drag queen in big blond hair, blinding white teeth, and a metallic jumpsuit.
RuPaul's Drag Race is a perverse combination of America's Next Top Model, Project Runway, schoolyard gossip, and a Pride parade. It has aired on Logo since 2009 with its host, the mother of all queens, RuPaul, who's searching for America's next drag superstar. She needs but four qualities: "Charismas, Uniqueness, Nerve, and Talent." She's looking for a C.U.N.T.
The reality category at the Emmys has been long overlooked, if not entirely ignored. It was added to the primetime broadcast in 2003, and The Amazing Race has won every year, with the exception of Top Chef in 2010. But in spite of persistent lobbying by Logo, and a loyal fanbase, Drag Race still hasn't been nominated. The Emmys—and anyone else not watching—are missing out on one of the best shows on television.
True to the competitive reality formula, each episode includes a mini-challenge, and main challenge, and a contestant being eliminated. And yet, the show manages to reinvent the reality wheel: a mini-challenge might be decorating a lucite stripper heel to match an Absolut vodka cocktail (their omnipresent sponsor, often acknowledged with a big wink right through the fourth wall), or just "reading" other queens by insulting them in front of each other.
The main challenge is a runway competition, where queens either have to sew outfits from given materials or dress thematically. For the two left at the bottom, they face the "Lip-sync For Your Life," where they do just that: lip-sync a song so well that they get to stay. It's surprisingly emotional for everyone involved.
And while the show is plenty camp, it has its share in heartstring-tugging moments. Alyssa Edwards gets a touching video message from her estranged father. Monica Beverly Hillz admits that she's a transgendered woman. Near-universally reviled Roxxxy Andrews gains sympathy-points after bursting into tears on the runway over how her mother abandoned her and her sister at a bus stop when they were children.
Maybe it's the show's refusal to play clean (they routinely talk of tucking and fucking with refreshing candor), or maybe it's their fringe television network, but it has yet to truly progress beyond cult status, still failing to gain recognition as an impressive show on its own merits.
Perhaps the most charming part of Drag Race, however,is its simultaneous insistence upon taking the craft of drag very seriously, while also refusing to be too earnest about a goofy reality show. Contestants create immaculate works of art from trash bags, candy, and Pride floats. They sob when they feel the threat of elimination. They fight viciously for opportunities that catapult them to the top of their field. But the editing—and Ru herself—keeps the show light. Instead of trying to ignore reality show tropes, the show takes them and turns them on their head. Ru blatantly advertises her singles straight to the camera while gently stoking the flames of rivalries amongst contestants.
One of the best gags comes near the end of the season when, in full drag, RuPaul sits down with the final queens, similar to Tyra Banks' bonding moments with her would-be models. Ru invited the final three contestants to one-on-one lunches with her to talk more intimately. On the menu: Tic Tacs. One each. A girl has to watch her figure, after all.
Look, it's all very impressive that The Amazing Race shows lazy people different parts of the world that they would ordinarily never see in person, and it's really charming that Top Chef makes an effort every week to remind us that all we ate for dinner was a box of crackers and our own crippling depression. But Drag Race has managed to create something never before seen on reality television: A place where members of the queer community, drag queens, transgender men and women aren't the butt of the joke.
Drag Race could have been an exercise in gawking at men who make careers out of subverting gender norms. Instead, the show lauds their talents, reveling in the high art form that is drag. It's a celebration of the weird. (Drag Race even begat a spinoff, Drag U, where seasoned queens show your average woman how to boost her confidence with pep talks and glitter.) Almost single-handedly, Drag Race has brought drag back into the mainstream. Or, at the very least, it's shown another side of it. Not just the camp, and not only the catchphrases ("Reading is fundamental!"), but the art of it.
Yet, once again, this wasn't RuPaul's year at the Emmys. But it's unlikely to stop the RuPaul train—if it needed approval, the show wouldn't have even made it this far in the first place. And, as Ru herself always says, "If you can't love yourself, how the hell you gonna love somebody else. Can I get an amen up in here?"