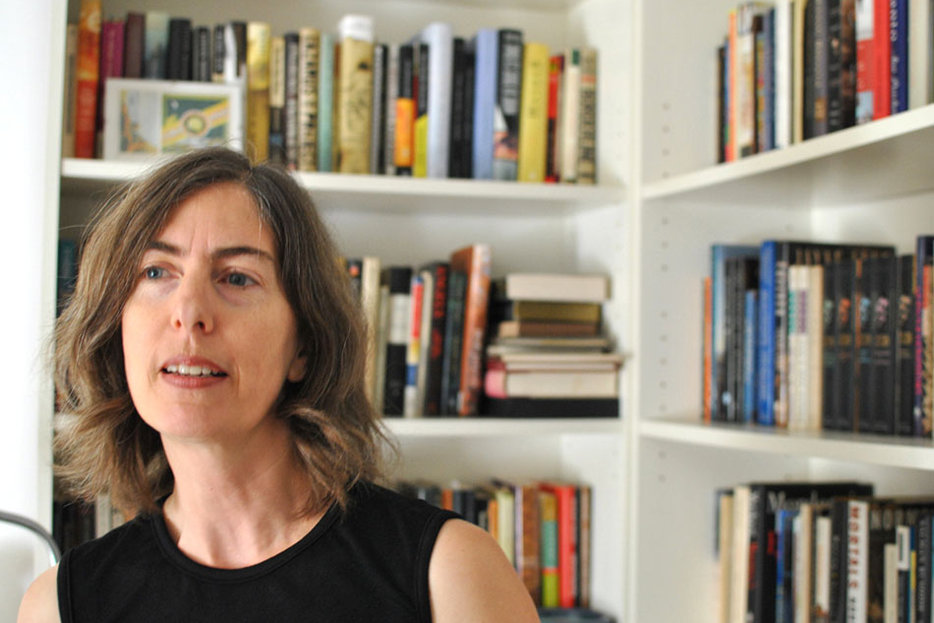 Shelf Esteem is a weekly measure of the books on the shelves of writers, editors, and other word lovers, as told to Emily M. Keeler. This week's shelf belongs to Catherine Bush, whose most recent novel, Accusation, is being released later this month. Her bookshelves are in her home in Toronto's Roncesvalles neighbourhood, and are well attended by her standard poodle, Layla. An inviting day bed is sandwiched between two tall bookcases in the study; "a place for traveling writers to stay," she tells me.
There's only so much space. My grandfather was a second-hand book collector, he didn't have a lot of money, but he did love books. There were books everywhere, the bathroom, the hallways. I just tell myself that I can't let the house be completely overrun by books, but I love the idea of a library. I like a room that's somewhat enclosed by books. But in order to let more books come in, I've had to start getting rid of some.
A lot of my books don't live on the shelves—they sort of migrate off the shelves, as you can see from the piles. I like the magnetic pull that books have, and I think that's why they come off the shelves when I want to read them, or when I just kind of want to have them close to me. Sometimes I would like to arrange books by their powers of magnetism. And that will shift, there are some books I just have to have with me at a certain time, and others at another point, and books that gain a different kind of magnetism just by being next to each other. I was thinking about this essay that Italo Calvino wrote, called "The Ideal Bookshelf." He talks about the individuality of any two people's shelves, and what's revealed just by the juxtapositions on people's shelves. Inevitably, I end up with books on the floor.
The great thing is that in the process of constant rearranging, I rediscover things like You Can Find Uranium, which is from 1948. It's this really happy account of how to become a uranium prospector. No irony at all. If I needed to be a uranium prospector in the middle of the 20th century, this would definitely tell me how to do it. I found this book in some kind of flea in the States—it might have been in Tennessee, I can't remember. Let me find a good quote for you. "The dominion of Canada is always held as being one of the major producers of radium and uranium in the world." So, that's a good one. I try to keep this one close. I don't want to lose it.
When I was thinking about talking to you, I thought of some of these oddments. Like, Dorothy Wordsworth. Totally not given enough credit in her co-creation of the poems of her brother. I went through this period where my practice was to read Dorothy's entry for the same day. Let's see if I can find her on today. This is what I would do. There are some descriptions that are quite extraordinary, and I liked just reading what she was doing on that particular day.
As a poodle owner, my affection for Gertrude Stein is much enhanced by the fact that she was a standard poodle owner. This is her and one of the Baskets. She had a whole series of poodles called Basket. Gertrude has a firm place in my heart; basically anyone who has a standard poodle can do no wrong. As you can see, I have a bit of a poodle fetish. I'm committed.
The book I've had the longest would be the Winnie the Pooh of my childhood. Upstairs I have this amazing edition of Hans Christian Andersen tales with some illustrations that just terrified me. But this is a beautiful children's book called Double Spell, by Janet Lunn. I think it was one of the things that really started me as a writer. It was published in 1968, and it's kind of about magic in Toronto—magic that's associated with our old Victorian houses, and our time travel through them. It was really a book that showed me, as a little kid, that magic can happen here, and that fiction didn't have to be realistic. It feels really totemic to have it close. It's a real point of origin for me, as a writer.
When I was working on Accusation, I went back, quite a lot, to Norman Rush's Mortals. He served in the Peace Corps, he's white, American, and he served in West Africa, in Botswana. He wrote two novels, one of them being Mortals, about that experience. And because I've been writing about the experiences of outsiders in Africa—there's something about Rush's handling of point of view, it's so interior and so smart. I can't do it, but I would just immerse myself in that voice, as a point of reference for Accusation. I didn't re-read the book, but I did return to it. So he's definitely someone that I return to.
While working on this book, I also went back and reread some Mary Gaitskill. I went back to the stories in Don't Cry. Again, there's just something about voice and point of view. Especially "Today I'm Yours." This book bugs me though, because it's made on crappy paper. It's already going brown. It's kind of amazing, going back to some of the really older books. What was I reading recently? Oh yes, Alice Munro's first book. And look at the paper! It's still so clear and readable. I've ditched a lot of paperback because the paper quality is just so awful.
Here's a funny secret: This gap is the book I'm going to get next. I'm a huge Javier Marías fan. He meditates a lot on how we judge others, and the political and personal consequences of those judgments. He has a brand new book out. I've been sorting my bookshelves so that there's space, a little room to grow. And I told myself that I have to leave space for the new Marías novel.
Shelf Esteem appears every Tuesday.