Adrienne Shelly and Soren Kierkegaard lived 150 years apart but their approaches to death were comparable. The Danish philosopher believed people fail to grasp their own mortality despite the constant presence of death. "I shall certainly attend your party, but I must make an exception for the contingency that a roof tile happens to blow down and kill me; for in that case, I cannot attend," he thought they should say. Shelly quoted this line 10 years before she died. The director/writer/actress lived her life believing one could seize the day while also acknowledging its potential to cease. She believed when we were prepared, we could face death with dignity. She herself had been prepared since the age of 12, when her father had died suddenly. "Who, now, is going to decide which life was easier, whether it was the life of those who continually lived with a certain reserve because the thought of death was present to them or the life of those who so abandoned themselves to life that they almost forgot the existence of death?" Kierkegaard asked. Shelly's answer was to live both, the presence of death abandoning her to life.
"Probably the rush wasn't necessary," the New York native told Sassy in 1990 after dropping out of university to pursue acting, "but I finally had gotten up the courage to do it, so I wanted to do it right away." So Shelly sent her picture to every casting notice in Backstage magazine that "sort of" applied to her, including one by a music video producer who happened to share office space with a young filmmaker named Hal Hartley. A graduate of SUNY Purchase film school, Hartley had directed three shorts and was casting his first feature, The Unbelievable Truth, about a suburban-teen-turned-big-city-model who thinks the world is about to end. His producer, Bruce Weiss, came across Shelly's headshot by chance. "I found Adrienne's picture somewhere in the back of the office," he says. "It was odd that her eight by ten was sort of sitting separately from all the rest. It was like just hanging out." He held it up to Hartley and asked: "What about her?"
Hartley found the 22-year-old Long Islander's photo "bitchin,'" though at 5'1" she was too short to play a model. "But I saw her and just kind of got knocked out," he told The New York Times. "I said, 'Wow, she's interesting and pretty.' She was also the best actress." She was also the one with the right sense of humour. But it was still her first film, and Hartley was sensitive to that. "Will you keep an eye on her?" he asked the rest of the cast. Julia McNeal, who was 27 at the time and played a friend of Shelly's crush, said it was easy to do. She and Shelly had similar personalities so they got along. "We each have a natural frankness and even a blunt frankness," she says. "We just said what was true for us."
The first of what would be known as Hartley's Long Island Trilogy was shot in the filmmaker's hometown of Lindenhurst in less than two weeks. In her opening scene as high school grad Audry, Shelly wakes up stretching, imitating the sound of an explosion. "History is coming to an end," she says with the same emotionless cadence used throughout Hartley's oeuvre. It's the late '80s and this girl doesn't smile, doesn't wear neon and doesn't see a future. "I'm not mixed up," she says, "I'm depressed." Though Audry is accepted to Harvard, she makes a Reagan-friendly pact with her parents that has her acquiring an empty modelling career in the city. "People are only as good as the deals they make and keep," she says, before breaking hers.
"Gratitude is the feeling I most remember in regard to Adrienne when making The Unbelievable Truth," Hartley told Film List in 2013. "She just understood the character perfectly." Shelly herself told the Times she was attracted to Audry because she empathised with her displacement (as a teen she also felt alienated from her peers, in her case because of her dad's death). And even though Hartley told everyone exactly how to perform—"He kept saying he was trying to turn a three-dimensional thing into a two-dimensional thing," McNeal says—Shelly was particularly attuned to his unadorned dialogue-driven set. The ingénue had ingenuity, according to Hartley. "He used the word 'gumption' to describe her quite often," McNeal says. "He said she had 'real gumption,' which was an unusual old-fashioned word and he knew it."
At first no one wanted Truth; according to Weiss, they "couldn't give it away." But then they got an invite to the Toronto International Film Festival where it became an audience favourite. Hartley and Weiss suddenly found themselves sitting across from Harvey Weinstein. The film producer's company, Miramax, bid against Sony Pictures Classics and United Artists to distribute Truth and won.
This was the start of the indie boom, the year after Miramax had turned the Sundance Film Festival's 1989 award winner, Steven Soderbergh's sex, lies and videotape, into a viable commodity and the snow-kissed event into a Mecca for young cineastes. "Indie films existed in the space between the shots of Hollywood movies," wrote Peter Biskind in Down and Dirty Pictures, "they concerned themselves with what Hollywood left out." The pioneers were guys such as Spike Lee, David Lynch and the Coen Brothers, who have since become brand names. The ingénues, meanwhile, would not arrive until a few years later—Richard Linklater's discovery Parker Posey, Harmony Korine muse Chloe Sevigny, Joey Lauren Adams for Kevin Smith. But in January 1990, on the heels of Truth and the toes of Trust, Adrienne Shelly was the lone proto-indie princess. Film critic Kent Jones described her as "a mousy mallrat who is the first performer in movies to suggest a truly suburban intelligence," and, pre-Slacker, she was idolized by a disenchanted generation of boomer offspring.
Shelly thought it was crazy. They had expected nothing from their little $75,000 film and now she was under siege. Agents in limousines were revving up to represent her, Hollywood had plans for her to take over television, and all the while, cameras were flashing, flashing, flashing. So when Miramax threw the Truth team a Sundance soiree, she opted out, choosing to read in her hotel room instead.
Despite her initial trepidation, however, Shelly would continue to presage her gender's ascent in the film industry, migrating in the mid-'90s from acting to filmmaking, trading one male-dominated career path for another. "We shared a post-modern feminist perspective of, 'Yeah, we can do it,' and, 'Yeah, we can make our own rules,'" her old friend, actor and producer Sasha Eden says. "It was more of what you're seeing now." The conversation around gender parity in Hollywood was only a whisper in the '90s, and before it pierced the mainstream Shelly was a forerunner, a powerful woman who directed three films—Sudden Manhattan, I'll Take You There and Waitress—about empowered women. In the wake of her sudden death in 2006, the Adrienne Shelly Foundation, created to support female filmmakers, became the ideal legacy for someone who, abandoning herself to life, told stories—stories about her own gender, no less—before she was supposed to.
*
By the time his first feature was finished, Hal Hartley had decided he wanted to work with Adrienne Shelly again. Trust was not so different from its predecessor; the 1990 film is about a suburban teen, Maria (Shelly), looking to get out and falling for a black-clad loose cannon (Martin Donovan), or, more specifically, loose grenade. The difference here is that this teen is a pregnant high-school dropout who inadvertently kills her dad, narrowly avoids being raped and witnesses a child's abduction—and yet it's her lover, not her, who is convinced the world should end.
Made for under $1 million, Trust tied in 1991 for Sundance's Waldo Salt Screenwriting Award with Joseph Vasquez's Hangin' with the Homeboys, a fitting win for a filmmaker whose female heroines existed in an otherwise male world. Following a decade of backlash films in which women were expected to retire to the suburbs and serve their men, Audry and Maria were renegades; as Sebastian Manley wrote in The Cinema of Hal Hartley, "in conventional critiques of suburbia, only men dream of adventure and escape from the daily routine, while women embody social constriction, then Trust, along with The Unbelievable Truth, offers an alternative vision of suburban community." In both films, the heroines subvert their families' (and the majority of indie cinema's) expectations—their coming of age is not about sex but smarts. "They wouldn't let me play a man so instead I play a flirt," Audry says, referring to a school play but, morebroadly, her lot. And Maria, who starts out pink and primped, ends up in glasses and a ponytail, journaling, "I am ashamed of being young. I am ashamed of being stupid." Both women carry around books—Ned Rifle's The End of the World for the former, the fictional author's Man and the Universe for the latter—that recall Franny Glass's pea-green clothbound volume, the Salinger heroine's map to spiritual enlightenment. "In both the movies [Shelly] starts off immature and she kind of has these threshold moments," says Dr. Steven Rawle, author of Performance in the Cinema of Hal Hartley. "The book kind of becomes an object of adult knowledge."
"She had an absolute vision for what she wanted Waitress to be." 
Even without the books, Hartley believed women were more enlightened than men. "All my life, I just... appreciated their presence and their particular outlook on things, much more readily than I have my male friends," he told BOMB in 1991, adding, "Women seem to speak even when they don't have the words." Though he has shifted in recent years towards more male-driven work, Hartley's oeuvre is still infused with Shelly. "She helps set the template for a lot of the performance style in his films," says Rawle. It came from Hartley demanding Shelly pare down her performance, but also from Shelly's frustration with those demands. "The struggle between the chains that are on you and what's inside you—that's what's filmed," she said on the Trust DVD. Because what's outside of her is virtually nothing—Hartley's is a writerly cinema in which words take precedence and characters talk about emoting without actually doing it. "This makes for a palpable juxtaposition against the characters who are simply sunk in the fiction of their situations, and creates an effect whereby Shelly is always already standing out from her performance," wrote Claire Perkins in "The post-mortem star discourse, or, loving Adrienne Shelly." One scene in Trust in particular compounds this remove as Maria, discussing the moment she conceived, dissects the male gaze: "I'm talking to him, and I realize that he doesn't even see me. And I'm wondering what it was he was seeing when he did this. I go over it in my head, and now I know what it was he was seeing. It's really simple. He's seeing my legs. He's seeing my breasts. My ass. My mouth. He's seeing my cunt..."
This appears to be not unlike how Adrienne Shelly felt at the apex of her fame. In 1990 she had been covered by her hometown press—The New York Times, New York, The New York Post. A year later she was named one of the twelve "Promising New Actors of 1991" in Screen World andprofiled by Interview magazine. Then, in September 1992, George Holz photographed her for Entertainment Weekly in ringlets and Shirley Temple lighting, and, finally, in April 1993, that Spin cover. The issue, which reportedly received complaints, featured Lemonheads playboy Evan Dando reaching his tongue into the mouth of a sopping wet Shelly above the cutline: "'S' Is for Sex in the '90s." Inside was a five-page interview with Dando while Shelly was spared nothing more than a short paragraph outlining her credits in an A to Z list of Alternative Culture. She deserved more and she knew it. "She just gave a super shit about being an empowered woman," says McNeal, "and she wouldn't stand for not being that."
*
Adrienne Shelly didn't just perform on Hal Hartley's sets, she watched. She watched everything he did—watched and asked. She wanted to be a "storyteller," and this was like having her own personal tutor. "What Hal taught me more than anything else is to not be timid about going after what it is that you want, what it is that you are trying to achieve," she told Indiewire in 2000. "He's very soft-spoken, but when he's on set, it's his set. Nothing is an accident."
In between Truth and Trust, Shelly established the Missing Children theater company off Broadway. She threw herself onto the stage because it didn't impose limits the way life always seemed to. She continued to act—her last collaboration with Hartley was in 1994, a musical short for Comedy Central called Opera No. 1, alongside his new muse Parker Posey—but only as an afterthought. She was supposed to appear in Spin City, but that didn't work out. She was even considered for the role of Phoebe in Friends, but that didn't happen either. Not that she was particularly devastated by any of this. "I think what was really important to me was to stay in New York, continue writing, working in theater, confining myself to doing what I ultimately started to do, which was create my own work," she told MovieMaker in 1996. A century before that, Kierkegaard had written in his journal, "What matters is to find a purpose, to see what it really is that God wills that I shall do; the crucial thing is to find a truth which is truth for me, to find the idea for which I am willing to live and die." For Shelly, it was storytelling.
Her first full-length feature was shot in 20 days on a tight budget. "I wrote Sudden Manhattan and a writer friend said to me 'Look, Adrienne, it's your first feature. It might take seven years to get produced,'" she said. "And I thought, 'That is not acceptable to me,' because in my way of thinking I might not live another seven years." The 1996 noiredy follows a woman named Donna (Shelly) as she witnesses multiple murders by the same man on the same street and starts thinking she may be losing the plot. It projects shades of Hartley—the "crazy" heroine, the otherworldly sounds, lines such as, "The truth is there is no truth. There is no big picture, only random events, accidents and delusions"—but is a lot less mannered and a lot warmer. "Shelly's own films don't ground the ostensiveness [sic] of their performances in formal repetition and play as starkly as Hartley's," film scholar Claire Perkins wrote, "but they do inherit his absurdist interest in the question of how to deal with the essential meaninglessness of life."
By that time Shelly considered performing her "day job," which she used to support her real work. "As a writer and director she didn't feel like she had to be what someone else needed her to be all the time," friend Sasha Eden says. "As an actor it was more of a trade." Voice actress Hynden Walch, who played Donna's friend Georgie in Sudden Manhattan, was originally asked to try out for Shelly's part in the film, but declined. "Adrienne told me she didn't want to play the lead role," Walch says. "She just wanted to be the writer and director, but they couldn't find anybody so she's like, 'Alright, I'll do it.'" It was obvious she preferred being behind the camera. As a filmmaker, Walch never once saw her prevaricate. "When you're working that hard and that fast and there's that much pressure on you," Shelly explained to the Times, "you don't have time for the self-doubt that maybe you walk around with in your normal life when you have plenty of free time for self-hatred."
She started her second film almost immediately after her first. Shelly also appears in I'll Take You There but the star is Ally Sheedy, who plays another "crazy" woman, this one tasked with helping a man get over his cheating wife by complicating his life even further. Sheedy modeled the gun-toting pigtail-wearing eccentric on Shelly, who was working under a budget so limited that she had to shoot the car scenes by covering herself in a blanket in the back seat. "There are definitely moments when you feel the whole world is against your being able to make this film," Shelly told the Times, adding, "I don't care so much that people see the work, that it gets praised and that it makes a lot of money for everybody as I'm concerned that I put something out in the world that's positive and decent."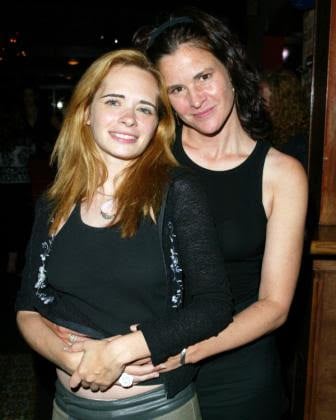 Shelly and Ally Sheedy. Photograph courtesy of Sasha Eden. 
I'll Take You There won a special mention at the Tróia International Film Festival in Portugal and a best director award at Aspen's Comedy Festival, but only received 43 percent on Rotten Tomatoes (compared to Sudden Manhattan's 67 percent). Sasha Eden, co-founder of the feminist non-profit WET Productions, believes the response bothered her friend. "I think it was more frustrating when someone didn't get what she was creating," she says. "I think she had a sense that if she was a man that it would be received differently and there wouldn't be the same glass ceiling." Shelly's uncle was Eden's father's business partner and the two became close when they were brought together by their mutual talent manager in the early 2000s. "There were only a few women who were doing what she and I do, or, in her case, did," Eden says. "We recognized that our creativity was not something that we needed to wait for permission for."
The year I'll Take You There was released Sundance was as male as ever. In 1999 screenwriter Audrey Wells was the lone female winner attached to a full-length feature, and even that was a tie with Frank Whaley's Joe the King. America's independent wave had been weighed down by testosterone, with a small number of female filmmakers with female-centric stories—Allison Anders, Lizzie Borden, Lisa Cholodenko, Julie Dash, Leslie Harris, Karyn Kusama, Nicole Holofcener, Kimberly Peirce—becoming familiar to cinephiles but generally passed over by the larger Hollywood machine in favour of swinging dicks like Spike Lee and Quentin Tarantino. Meanwhile, Steven Soderbergh, Richard Linklater and Kevin Smith were able to make their names with work that wasn't so different from their female counterparts'. "If you took a stand for what was happening then there was also a stigma about it because then you got stuck being niched," Eden says. "Your work was shoved into a chick section or a Lifetime section and it wasn't valued in a way that it could stand on its own."
*
Adrienne Shelly met her husband when she was 35. Andrew Ostroy was 41, owned his own marketing company and didn't know anything about her past. It was a blind date, and she always gave her blind dates five minutes. But theirs went long—like 60 dates' worth. "She was the funniest woman I've ever met," Ostroy says. "All we did was laugh together." By the end of 2002 they were married and the Times reported Shelly was in preproduction on The Morgan Stories, a bildungsroman about three sisters which unravels over 30 years. But then Shelly got pregnant and, eight months in, she started writing a new story.11"I still have it as a goal to make The Morgan Stories because I think it's the best thing that she ever wrote," Ostroy says. "It'll get made, one way or another." Waitress revolved around a pie-maker in an abusive relationship who is unhappy to discover she is pregnant and embarks on an affair with her obstetrician. At the time, Shelly was feeling ambivalent about motherhood. "I just couldn't imagine what my life was going to be after I had a baby," she said on set years later. "I thought it was going to change so drastically that I wasn't even going to recognize myself anymore. I was terrified." In the end of Waitress, the baby turns out to be the agent of her mother's freedom. Shelly considered the film a love letter to her daughter, Sophie.
To hear her new screenplay aloud, Shelly held a private reading in a conference room at Ostroy's office in which the piemaker, Jenna, was played by Sasha Eden. "I remember we did the reading and then she had to leave because she had to go feed Sophie because she was leaking," Eden says.
Shelly also asked Eden and executive producer Robert Bauer to set up a last-minute live reading of Waitress. The deadline—10 days—made Shelly nervous. "Are you sure we're going to get our cast in a week?" she asked. "Are you sure people are going to come?" But Eden pulled through, casting their friends—Gretchen Mol as Jenna, Amy Sedaris as Becky, Merritt Wever as Dawn, Paul Rudd as Dr. Pomatter (Eden as his wife), and Michael Cerveris as Earl—and publicizing the event, which took place on October 5, 2004, at East 13th Street Theater. And people came. The reading was free and, according to Eden, the line wrapped around four city blocks.
Around Thanksgiving 2004, Shelly met producer Michael Roiff, who had been passed Waitress by Jeff Rose. "I'd just read this script about a woman who's pregnant and cheating on her husband and here's this woman who walks in with her baby and her husband," Roiff says. "I wasn't expecting that at all." Roiff signed on as producer, and Rose as executive producer. 
"It became very clear that the mission should be to help people like her—struggling artists, women who didn't get a fair shake in many ways and needed help."
By the time Waitress started filming in California at the end of November 2005, it had been entirely recast. Keri Russell would play Jenna, Cheryl Hines her big-haired friend and fellow waitress Becky, Nathan Fillion Jenna's obstetrician Dr. Pomatter and Jeremy Sisto Jenna's abusive husband Earl. Jenna's mousey waitress friend Dawn was less straightforward. "I knew [Adrienne] was maybe interested in the Dawn role but we were auditioning people," Roiff says, noting Shelly kept finding fault even with the most adept actors. "Eventually it became more and more clear that the right person was the person sitting next to me." Eden believes the "triad"—acting, writing and directing—was a necessity for her friend to feel sated.
"Every aspect of [Waitress], from the script to the music to the acting to the colour palette, everything. She controlled everything," says Ostroy. "She had an absolute vision for what she wanted that film to be." Funny, serious, angry, sad, colourful, bleak, absurd, magical, Waitress was the purest expression of Shelly as anything she had ever done. "She was a paradox and that was sort of the beauty of her artistic voice," says Eden. Shelly even gave her own toddler a cameo in the last scene and composed its final song, a lullaby. As formidable as Shelly was on set, her heroine was on film. Jenna ultimately jilts her husband and brings up her child solo while running her own pie shop. "If you look at the three films she directed, there's definitely a theme throughout all of them of strong women eventually being empowered to take control of their destiny," Ostroy says. "She definitely had that as an underlying theme in her life."
In early 2006 Shelly was back in New York editing Waitress,and by the end of the summer itwas finished. "She worked tirelessly on the film and she worked tirelessly as a mom," says Roiff, who watched the filmmaker nurse her daughter on breaks while scouting diner locations. This despite the fact that Waitress was born of Shelly's angst over whether she could balance storytelling and motherhood—the two Kierkegaardian ideas for which she was now willing to live and die. "She felt so strongly about the pressure that's put on women, on moms, the double standards that exist," Roiff says. "She wanted to be a mom and she wanted to be able to create art and have a real career and she didn't want to have to sacrifice either." It was only once Waitress was complete that she realized she didn't have to. "It was something she was so excited about when we finished," says Roiff. "She was like: 'Yeah! See? I did it! Ha! Take that!'"
The early response to Waitress was less enthusiastic. Agents, sales reps and festival programmers found it tonally confusing. In addition to blurring genres, Shelly had blurred time and space so that the story would be identifiable to anyone (including men). "What I always said to people was, 'That's what real life is,'" Roiff explains. "'You don't get to compartmentalize.'" During his last conversation with Shelly, the night before she died, her response to her critics was simple: "I like the movie." But it was more than that. The movie said exactly what she wanted to say. It was Shelly's unconscious response to the anxiety-fuelled query Kierkegaard believed we all face before the end of our lives: "Have you carried out the errand, have you said what you had to, very decidedly?"
In her work she had.
*
A month before Sundance announced that Adrienne Shelly would have her first world premiere at the fest—alongside Hal Hartley—she was dead. The 40-year-old filmmaker and mother was found hanging in her Abingdon Square office on November 1, 2006. Police believed it was suicide. Shelly's Unbelievable Truth co-star Julia McNeal flew to New York to make sure the cops knew they were wrong. "Of the two of us, I had that kind of ideation," McNeal says. "The number of times she fiercely admonished me to shift out of that mindset were significant." Shelly's husband, Andy Ostroy, and her producer, Michael Roiff, knew she was content at that point in her life and that there was no way she would leave her daughter behind. And there was that story music critic Marc Spitz shared in his 2013 memoir, Poseur, the one about Shelly, even back in the '90s, helping him through a rough patch with a trip to Magnolia bakery and the advice, "Every time you feel like it's getting too much, I want you to go in there and get a banana pudding." Ostroy pushed the police to investigate further.
Faced with Shelly's bereft family, people offered condolences, and, perhaps feeling that was not enough, money. But Ostroy had nowhere to put it. "He started to conceive of this foundation while he was sitting shiva in his apartment while simultaneously trying to find the killer," says Eden, now on the advisory board of The Adrienne Shelly Foundation (ASF). Ostroy founded the organisation quite simply to support women filmmakers. "I wanted to do something that would really speak to who Adrienne was as a person and what her life was about," he says. "It became very clear that the mission should be to help people like her—struggling artists, women who didn't get a fair shake in many ways and needed help." The ASF has since awarded 60 grants, partnering with 10 other institutions such as Sundance and Women in Film (one of the few other organizations specifically established to help women) to give out 10 annual grants. The first, awarded to filmmaker Cynthia Wade, helped fund her short 2007 documentary Freeheld, which went on to win an Academy Award. In December, the ASF will hold a special event to mark the 10th anniversary of its namesake's passing. "She died in November of 2006, the foundation was born in December of that year," says Ostroy, "so the two are kind of inextricably tied.".
Six days after Shelley's death, the police arrested Diego Pillco, a 19-year-old construction worker who had been working in her building at the time. Pressedby Ostroy, the cops had found a footprint by Shelly's body which implicated the Ecuadorian immigrant. It turns out Pillco had attacked Shelly and, not realizing she was still alive, staged her suicide. He pleaded guilty in 2008 to first-degree manslaughter and was sentenced to 25 years.22Since 2006, The Women Film Critics Circle has given out the Adrienne Shelly Award to the film that "most passionately opposes violence against women." Precious and Winter's Bone are notable past winners. The conviction came a year after Waitress earned approximately 15 times its budget at the box office, becoming the first hit of Shelly's career.
Following Waitress's success, producers Barry and Fran Weissler bought the stage rights, hiring Tony winner Diane Paulus to direct, Grammy nominee Sara Bareilles to write the music and lyrics and screenwriter Jessie Nelson (Stepmom) to pen the dialogue, which employed some of Shelly's unfinished work. "[I] really carefully went through it and tried to bring her voice into it whenever I could, as if she was another collaborator in the room," Nelson told NPR. Waitress opened on Broadway in April 2016, becoming the first musical on The Great White Way to have an all-female creative team. Both lucrative and critically lauded, the production was announced as one of the rare millionaires at the Broadway box office and was nominated for four Tony Awards. But how would Shelly have felt about all of this? Her character in Sudden Manhattan disparaged musicals, yes, but a video Ostroy uploaded to YouTube in 2010 shows the filmmaker in her mid-teens earnestly singing "The Music and the Mirror" from A Chorus Line. In the clip, the feather-haired frosted-lipped teen looks like a slightly toned down version of her character in Trust.
The last film Adrienne Shelly wrote before she died was Serious Moonlight. Three years after her death, Ostroy and Roiff produced it with Cheryl Hines directing and no one touching the script. "I think that's actually the biggest weakness with that film," Roiff says, "that we wanted to stay so true to her vision we actually couldn't completely conceive her vision because her vision would have been more flexible." In the 2009 black comedy, Meg Ryan plays a woman whose husband (Timothy Hutton) has left her for a younger woman (Kristen Bell), before a robbery brings them back together. More Nancy Meyers than Adrienne Shelly, the film does boast some great lines ("A relationship ending is like a death just two people know about," Ryan says) and a smart twist, but misses the scrappy pixie dust that Shelly brought to her work. Perhaps this will emerge in the stage adaptation, which Ostroy is currently working on. Either way, there is no rush. Towards the end of her life, having created both her daughter and Waitress, Shelly no longer needed to abandon herself. And when the question came up of making Moonlight, she said, for the first time, "I can wait. If it's not gonna happen today, that's OK, it's not gonna happen. I'm kind of happy where I am."
The original text of this piece failed to mention the contributions of Waitress executive producers Robert Bauer and Jeff Rose, and incorrectly suggested the live reading was staged to gain investors for the film and attracted the attention of producer Michael Roiff. Hazlitt regrets the errors. The piece also contains a clarification of which groups, specifically, were critical of the film in its early days.