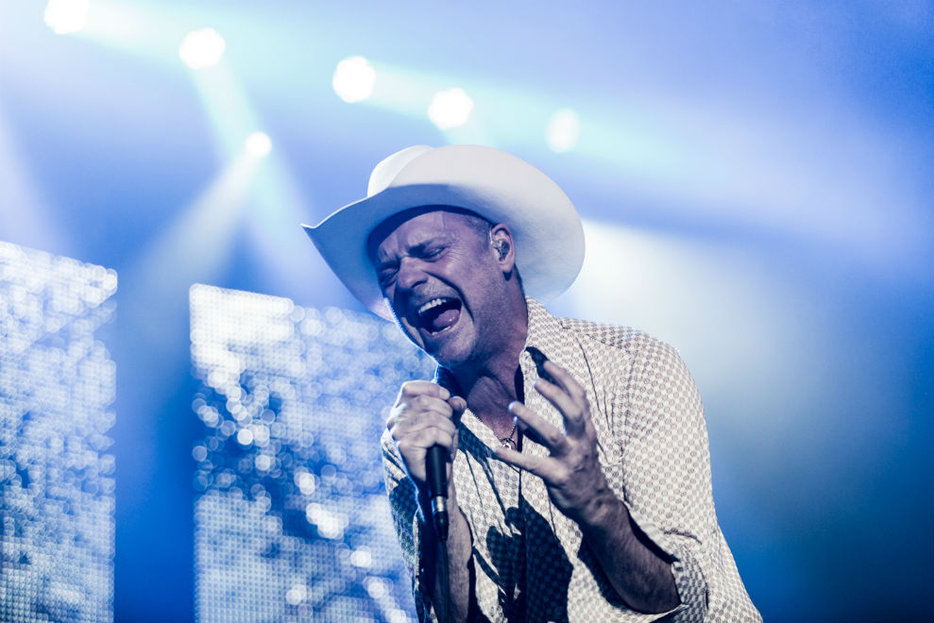 The Tragically Hip played a show at Detroit's Cobo Hall on November 23, 1996. The concert was captured in its entirety, and released the following year as Live Between Us to a throng of eager fans, most of them Canadian. I was one of them. That compact disc has more scratches on it than I can count, simply because of the overuse I subjected it to while driving around the suburbs in my mom's Toyota Corolla.
The first song that night was "Grace, Too," which, over time, became the band's most popular concert opener. As the drums kicked in and the bassline appeared, lead singer Gord Downie took time to acknowledge the night's opening act. "This is for The Rheostatics. We're all richer for having seen them tonight." The crowd cheered.

Throughout the evening, Downie, when not singing, seemed to be improvising. At the end of that first song, he ranted, "I was raised on TV/Like so many of you I see around me/Nothing to live or die for/No religion, too," inspired either by Canadian author Hugh MacLennan, to whom one of the Hip's most famous songs is formally dedicated, or John Lennon, or both. After that, Downie unleashed a few guttural screams.

The show was peppered with musical references: to David Bowie, to the Beach Boys, to the Rheostatics, and to Downie's own work, both with the Hip and as a solo artist, both past and future. The show, like the band itself, provided a canvas for Downie's antics, going off in musical tangents nowhere to be found on the album versions of the songs. Eventually Downie even started casting theoretical movies based on his own songs, sliding Peter O'Toole into the role of the curmudgeonly lighthouse keeper in the film inspired by "Nautical Disaster," the Hip's best song to my ears. (Jodie Foster, according to Downie, would play Susan.)
I heard Live Between Us long before I ever saw the Hip in person. Downie was weird, funny and courteous. The band was bold and experimental. The fans ate everything up. I thought that Live Between Us was everything a rock show should be. I still think that.

*
Shad Kabango is a rapper who has been nominated three times for the Polaris Prize, holds a Master's degree in liberal studies and is the former host of the CBC Radio One program q. Kabango is an authority on Canadian culture, but grew up with no particular attachment to the biggest Canadian musical group of his youth. Despite liking some of the band's singles, he could not classify himself as a fan—he knew what that word meant when it came to the group's faithful.
"As far as their legacy," Kabango said during a phone interview, "they are Canada's band."
If you're over the age of twenty-five and grew up in Canada, you'd likely have a tough time arguing with Kabango's assertion, whether they were for you or not. Their career has been marked by not just a sort of welcome ubiquity, but a rare consistency; the band's lineup—guitarists Paul Langlois and Rob Baker, bassist Gord Sinclair and drummer Johnny Fay—has remained constant, led by Downie, an engimatic man in the best, most entertaining manner possible.
It felt like the Hip would be making subtly evolving albums forever. And then earlier this year, news came out that Downie had glioblastoma, an incurable form of brain cancer. The band would go on a Canadian tour this summer, culminating with a nationally broadcast finale in Kingston on August 20. It will almost certainly be the band's final show.
With its first two full-length albums, 1989's Up To Here and 1991's Road Apples, the Hip became major players on Canadian rock radio. The four-album run that followed, from 1992's hit-laden Fully Completely to 1998's Phantom Power, marked the band at its height, as the group pushed away from its blues-guitar-based beginnings to a sound that was more in line with, although still slightly askew from, the heights of alternative rock.
While Downie and company have never supported the obnoxious behaviour that their songs and persona occasionally attract, they have certainly capitalized off of their inextricable link with a very white, very male, mainstream Canadian image. 
"In the beginning, they were sort of more of a rock band, a traditional rock band. They kind of grew into their strange, which was really kind of the great three-card monte when it comes to the Hip," said Dave Bidini, of the Rheostatics. His book On A Cold Road is, among other things, an account of his band's tour with the Hip. "At first blush, if you played someone their most famous songs … certainly 'New Orleans is Sinking,' you play them that song [and they sound traditional]. And you get a couple of songs down and you realize that this stuff is working on deceptive levels, levels that are … deeper and complicated."

The Hip became radio staples on classic rock, new rock and, because of the agreeability of songs like "Ahead By A Century" and "Bobcaygeon," even adult-alternative stations. The band headlined huge outdoor shows in Canada and even started its own travelling outdoor show, Another Roadside Attraction. Starting with 2000's Music @ Work, the Hip's style and mainstream preference diverged from one another, but each new album yielded a notable single. Most importantly, those albums were devoured by the band's still-growing fan base, which allowed the band to fill arenas across Canada.

The Tragically Hip has been Canada's biggest rock band for twenty-five years. However, unlike Rush, the previous title-holders, the Hip was (and is) distinctly Canadian in a way that is sometimes explicit and other times subtextual. Downie's lyrics, equal parts profound, earnest and baffling, name-check small Canadian towns, hockey players, artists affiliated with the Group of Seven and more hockey players. Perhaps more importantly, the Hip never broke big in the United States. The five friends from Kingston could play decent-sized clubs and smaller arenas (shows often frequented by Canadian expats), and even performed on Saturday Night Live thanks to their relationship with Dan Aykroyd, a fellow eastern Ontarian. However, once they crossed the 49th parallel, they went from Wayne Gretzky to a third-line grinder. Which, undoubtedly, only increased Canada's ownership of—and love for—the Hip. In a country both small (in population) and big (in area), the Tragically Hip could say the same, minus the parentheticals.

*

That inseparable link between band and country could expose a fan base—to be clear, a tiny but disproportionately loud portion of it—as nationalistic and closed-minded. Opening bands could get "Hipped" off the stage, with fans chanting "Hip, Hip, Hip" or even booing as they played. It's no surprise that the lyric "It's not the band I hate/It's their fans" from Sloan's "Coax Me" was long rumoured to be about the Hip. (Chris Murphy later revealed it was actually about a single Kate Bush fan.) Between the length of their resumé, the fans and the perception of what the Hip represented, it could be daunting for anybody from outside of a certain demographic to fully access the band.

I was a die-hard Hip fan when I was a teenager—I listened to bootleg concerts, parsed lyrics, checked setlists, belonged to a message board, etc. Yet, those fans started to get to me.
For about the sixth time in a two-year span, I saw the Hip play live on June 24, 2006, at Historic Fort York in Toronto. That night, they played "38 Years Old," off of their debut album, Up To Here. The song is about a very real prison break in the 1970s, with the added fictionalized element of Downie's "brother" who escapes from jail, where he was sent for killing his sister's rapist. It was the first time they had played the song in at least twelve years.
The Sadies and the Weakerthans were the openers that night, the latter of whom had become my new favourite band. There were similarities between them and the Hip: both were Canadian bands from outside one of the country's big three cities (the Hip are from Kingston, Ontario, a city about halfway between Toronto and Montreal, while the Weakerthans are from Winnipeg); they are both straight-ahead rock groups who dabble in outside-the-margins experimentation; in Downie and John K. Samson, they are both fronted by left-leaning, erudite singers who are not going to blow you away with the quality of their voices; and both routinely sing overtly about Canada.
During the Weakerthans' set, a friend of a friend started chanting "Hip, Hip, Hip." It irritated me. When I told him so, he yelled that he did not particularly care what I thought, that he was there to have precisely his type of fun. The Weakerthans were clearly there by invitation from the Hip—the headliners thought it was a good idea for their fans to hear this band. The least this guy could have done, I thought, was shut up and tune out. He was not alone: A whole swath of Hip fans—you can picture them: shirtless white dudes, many waving Canadian flags or slathered in red-and-white facepaint, fairly drunk—was trying to drown out the openers, too.

This was not the first time I had seen this behaviour, but it was the first time a band I admired was the victim. Hip fans had this reputation of being loud, nationalist louts, the types of people who never would have cared about any of Downie's politics or cracked open a book of poetry. For reasons that have always eluded me, the Hip, like Pearl Jam, can attract fans who do not really care about any other musicians. Those fans were there to shout along with songs that they listened to after portaging ten years ago, to name check every hockey reference embedded in Downie's lyrics, and to revel in The Definitive Canadian Experience. I was turned off for about a decade.

As Bidini, a huge admirer of the Hip, wrote in On A Cold Road: "Of course, there are folks out there … who suggest that by parlaying their parochial image into superstardom, the Hip are merely enforcing Canadians' fear of exotica, giving us what we know rather than what we need, perpetuating the CanRock trademark of stolid rock played in plaid jackets." While Downie and company have never supported the obnoxious behaviour that their songs and persona occasionally attract—in a famous CanRock story, Downie sarcastically dedicated a song to fans who threw items at Daniel Lanois's band at a Canada Day show in Barrie, Ontario in 1994—they have certainly capitalized off of their inextricable link with a very white, very male, mainstream Canadian image. Downie has vociferously defended his occasionally discourteous fan base, most notably with a poem upon induction into the Canadian Music Hall of Fame in 2005. They had a cameo as a team in the Canadian curling flick Men With Brooms. Hell, they probably sell more hockey jerseys than the Florida Panthers. They are not running away from the image.
All the while, it has been difficult to sum up what makes the Hip definitively Canadian beyond the obvious. Michelle McAdorey toured extensively with the Hip in the '90s when she was in the folk rock band Crash Vegas. For a few moments, she considered what made the Hip so Canadian, eventually giving up. "Two guys named Gord. I think that's all I can come up with," McAdorey said with a chuckle.

"Gordie's voice is Canadian-sounding—not just his name, his voice," said Maya Miller, the drummer for Vancouver-based garage rockers The Pack A.D. "We don't sound like Americans. And the Tragically Hip, they don't sound, by any stretch, like an American band. … Maybe it's because they've been around for so long and done this amazing job of sort of bringing everyone together on a basic level of what it feels like to be Canadian. They've just created this thing where they are Canadian. I don't know if I could even begin to pinpoint it." When you cannot explain nuance, it becomes easy for perception to become the accepted reality.
*

Yes, the Hip conjures up thoughts of cottages, hockey (who else but Downie would make reference to a "forget-yer-skates dream," the quintessentially Canadian nightmare?) and obscure towns. They have never boiled Canada down to just that, though. Downie has been talking about First Nations Canadians since "Looking For A Place To Happen" off of Fully Completely, and his perspectives have let the listener follow everything from an inquiring bird to a depressed polar bear. Once you get away from the too-easy stereotypes, helped along by that small group of fans, the band and the way the media has covered the Hip, you can get at the curious mind and generous heart of an enduring group.

Even when Downie is singing about hockey, it has not been a simple glorification of the sport. In "Fireworks," off of Phantom Power, Downie sings of a young hockey-obsessed man who is positively affected by a girl who doesn't "give a fuck" about the sport. "Heaven Is A Better Place Today," the lead track from 2004's In Between Evolution, was inspired by the death of NHLer Dan Snyder, killed in a car crash with his Atlanta Thrashers teammate Dany Heatley driving. Downie uses the incident to delve into the meaning of grief, the emptiness of funeral platitudes ("Don't say, 'People lose people all the time' anymore") and the power of simple human decency. There was never anything as perverse as Bruce Springsteen's "Born In The U.S.A." being co-opted for use in political rallies and international sporting competitions. Nonetheless, the band has always painted a nuanced, conflicted, if ultimately positive, view of the country. For the Hip, Canada is never the point; it's the jumping-off point.

Still, there is something about their nature and style, not just their content, which is profoundly of this place. The easiest assumption is that, as Kabango and Bidini both said, they were exceedingly normal: five guys from just another Canadian city, in plaid shirts, jeans and T-shirts, playing rock music. But even there, Downie has gone out of his way to subvert expectations, dressing in gaudy sequined suits with comically oversized top hats on this tour.

Max Kerman, the frontman of Hamilton's Arkells, came to the Hip atypically: Instead of the band introducing him to new acts, it was those acts, bands that he loved as a student, that introduced him to the Hip through opening for them in the mid-2000s. Arkells opened for the the Hip when they were touring their 2012 album, Now For Plan A. "I think the reason why Canadians like the Hip, and this is just my own hodge-podge theory, is [they] sort of combine the intellectual side of Canadians—that we're thoughtful, smart people — with that humble, meat-and-potatoes side, too. When you combine Gord's lyricism and the band's … rock-and-roll aesthetic, I think that's why people connect with them. It's not just a simple rock-and-roll song. There are a few layers to it. But it's also really comforting, because it sounds like The Rolling Stones sometimes or R&B or whatever." Kerman remembered trying to learn some of the Hip's songs when he was in university, doing acoustic sets in anonymous bars. He said it taught him that there was "real shit happening there that you just don't see very often in pop-rock." That is a lesson many of the Hip's peers and successors have learned.

"As far as the lyrics and the structure, as far as the archetypical rock song, they don't create the standard rock song," Miller said. "The obvious point is with the lyrics. There are choruses. But they're kind of odd choruses a lot of the time. They're not following the traditional path of appealing to a certain mindset or teenagers or anything as far as rock goes. They've got this kind of straight-up rock-and-roll sound, to my hearing. But the lyrics, they're a little art-rock. That in itself kind of sounds a little bit different from the norm to me. And maybe that sounds Canadian to me."

Yet, the Hip could never represent all of Canada, which would seem to be the point. To expect any rock band—especially now, at a time when the electric guitar is on the periphery of mainstream culture—to stand in for an entire country would be absurd. "We've lamented [Canada] can't really be squeezed into one thing," Bidini said. "That's a beautiful thing. It's like love or space: We'll never really understand it because it's complicated. I'd rather a place be complicated. … Gord is a tile in the mosaic. You need a lot of different colours to make an interesting mosaic—now more than ever, too." McAdorey agreed with Bidini's point, rhetorically asking, "Why should they try to do everything?" It is a fair question, and an unfair demand of a rock band—or anyone, for that matter. The Tragically Hip delved into this country's history and culture more than any popular musical act that has come before or since. It's not the complete story of the country, and that's okay. Fully Completely is an album title, not a realistic request.
*
The first Hip concert I went to was at the Molson Amphitheatre in Toronto on Canada Day in 2004, exactly ten years after Downie told the audience what to do with their disrespect about an hour north of there. I went with my friend Matt, who I'd known since I was six. (I had two drinks, and they hit me embarrassingly hard. Before the openers, the Joel Plaskett Emergency, had even hit the stage, I was screaming, for no reason in particular, that my shoulder hurt. To implicate myself further, I believe the drinks were hard lemonades. We are all immature idiots sometimes.)

Before the opener's set, Downie sang "O Canada" with Plaskett on guitar. "Happy Canada Day, folks," he greeted the half-empty venue. The Hip never shied away from its base, or its image. The five men were fine with who they were, and they were fine if that, or anything else, kept people from seeing all of their layers.
This past Sunday, more than twelve years later, Matt and I went to what will probably be our last Hip show, which also happened to be my first one in a decade. It was the final of three shows at the Air Canada Centre, and the fourth-last one of this tour. I was initially hesitant about going to a show this tour, fearing the concert would be a living wake as opposed to the type of Hip concert I remembered.
Ultimately, I decided I had better go for the same reason, I'm guessing, that many did: This would be my last chance to see the Hip. I resumed my old habits, trying to find the details of the shows that led up to Toronto. The band had been treating the tour as an opportunity to play mini-sets from all of their albums; I joked to Matt that we would probably get a set from Now For Plan A, an album I barely listened to that was released well past the group's peak of cultural relevance.

I was right. After the first intermission, the Hip banged out four songs I barely recognized. There was something really nice about this—the five men, contracted together so that they left massive pockets of space on the flanks of the stage, playing whatever songs they damn well pleased, recognizing that every part of their body of work, not just their mid-'90s hot streak, mattered. Downie looked like he was having fun, and I smiled. It was perhaps imbued with more poignancy than usual, but this was still unmistakably a Hip concert.
There were signs that something was not quite right. There were teleprompters all over the stage. There was less ranting and rambling storytelling from Downie. He has never remembered every lyric even when he was fully healthy, but watching Downie, in Toronto, seem to forget the "That night in Toronto" line in "Bobcaygeon" was harrowing. His wry smile afterward was vintage Downie, both heartening—he still has his sense of humour—and hard to watch.

The band closed with "Grace, Too," that quintessential Hip opener. Context could have mucked up this moment, and perhaps it did for some fans. However, watching Downie release those familiar guttural yelps, as he has done so many other times, was dark, sure, but also life-affirming. When life conspires against you, do not run away from who you are; you tap even further into who you are and what you do.
To myself and to anybody paying attention, the Tragically Hip has been teaching us many crucial artistic lessons: that you can respect your fans, even love them, but not be beholden to them; that you can be ambitious and striving but also populist; that you can be serious but not insist on taking yourself seriously; that you can be frustrated by your country but not disown it; that you can be an intellectual and an everyman at the same time; that you can grow together with a group of people you love dearly while not sacrificing your individual vision.
You can do all of that with intelligence, respect and dignity, never requiring any half-measures. You can sing to end all songs.