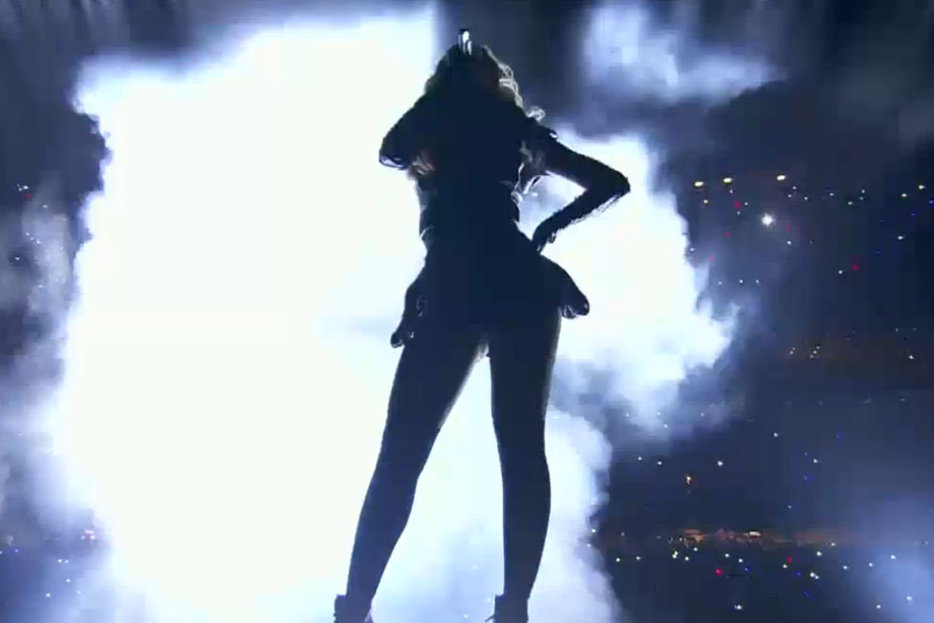 I only really care about American football when it occasions colossal pop spectacles, so I spent the fireball-bereft limbo before and after Beyoncé's halftime performance last night watching a screener of her new HBO documentary. It was co-directed by her full-time videographer Ed Burke, and while that recent GQ cover story detailed the fantastically expansive nature of their collaboration—hours and hours of intimate footage, every day, soon to be compiled in a personal digital archive—the subject's motives were shunted off to an outtake. Beyoncé, as Burke explained, was frustrated when MTV once demanded a fee to use B-roll they'd shot of her; this way, they shoot it, the network or website borrows it, and she owns it. More than any other star of her generation, Bey understands that money is fungible into other forms of power, or empowerment.
For all that, the Super Bowl gig was almost…well, not understated, thankfully never understated, but minimalist, maybe, black leather and silhouettes scorched in air. There was even a little empty space between numbers, something not often seen during these concerts. She refracted herself through holograms, confidently dipped into relative obscurity with "Baby Boy" and "End of Time," and made it seem for 10 or 12 minutes like the whole game was just a convenient excuse to exalt her voice. (That blackout must have been some elemental force winking in agreement.) Aside from several obvious exceptions, Beyoncé's choreography is usually secondary, but she killed that too, all stomps and swivels and signs of the Roc.
Her former bandmates pulled off an even better trick, launching themselves from the underworld in uncanny heels. Bursting out of special effects sparks, they looked like blades flicking open. I've seen some people complain that Beyoncé resurrected the rest of Destiny's Child to (mostly) back up her own hits, but if seeing Kelly Rowland and Michelle Williams do the "Single Ladies" moves in solidarity didn't make you forget any lingering rivalry there, real or purported or CIA psy-ops campaign, maybe just read a dumb gossip blog or something? I keep thinking about this Ayesha Siddiqi tweet: "In a giant domed theater of masculinity Beyoncé makes her halftime show an unimpeachable tribute to women." A hundred million people watched a stage ruled by women of colour. If you don't think that means anything, let B school you in the value of images.