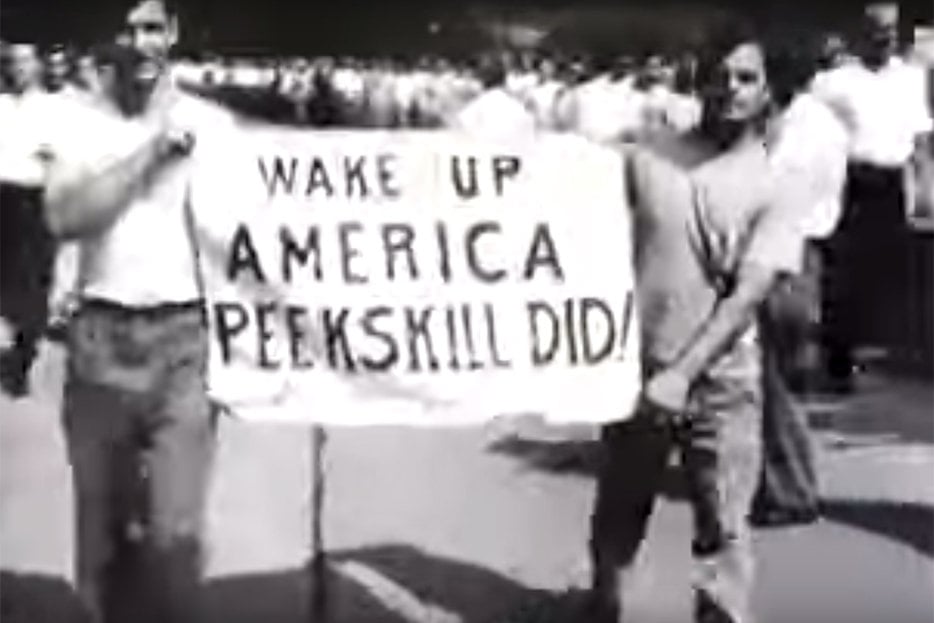 How a race riot in New York state inspired a generation to reconsider America's vulnerability to fascism.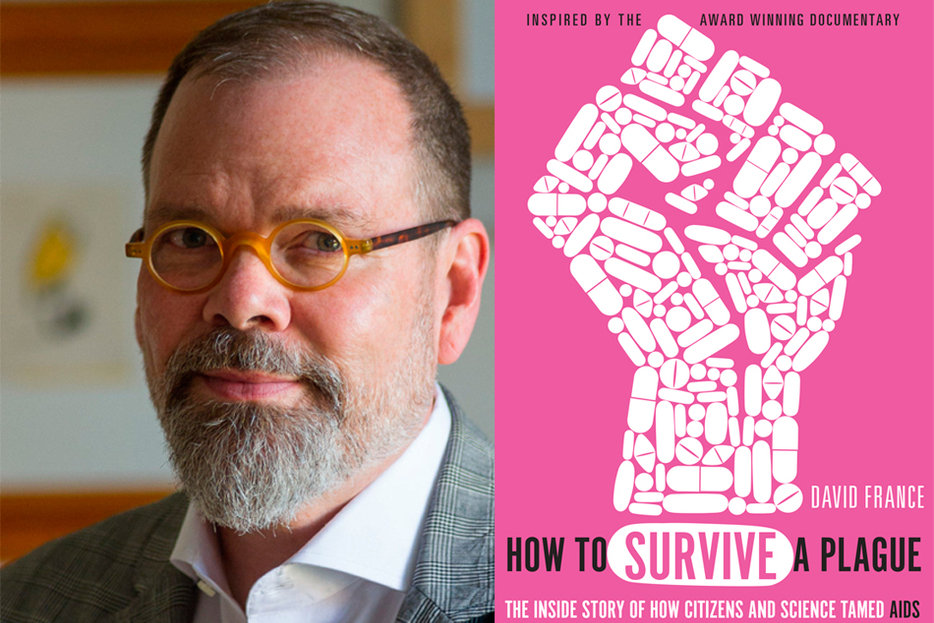 Speaking with the author of How to Survive a Plague about the early days of the disease, the unpredictable nihilism of the Trump government, and the evolution of lasting gay love.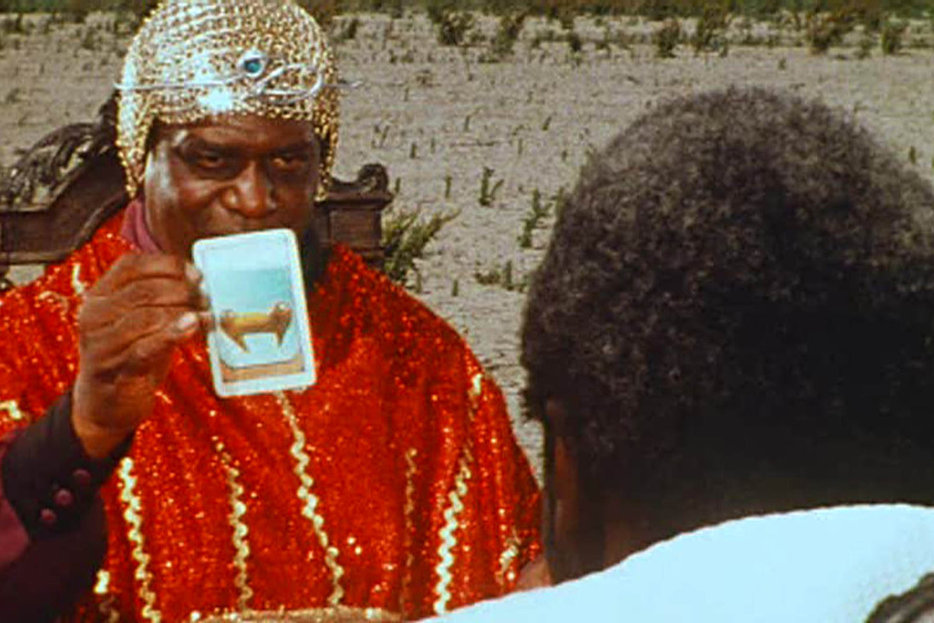 In order to find purpose and affirmation, Black artists rethink time and space as we know it to find a place for themselves.
Latest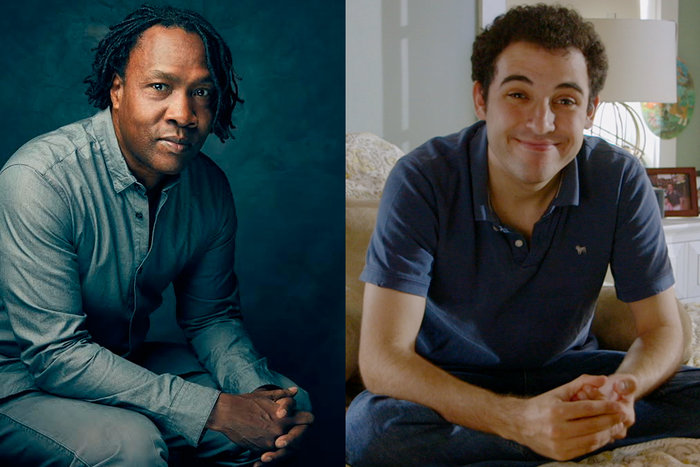 Speaking with the director of the Oscar-nominated Life, Animated about representation in documentary film. 
Owen Suskind is sitting, legs crossed, in front of his incandescent television. He is five years old and, like many children his age, finds pleasure in the wondrous worlds of Disney animation. As Aladdin begins to play, excitement washes over Owen's face. It's bliss incarnate. But it's also refuge for the pre-schooler, who—to combat his autism—learned how to communicate by absorbing the language of Genie, Jafar, and Iago.What proceeds could've easily devolved into unbearable saccharine—a head-banging PSA about autistic children in need of support. Cue the Sarah McLachlan sap. Instead, documentarian Roger Ross Williams produces something powerful and potent. His latest documentary, Life, Animated presents cinema as a life raft.In conversation, Williams discussed his singular career, removing ego from his documentaries and working hard to balance the playing field in Hollywood for men and women of color.Sam Fragoso: In your new film, Life, Animated, how did you avoid the sentimentality that could easily be a part of a documentary about autism, while still making it a film that wins people over?Roger Ross Williams: When you make these films, you bring all of your personal perspective to it. I really wanted to make a different type of film about someone who was differently abled, and I really wanted to tell the story from Owen's perspective. The whole goal of the movie is to slowly take you into Owen's world and reality, and change the way you think. You hopefully have this sort of out-of-body experience where you are totally immersed in Owen's world and Owen's reality, and you begin to understand who he is and who people with autism are.If you have a bias against Disney, for example, that goes away because what you realize is that it's not about Disney, it's about something bigger than that. It's about the power of story, and about how classic fables—which is really what these Disney films are—may connect us all and make us all human. People who are storytellers and writers, I think it has a powerful effect on them the same way it did on me, which is the reason I wanted to make the film.As a documentarian, is it difficult to remove yourself from this equation? Is it challenging to remove your own ego?It is challenging for a lot of filmmakers and directors, but I've been training for this. When I made my first film, Music by Prudence, that sort of prepared me for this film. That was about someone who was severely physically disabled, who can't feed herself and doesn't have use of her arms and legs, and how she overcame that through music and art. As I spent time in Zimbabwe in the worst of situations for kids living with disabilities in an orphanage, I was uncomfortable and awkward in the beginning. And I slowly, for months and months and months that I spent there, immersed myself in their world and I started to see the world through their eyes.I think with Owen the same thing happened. In the beginning of the film, the audience is uncomfortable because Owen is pacing and talking to himself and they don't know what he's saying. It's awkward. As they slowly are taken into his world and see what's going on and see how rich and beautiful it is, by the end of the film, when he's pacing and talking to himself, you know exactly what's going on in his world. You know exactly what he's saying. You are in there and that's the experience that I had in making the film. I was uncomfortable in the beginning. I didn't know how to connect or relate to Owen. Over the years that I made the film, I became more and more comfortable and the arc of how I wanted people to feel became more clear as I became immersed in his world.Why do you think the adage "walk a mile in his shoes" is so difficult to live out?I think it's because people are in their own little bubble. They're so worried about everything around them and how they are perceived that it's very difficult to take yourself out of that. The beauty of Owen is he doesn't have that sort of bubble around him, he doesn't have that filter. He's open and an open book. He expresses himself and experiences things and takes them in very differently. For some people it becomes uncomfortable because he's like a raw nerve. So when he experiences the breakup he just says what we all think. "Am I gonna be alone forever? Why is the world filled with so much pain and tragedy?" He says all those things that we would all like to scream out and say, but that's a beautiful thing. People who are sort of uptight may have a hard time watching that and experiencing that. I think because I was a journalist I have been overly trained in not bringing too much of my own shit to the filmmaking process. My goal with this was to sort of get into his head: I really want Owen to be the star of this film, his reality and his story. That was what was most important to me.Is that type of self-removal important to you?I always try to do that. Even with my last film, God Loves Uganda, people were like, "How can you sit there and live with these people saying these horrible things?" It's about the LGBT, and Uganda, and the death penalty. And I was like, it's because I can sort of remove myself. It's about them: give them enough rope and let them hang themselves. It's not about my anger or my feelings, it's about really letting people be who they are.Do you ever get stuck in your own bubble?Of course, we all do! Absolutely. I certainly am in my own bubble now. We're releasing the film and I think yesterday I did fifteen phone interviews and two radio shows and then a Q&A and screening for a few people. And I do that every day.Does that feel right?It feels right because I feel like I'm doing it for the greater good of humanity in that I really want people to see the film. I think people might think, "Oh, it's a film about autism, why am I interested in that," but then when they see it and they have this experience. I mean, we've won six or seven audience awards in festivals all across the country, and the reason we win audience awards and the reason that there's thousands of people at these screenings cheering and crying is because it's striking a chord about what it means to be human, what it is that connects you to other people. It was important for me to make the film not about autism, but a classic coming-of-age story, sort of Owen's hero's journey.Does it feel like a double-edged sword, that while you're making such important films you're also advancing your own career?Of course I'm advancing my own career, I'm fine with that. If I can get to tell [these stories], then that's great. I used to be a journalist, and I always say I'm a recovering journalist, because the reason I left mainstream media, working for the New York Times or CNN or ABC, is because I wasn't getting to tell the stories I wanted to tell the way I wanted to tell them. If I can have an opportunity to do that, especially as an African-American gay man, that's really important.I was just listening to an interview I did here on GPCC, the NPR station here in L.A., because I'm running for governor of the Academy. I was talking about how I had no role models, I had no mentors, and my story didn't seem important to who I was, in my experience. I always want to tell stories about experiences of people who feel outside of the mainstream.What does it mean for you to have been elected as the Documentary Governor of the Academy?Now that I have been elected governor of the Documentary Branch of the Academy of Motion Picture Arts and Sciences, I finally have a place at the table. I will push AMPAS to continue their efforts to meet their deadline to "commit to doubling the number of women and diverse members of the Academy by 2020." And, "The Academy is going to lead and not wait for the industry to catch up," as President Cheryl Boone Isaac's said in the AMPAS press release. For me that means enhancing educational and mentorship programs in diverse communities. I welcome the challenge and look forward to getting to work.Has that experience changed since you became the first African-American director to win an Oscar in 2010?I'm not sure. When I won the Oscar, no one offered me a job or called, Hollywood didn't come calling, no agents called. I didn't have an agent until a few weeks ago. Everyone else who won an Oscar or even got nominated was signed immediately. I had a conversation with Ava DuVernay for her podcast, and we were like, "We have to work ten times harder than everyone to even get recognized." And I feel like I didn't get recognized, even though it was historically significant. And it shouldn't have been, because I shouldn't have been the first African-American director to win an Oscar when there are so many great directors.Do you feel like you need an agent to have your voice heard? Isn't having people respond to your stories enough?Yeah, but you have to have someone to distribute, to fund. That wasn't happening. God Loves Uganda was a struggle to get made and was not funded by any industry but was funded by the Ford foundation and grants which have a mandate to tell those types of stories.Did it not feel like a sustainable career, even after the Oscar?I didn't know if I would have a sustainable career after winning the Oscar. How many people who have won the documentary Oscar, and especially in the short documentary Oscar, do you know? How many of them can you name? Most of them aren't working.Do you remember Louis C.K.'s joke about that this past year?Yes, it was great! That was a great moment. I think for me, that was the best moment at this year's Oscars because it was so true.Do you see a time where all of this becomes less of a struggle, especially for people of color and women filmmakers?Not anytime soon. I think that it's a long haul. I think that things are changing for the better with the efforts that the Academy is making, but I also think the communities, especially the Black community, are finding their own means of distribution. They're sort of like, "We're not going to wait around for Hollywood, we're going to show you. We're going to create a marketplace that is viable and that makes money and that people want to go see. Then they'll hear our story and then Hollywood will come knocking."That's really great, and there's also an avenue of working from within the system, and really pushing initiatives. They have a huge educational program and I want to really push that part of it and go to underserved communities and inspire people to get into the industry. This year, in documentary, [the Academy] just admitted our first Black women. There was never a Black woman in the documentary branch of the Academy. Not one. This year, in this class, were the first Black women, three of them. Dawn Porter, Shola Lynch and Laurens Grant are the first three Black women admitted into the documentary branch of the Academy, so we have a long way. Little girls, or boys, or anyone in the Black community don't say, "Oh, I want to be a documentary filmmaker." Or a filmmaker, even! So it's about encouraging them, supporting programs, and starting from the ground and working your way up. So we'll have qualified filmmakers who can then change things.Was there a point in your life, after leaving journalism, when the lack of recognition despite your hard work made you consider quitting?I'm sure there were many times in making Music by Prudence that I wanted to give up, but something was driving me and I didn't give up. I don't know what it was. It wasn't because I had role models or examples. It was something else.What do you think it was?I think it was a desire to prove myself and my self-worth. I had a lot to prove to myself, but also to the community I grew up in. I grew up in the Black church, in an industrial northeastern town, as a secretly gay boy who was not accepted and was sort of made fun of. So it's all that rejection, and then you kept this drive. Like, "I'm going to show everyone!"When did you first feel comfortable? With your sexuality, your self, and the rejection you've faced?It wasn't until I left, when I went to NYU. It was really in college that I felt free. New York can do that for you.What was it like?It's iconic, New York in the '80s. It was a thriving, artistic scene of nightclubs and great artists. It was exciting, and you could be yourself there. You could express yourself in whatever way. When you're in college, and you're trying to figure out who you are and find yourself, it's a great place to do it because you have complete freedom in every way, and you have the city as your complete playground. Which can be overwhelming, but you sort of find your tribe and community there.When you went home for the first time after starting college, did your family see the difference?I grew up with a single mother who was a maid who cleaned the toilets of a fraternity house at a college in my town. I've always thought bigger than where I came from, so I could never relate to it anyway. I was always dreaming of Paris and stuff, I don't know where that came from. So when I go back I'm always just more alienated from the community where I came from. There was a great moment two years ago where the college where my mother worked, Lafayette College in Pennsylvania, gave me an honorary doctorate degree. I went back there to receive my honorary doctorate degree with my now-elderly mother, and I stood there and I said, "My mother was a maid. She cleaned the toilets here in the frat house, and now her son is receiving an honorary doctorate degree." People were in tears. I was in tears! It was such a powerful moment.That's something you'd see in a movie.I'm doing this film where I go back to my community. In my next film with CNN films and BBC, European Broadcasters, I'm going back there to make a film about going home. It's really about mass incarceration and about all my friends from high school who I've never seen since high school who are all in and out of prison.It certainly seems like people see and hear you now.Yes, finally. Yes, and I'm not going to waste the opportunity or shy away from difficult stories, or from telling stories about people who are not seen. People like Owen, who people pass by, and they look the other way. They don't see and they don't know, and they don't want to know. Then they discover people like Owen or people like me. You know, I make the films because I connect with that subject, with that person. You have to have that sort of passion to make documentaries because it takes so much, so many years and so much blood, sweat and tears that it had better be personal. I think that this film is also personal in a different way. I love that it's told through someone who's not neurotypical, and who comes from a world that's very different from my own. That's a world that you would say is of white upper-middle class privilege, but is also outside of the mainstream.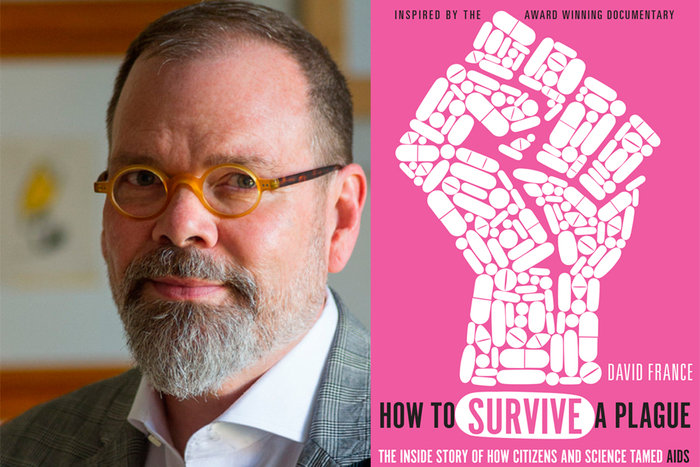 Speaking with the author of How to Survive a Plague about the early days of the disease, the unpredictable nihilism of the Trump government, and the evolution of lasting gay love.
Twenty years ago, after more than a decade of bereavement, panic, hopelessness, scientific stagnation and institutional intransigence, antiretroviral combination therapy—that infamous "cocktail" of drugs—was made available on a wide scale to people living with AIDS in North America. For the first time since the advent of the epidemic, the number of deaths related to the disease dropped, plummeting twenty-three percent from the previous year's tally.For those on the frontlines—the grassroots activists, the lovers and caregivers of patients debilitated by AIDS-related opportunistic infections, the gay men grappling with social stigma and bureaucratic contempt, the health-care workers tormented by their inability to save thousands—the new treatment seemed like a miracle. "How does a population psychologically braced to die suddenly get on with the business of living?" pondered Newsweek staff in an op-ed from that December titled "The End of AIDS?"The story wasn't over, of course: there were still nearly 35,000 AIDS-related fatalities in the United States in that year alone. But that moment, the dawn of the Lazarus effect—the promise held by new drugs that would keep those with the disease alive, at least until another potentially effective therapy was discovered—marks the climax and conclusion of David France's remarkable How to Survive a Plague. A harrowing and astonishingly vivid account, France's book is both a complement to and an expansion on his Oscar-nominated documentary of the same name. It's an extraordinary work of history, one that tells a (if not the only) story of the earliest years of the AIDS/HIV epidemic and the activism that coalesced in the face of tragedy.Hazlitt: Your original cut of the How to Survive a Plague documentary was thirteen hours long—did the book come out of necessity, out of the desire to include everything that was left out of the film?David France: Actually, I wanted to write the book first. I'd created a book proposal, as one does, and carried it around, as one does. It was 2008, 2009, and everybody told me there was no market for a story about AIDS, that AIDS was in the past, that there was a glut of AIDS material already. The story had been chronicled.The plague was over.That's right. So even if there were additional issues to be parsed, who would care? And my argument, which met with deaf ears, was that all the great work that had been done around the plague, had been done in the middle of it, from Paul Monette to Randy Shilts to Larry Kramer to Mary Fisher. The writing was powerful and terrifying—And unmediated.Yes. And a lot of it was very personal, and a lot of it was very rooted in time. Randy Shilts's And the Band Played On was the only one of those canonical AIDS books that reached for history. But there was no interest at all. It was also a bad time in publishing; the economy was about to tank, everyone in print got panicked. And as part of my process to build a book proposal, I'd gone back to that videotape pile….How much videotape was there?I eventually brought in 800 hours of mostly home movies. Some people have called it a found-footage documentary, which technically is a kind of category. But this wasn't footage that was inadvertently captured. It was all purposefully recorded in order to create records that were undeniable.You've been working in journalism for decades. How did the documentary process influence you as a writer and shaper of narrative?I'm a long-form journalist, so it wasn't a leap for me to work on a narrative storyline in a film with a three-act structure. I think I've always written in ways that are cinematic—or at least anticipate that cinematic feeling. A lot of my work has been made into films. But what I realized was that what I didn't have any experience with was working entirely with visual media, and that was problematic. It was a steep learning curve.Figuring out which frames to capture, you mean?Exactly. It wasn't enough that I found somebody saying something; I had to find them in the context of this and looking like that, and then I had to explain why they were there, in that particular place. I was bound by the historical record more than I'd anticipated in going after this old video footage.When this footage was recorded in the '80s and early '90s, was there a sense of urgency within the community to be documenting things for history? I remember reading Paul Monette's Unbecoming, which is a kind of reportage—a firsthand account of how the disease caused the dissolution of self—and trying to make sense of who it was intended for.I think each of us felt an obligation to do something when it became clear that we were all endangered. If you did feel drafted, there were various things you could do. People were signing up for home health-care visitation; there were organizations formed to walk the dogs of people with AIDS and to write the wills of people with AIDS. You'd bring your expertise to it. In 1981, I was just out of college. I was in graduate school. I felt called to write news, to find the news—which was hard to find—and then to bring it back to the community. So I was writing for the queer presses and trying to create medical news and science news that would engender hope. I was looking for the answers. I never found them, but it's what caused me to become a journalist, instead of a philosophy professor or whatever else I was going to become. That was my motivation. I wasn't really trying to create a permanent record of historical crimes.But Michael Callen was. In 1982, he and Richard Berkowitz sat with their doctor, Joseph Sonnabend, and the doctor saw the tragedy in the future, and he felt a very specific need. He sat with his patients and said something to the effect of, "This is going sideways! Greed and lies are going to drive this. We have no power to correct their narrative, but we have power to gather the truth." And he charged both of his patients with making a record. That conversation is on audiotape.It's remarkable that these galvanizing moments in the history of this struggle are actually documented.The first half of the book is all based on audio recordings that people were making, knowing that they needed to capture the undeniable facts of what was happening. The first conversation between a person with AIDS and anybody in the federal government's research establishment was captured on tape. Michael Callen, after that conversation with his doctor, went out and bought his own Panasonic tape recorder for $39—he saved the receipt! Michael's now long gone; he died in '93, but he took this idea very seriously. At one point he said that one day there would be a Nuremberg-type trial, to bring to justice the people responsible for having let an infection that originally impacted forty-one people develop into one of the deadliest global pandemics of all time. That's what he was leaving behind: the records for that trial.Institutionalized homophobia persists, regardless of political affiliation. But if AIDS had unspooled under an American government that was at least nominally friendlier to LGBTQ people, would there have been the same impulse to create an alternate history?So, we got a liberal government in the States in 1992, and it was really no better. When Clinton was elected, there was a lot of hope that it would be better. He said the word "AIDS." He was the "I feel your pain" politician, and that "I feel your pain" line was delivered to an AIDS activist who was heckling him at one of his campaign stops.You describe that scene so vividly in the book. I can hear his patronizing inflection.It's on videotape! It's all on videotape! I think there are only a handful of conversations that were recreated from people remembering what they said. There are, like, 80 pages of endnotes citing tape after tape after tape after tape, most of which had never been transcribed before.What was it like to pore over all those tapes? It's one thing to sift through a general archive; it's another to be revisiting your own history—these were people you knew, a period you lived through. Was it harrowing?Well, part of it was very heartwarming. To hear Michael Callen again! And to hear the part of Michael Callen I'd never listened to before—there's a New Year's Eve in 1984, '85, where he's really despairing. He's lying in bed. He'd sent his lover off to the parties because he just wasn't well enough. And he's delirious. His mind is clouded; maybe by fever or infection. And to hear him struggling with that on this tape that he made and put aside, that was really stunning. I mean, he recovered from that night and remained a leading voice in the AIDS movement, even through 1987 with the formation of this grassroots activist initiative. He was a thought leader and philosophical leader till his death in 1993. But almost ten years before that, he was really despairing.Can you remember the moment when you transitioned from reporting on something that was happening to becoming part of the story?I never really felt like I was part of the story. I had coffee with Larry Kramer recently and when I gave him a copy of the book to read, I said, "You're going to hate this—initially, at least—but eventually I think you're going to like it." I explained to him that I'd written the book as an outsider. It's full of praise, but I wanted it to be a real historical commemoration of what went right and what went wrong, and how this deeply flawed group of people came together and created this deeply powerful movement.Now, I decided to include my own story in the book, because I wanted to create a witness account. I was a witness. I was there. I was as panicked as anyone else. I had AIDS in my relationship. My lover was sick. I was not an outsider to the plague, to the epidemic. But I always remained independent as a journalist.I started out in the queer press, and eventually, I was covering AIDS news for the New York Times. I decided that the role I was going to play was not as an advocate journalist, but a journalist using the recognized tools of independence and objectivity to tell these stories. I was at all those ACT UP meetings; I was at all those demonstrations—but always with a notepad in my hand. ACT UP had no formal membership roster; the rules were that if you went to two meetings, you could vote at your third meeting. And I never voted.Within such an action-oriented organization, was there a sense of appreciation for your approach? Did people see you as an emissary who was bringing the story to the outside world? Or did they think you should be more involved in the grassroots aspects of the fight?I never felt pulled in in that way. I worked closely with the journalists who were. There was a journalist who covered AIDS at the Village Voice, Robert Massa. As he was dying, he felt he needed to replace himself, and he began recruiting for people to come and do the kind of work he was doing, which was very aggressive, very critical, very advocacy-based. He didn't come to me. Because...that was not the work I was doing. He approached friends of mine who were, and ultimately, he did replace himself before he died, with Kiki Mason, who stayed alive until '96. After '96, they didn't fill that position again.So, was there appreciation among them for what I was doing? Maybe there was a little suspicion, even, about why I wasn't doing more internally, why I wasn't speaking in the voice of activism. I've always considered myself a person who covers activism—which I guess is a form of activism.Andrew Sullivan touched on this in his review of your book, but it's remarkable to have a story with so many bodies on the ground where you resist hagiography. (You're very candid about Larry Kramer, for instance—both his failings and his triumphs.) You were relying on subjects to share very vulnerable, often painful stories, so how did you negotiate that dynamic?People always spoke to me as a journalist. When I was at the Times, when I was at Newsweek, any of the places I've been able to shoehorn in AIDS stories, I've always been a journalist. I've never been friends with any of these folks. They've often been critical of my work. I've allowed them to be critical of my work; I've allowed that to not change my work if I thought I was right, and I've allowed that to inform future work if I thought I was wrong.I've been interviewing Larry since the '80s, and always as a journalist. I don't think I've ever sat across from him without a tape recorder or a notepad, except maybe when he was in the hospital. When I started working on this book, he said he would not participate. So I didn't talk to him and ask him to go back in time with me. But I did find that he'd dropped all his papers off at Yale, and I convinced Yale to give me early access to his datebooks, his drafts of speeches.... It was amazing. Three weeks; thousands of pages of stuff. I feel like I could understand him from then. A lot of the warts-and-all stuff about Larry is the stuff other people were angry with him about. I think I'm really clear in the book to acknowledge his seminal role in galvanizing the entire movement around AIDS, even in his imperfect way.You're also very candid in writing about the death of your lover, Doug Gould. You describe sitting in the hospital after fruitlessly pleading with Doug's doctor—any doctor—to help him, and thinking, "Someone needs to do something, and no one is going to do anything." He eventually died of an opportunistic infection that, even at the time, was diagnosable and treatable. After realizing that it was a death from wilful ignorance...Not ignorance. What's the word? Disregard.How do you acknowledge that disregard, come out of that experience and not go on a rampage? How do you maintain journalistic objectivity?Well, it took me a long time. This book is my first attempt to address what happened with Doug. I found that doctor. I sat with him, two summers ago, and asked him to account for what had happened. He was so damaged—and he's not the only doctor who was damaged by AIDS—that he wasn't able to make any sense of it. I feel he was another victim of the epidemic.Did he have any answers? Any excuses? Any explanations?No, no. He didn't remember. He's had trouble with his medical licence. He was very much a diminished man; he's working in a free clinic these days. He'd been one of the top researchers on the disease. That he's still practising medicine is a testament to his ability to recover, at least partially, from what he'd been through.Nah, I just think he's a human being. We've read the stories about the concentration camps, about how people in dire circumstances tried and failed to maintain high moral standards. I can't imagine what it would have been like to have been a doctor back then, especially a queer doctor, like he was. To lose so many hundreds of patients every year, and yet there's nothing you can do about it. There was nothing he could do about it—in the larger picture; there was certainly something he could've done for Doug.Right.And Doug would've died anyway, I believe. Even if he'd gotten through that infection, he would've died of the next one, or the next one. I don't have any reason to believe he was going to be one of the people to live through the miracle year in 1996 and enjoy the Lazarus effect and go on to have a long career in theatre or whatever else he would've stuck to afterward, realizing he had a life.As someone who was so immersed in the queer community in New York at that time, what are your thoughts about the generations that have followed—the generations that have a sense that the epidemic is ancient history?I think there are two different things at play. Yeah, people are still infected, and yeah, people are still dying. But there's great news—the great news is that we can stop transmission, and we have rolled transmission back to really low levels. And we now have even newer tools to help with that. We know that the same drugs that keep people with HIV infections healthy keep people who don't have HIV infections from getting HIV. That's amazing!So, you're pro-PrEP.Oh, yes. I'm happy that twenty-somethings don't have the feeling of a sword hanging over their heads. That's what we were fighting for. That's where we got. There are other problems—there's all the syphilis, all the gonorrhea, all the other crap going through the roof. And maybe what we need to do is solve those things medically, rather than behaviourally. Maybe people should be allowed to fuck all over the place, if that's what they want, and to have it be life-giving.Not long after you made your documentary, there was a real wave of AIDS/HIV nostalgia. Dallas Buyers Club came out; HBO released the telefilm adaptation of The Normal Heart....This was around 2012? I'm not one to take credit for stuff, typically, but I think that documentary opened up that conversation. It opened up whatever vault we'd put AIDS in. It was 15 years after the advent of those drugs. And there's something about a fifteen-year interval. If you look at literature looking back at the Holocaust, it came about fifteen years after the fact. There's something about the human mind—or soul—that needs some time to pretend tragedy didn't happen, in order to go back and make sense of things.The work ACT UP did back then really anticipated the way patient advocacy has evolved since then. I'm thinking particularly of how people with cancer have become fiercely engaged with seeking out and arguing for their inclusion in clinical trials. At the time, it was unprecedented to have regular people taking responsibility for interpreting science and agitating for experimental treatments.It was the advent of citizen science. All the buyers' clubs that started in the early '80s, where they were importing drugs from around the world and making them available to people with AIDS on an underground black market—by 1987, there was a realization that this was not going to do it. There was no way that patients, through criminal ingenuity, were going to solve the problem of AIDS. It had to be the scientists themselves, and they had no idea what they were doing, those scientists. And no one was helping them strategize. So that's what they took on. That was fascinating; that had never been done before. That's what we learned: not just ordinary people, but people on the furthest margins of society, which is where we were in the '80s, could make change. We were in a group that was disenfranchised with glee by everybody else. I've seen old videotapes where politicians were talking about funding AIDS-prevention initiatives and they said, "If we make this capitulation to the gay lobby, they'll come and ask us for marriage licenses." I don't think anyone was thinking that at the time, but…the guy wasn't wrong.A lot of people are worried that the Trump regime will have hugely detrimental implications for HIV/AIDS treatment initiatives, and for people living with the disease—particularly given Mike Pence's antipathy toward anything LGBTQ-focused. What's your sense?We're all guessing. I find myself going to sleep at night with dreams that the election didn't happen, or that it can be undone. We see a government being pulled together that's anti-science, that's fully anxious and engaged in the old culture wars from the '80s—but also not reasonable, not predictable. There's no single ideology. You can't even believe what they're saying, because they say it differently the next day. So I have no idea what's going to happen. But we all know it's not going to be good. But we don't know where or how or what the battlefronts are.A Missouri court of appeals just called for a new trial in the case of Michael Johnson, a.k.a. "Tiger Mandingo," an HIV-positive college student who was convicted in 2014 of "recklessly infecting" a sexual partner. The criminalization of HIV is a hugely vital fight for Canadian activists right now. Is it the same down in the States?It's a state by state thing. I don't know how the Feds can work on that. But they can withhold monies here and monies there—prison systems, school support—as a way to engineer the adoption of certain policies by states. And there will be nobody discouraging those laws, which are anti-science laws. They're not about the transmission of HIV. They're about sexual behaviour.And pathologizing groups of people.There are scores and scores of young men and women in jail for very long sentences, some—or most —of whom didn't transmit HIV. They're there because they didn't say that they had HIV—or they said they had HIV, and their partner, after a bad breakup, got even. You don't know what those situations are. But the point is that HIV transmission is no longer a death sentence. And it doesn't happen in people who are effectively treated.Michael Callen and Richard Berkowitz and Joseph Sonnabend, their innovation was safe sex. Safe sex speaks to the people who are negative—that was the audience—and says you have to just assume that anyone you encounter is positive and you have to have the power to protect your life. It speaks to people who are positive, also—it says we have to show love for the people we're having sex with and make sure that we're not transmitting it. That power has fallen apart. Campaigns around it were never funded. It was never promoted as public health policy, as it should've been. So the person who goes and has unsafe sex who is negative and then discovers the person they had sex with wasn't...that's a person who doesn't love him- or herself to a degree where they want to make sure that they stay healthy. It's a complicated, consensual interaction.Men who've written about the generation that came of age in the time of Stonewall have talked about the lack of role models for loving gay relationships. Your book leaves the impression that that shifted during the '80s. Given the way that AIDS exposed and added a different kind of urgency to intimate relationships, do you think the epidemic inadvertently provided that archetype—it showed that there could be loving relationships between two men?I wonder. It certainly really intensified our concept of community—but not just between gay men; between gay men, lesbians, transgender people.... Our world, the queer world came together in a way it never had before, especially across gender lines. But did it create the marrying mind? That's what you're asking?In a way. I'm wondering if it introduced the notion of lasting gay love on a much wider scale.Well, nothing was lasting then. But it launched an overt discussion about gay love and gay community and gay family. We had come together as a family. From '69 onward, we'd always called the community "family." And in those years, it was because we'd been rejected by our own families and created new families. In the '80s and '90s, to watch how that family worked together and took care of one another and mourned one another was very moving.I think it did encourage people to look at coupling in a way that they hadn't before. We see that in Michael Callen's narrative in the book, that he'd never imagined himself in a relationship—and confronting AIDS and confronting death made him challenge the way he thought of his sexual activity, and what he got from sex and what he got from relationships and what he got from love. Maybe it opened up those new possibilities.How did it shape your concept of love?In my personal life? I think it made me into a caregiver, which I hadn't necessarily been before. But I was always a long-term relationship person. My last girlfriend was a four-year relationship, and I went from that into these long stretches, some of them stolen away by AIDS, and then after 1996, I've been in a twenty-two-year relationship now. But it's a queer relationship! And we're not emulating straight marriage! But we have our own sort of really profound relationship model that's developed in recent years—at least among men. Women were...I mean, the '70s brought us that joke about what a lesbian brings on a second date: a U-Haul. And then the boys became more like that in recent years than the girls. But we were outlaws for many, many years. And the change in the last decade, to being in-laws? It's a really startling one. Some of us chafe at it, but we're playing along.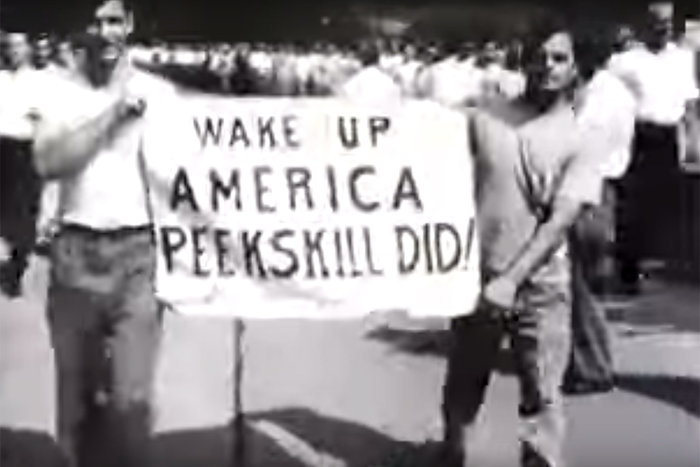 How a race riot in New York state inspired a generation to reconsider America's vulnerability to fascism. 
1949 was the "last postwar year," the year America came apart.The protesters gathered outside the concert grounds as evening fell. It had been a humid, hot day in Peekskill, New York, but as the afternoon waned, light breezes wafted in from the Hudson River. The crowd was waiting for Black folk singer and political activist Paul Robeson, who was scheduled to perform as the concert headliner at the picnic grounds that night. The protesters kept themselves occupied, waving American flags and singing patriotic songs. Some of them held signs that had been recently spotted around the neighborhood, reading "Wake up America, Peekskill did."But the mood changed rapidly as the sun sank. As would-be audience members drove up the road and attempted to enter the grounds to attend the concert, they found their path blocked by several large trucks and piles of rocks. Soon the traffic jam stretched for two miles. Those in the back of the line couldn't tell what was going on. Tensions rose. Concert organizers assembled their own guard, forming three lines stretching across the road. They crossed their arms, stared their antagonists in the face, and waited. At 7:30, the violence began. Protestors broke off pieces of a nearby fence and swung them at the men facing them, screaming, "Kill the Niggers, kill the kikes, kill the Communists.""No one of you leaves here alive."A young Black girl just arriving on the scene with her parents looked up to see plumes of smoke rising from the hillside. A twelve-foot wooden cross burned brightly against the darkening sky.Tommy Tomkins, a local white high schooler, only tagged along to the protest because his friend with a car wanted to go. He was seventeen, "the gung-ho age where John Wayne makes you feel happy." He couldn't see much when the violence broke out on the road. Men were standing around with bats and then suddenly, a voice yelled that somebody had been knifed. Everyone began pushing and punching. He watched his friends as they threw rocks into the crowd. He saw a group of men pull a nicely dressed woman from her car and punch her, over and over. He felt scared, excited, frightened, sick. The men surrounding him were in their thirties and forties, salesmen and clerks, men he saw every day. Some were college students home for the summer, and many were active in their local churches. The only way he could tell one group from another is that the guys he was with were the ones shouting, "Kikes! Go back to Russia!" Finally, he managed to slip away into the night, leaving his friends behind.By ten o'clock, state police broke up the melee. Protestors melted back into the woods. Only twelve arrests were made, including several of Tommy Tomkins's friends, who were proud of their newfound fame. A judge let them off with a warning.*Ku Klux Klan activity in Peekskill, just an hour north of New York City, was nothing new—local groups protested Catholic presidential candidate Al Smith in 1928, and every few years they organized a march against an assortment of perceived foes. But in 1949, Russians tested their first hydrogen bomb and Communist forces gained the upper hand in China. Anti-Communism became a great panic, a fever-dream in which enemies suddenly appeared in the guise of friends and neighbors. It wasn't hard to hate and fear Communists, if you had already grown up hating and fearing Catholics and Jews and Blacks. But none of the concert organizers had imagined the kind of violence they would face. "Why should anyone make trouble?" asked writer Howard Fast, chairman of the concert, in the days leading up to the event. It wasn't a political meeting or demonstration, just a summer picnic.The concert's main organizer, William Patterson, a prominent Black Communist and the executive secretary of the leftwing Civil Rights Congress, planned the event as a fundraiser and as a showcase for Robeson, his close colleague. But Robeson never made it to the concert grounds that day—stuck in the traffic jam caused by the roadblock, he returned to Manhattan amid rumors that he was being burned in effigy somewhere along the hillside.Robeson had performed in Peekskill at benefit concerts for the Civil Rights Congress for the previous three years without incident. But veterans in the northeast began protesting Robeson earlier that summer, after the Associated Press reported the singer as saying, "It is unthinkable that American Negros would go to war on behalf of those who have oppressed us for generations, against the Soviet Union, which in one generation has lifted our people to full human dignity." Many chapters of the American Legion, and other veterans' groups, immediately denounced Robeson as a Moscow-loving Communist, an un-American. Veterans of Foreign Wars picketed a Robeson concert in Newark, and the New Haven American Legion tried to ban his concerts there. The Peekskill Evening Star published Robeson's comments days before the Peekskill concert, prompting several locals to pen letters to the editor, calling on concerned citizens to take action. "The time for tolerant silence that signifies approval is running out," one writer declared."It is clear that fascism can be introduced gradually and almost imperceptibly." On August 30, thousands of people gathered in Harlem's Golden Gate Ballroom to hear Robeson declare he would return to Peekskill to deliver his canceled concert. In response, veterans again announced that they would stop the event, pledging to bring 30,000 people to parade and demonstrate at the new concert venue, the Hollowbrook Country Club. At this, the local media and the District Attorney grew alarmed, and the DA pleaded with veterans' groups to move their protest elsewhere. They refused.On the afternoon of September 4, over 20,000 people arrived at the country club and took their seats on the lawn. African-American soprano Hope Foye stepped onto the stage and delivered the first half of the program, singing the art song repertoire of Bach, Verdi, and Mozart. Then Robeson, a towering figure with a resoundingly deep bass-baritone voice, took the stage. He began to sing a traditional African American spiritual. When Israel was in Egypt's land … Let my people go … Oppress'd so hard they could not stand … Let my people go.Up and down the hillside, thousands of men, most of them white, stood together in a human chain, encircling and protecting the concert and the singer. One guard could see down to the entrance of the Hollowbrook grounds at the far end of the field. At 1:30 p.m., as Robeson began the second half of his program, the guard heard the protestors' parade begin. Though the protestors had promised to bring thirty thousand, the guard counted fewer than a thousand people, walking in single file to make the group seem bigger. About half an hour later the parade marched back into view from the other direction, this time attempting to make even more noise. "Hitler started it, we'll finish you!" the marchers yelled. "Hitler killed only half the Jews, we'll kill all the rest!" "You got in, but you'll never get out!" The guard saw a policeman laugh.As the concert ended, audience members trickled back to the parking lot to find that the bus drivers they had hired to drive them back to New York had disappeared. Men from the audience, many of them old-time labor activists from the Fur and Leather Workers Union and other radical unions, immediately climbed into the buses and offered to drive everyone home. As vehicles moved single-file down the narrow lane, police moved in and slowed the flow of traffic at the country club entrance. As cars inched past the police roadblock, drivers could see that the roads were lined with protestors, many wearing white World War I helmets. The police turned away from the protesters and stood facing the road, as baseball-sized rocks flew through the air, launched from protestors' hands and aimed at car windows. Many hit their target. Men, women, and children were caught in a trap, huddling low in their cars as missiles hurtled through their windshields. One man sat in his battered car and picked shards of glass out of his young daughter's hair.Protestors began hunting down any Black people they could find, pulling them from their cars. One Black man was dragged from his car and hit over the head by several men. As he attempted to crawl underneath the car for protection, four state troopers stepped in to join the melee. The man crawled back down the road towards the concert grounds as the troopers continued to beat him.The Westchester County Grand Jury ultimately indicted six people for their actions during the second riot. None faced serious consequences. In the meantime, Robeson launched a six-city concert tour, vowing he would not be silenced "until every Black man in America can walk with dignity in his own country."*After that night on the road, Tommy Tomkins began to listen carefully to the things his mother said about Jews. She made it sound like Jews had taken something from them, and the riot was a way of trying to even the score. It made him uncomfortable, but he couldn't find anyone to talk to about it. His house was full of lace doilies, but no books. The Peekskill riots turned him into a liberal, he said later. He decided, all of a sudden, to leave Peekskill, maybe go to college. He didn't return home for class reunions.Following the riots, accusations flew in all directions, and many commentators tried to reconstruct the causes of the violence. Some veterans admitted that they had not anticipated the intense currents of hatred that had surged through the crowds of protestors like an electrical fire. The ACLU's investigative report blamed anti-Semitism as the chief cause of the riots, but the Civil Rights Congress demurred, suggesting that "the pogrom was more against Negroes than against Jews." A writer for the New York Age, a Black newspaper, blamed whites on both sides of the divide, arguing that Black bodies were on the line whenever whites instigated violence. Communism, with all its promised panaceas, the columnist wrote, could not solve this fundamental problem.Woody Guthrie remarked later that he'd seen a lot, but Peekskill was the worst.The Westchester Grand Jury, convened to examine the causes of the riot, placed blame on Communists, concluding that men like Robeson and Patterson hoped to inflame racial tensions for their own political gain. The anti-Communist, Jewish intellectual-led journal Commentary reached similar conclusions. "Peekskill is an ordinary American community which has undergone rather extraordinary social strains," they wrote. The authors argued that the riots did not erupt solely from prejudice, but also from a necessary defense reaction against the "totalitarian regime waging an undeclared war" against America. They also placed the blame for the riots on social upheaval, racial integration, and the influx of left-wing summer residents who had a destabilizing effect on the community.Blaming Cold War fear-mongering on American elites, the socialist Monthly Review countered that the riots erupted because large swaths of the American public had been "worked up to a dangerous state of frenzy." The Review's editors declared that the real perpetrators of the violence in Peekskill were the federal government, the police, religious authorities, and the media. Ultimately, these authors believed, the violence at Peekskill demonstrated to those paying attention that the American ruling class need not trouble itself by assembling paramilitaries like the SS, because the instruments of power were already available for the taking. Institutions of social control, from the police, the media, veterans' organizations, and local government, could be effectively harnessed as special instruments of violence and intimidation. "It is clear that fascism can be introduced gradually and almost imperceptibly," they wrote. Fascism was imminently achievable in America, they believed, because the country lacked a strong labor movement and an outspoken liberal intellectual class that would strenuously defend the violation of civil liberties when they occurred against political and racial minorities.*The folksinger Woody Guthrie, who experienced the second riot from a smashed-up Jeep, remarked later that he'd seen a lot, but Peekskill was the worst. He holed up at home in the following weeks and churned out twenty-one songs about that night. Guthrie wrote obsessively, spanning musical genres from Carter Family country standards to Joe Hill protest ballads. Thematically, the songs all focused on the same material: burning crosses, stoning, and police violence. His moody, dark "Peekskill Blues" includes the lament, "P'liceman beatin' down my buddy / I c'n see him in my dream / If you ev'r seen your buddy Kueklucked / You know just what I mean." In his characteristically repetitive, circular style, Guthrie's focus returned to rocks flying, and blood dripping on broken glass. In his telling, the bloodshed in Peekskill flowed into the Hudson River, so "New York waters gonna taste like Peekskill blood." But Guthrie didn't believe in passive resistance; he threatened to "grab you bloodyrock hoodlums, an' I'll sink you in that Hudson mud." Throughout his Peekskill song cycle, Guthrie blasted the enthusiastic violence of small-town American men and women, the casual way they invoked Hitler, and the group mentality they cultivated that bred vicious hatred.Born a year after the brutal lynching of a mother and son in his Oklahoma hometown, Guthrie came of age in an atmosphere of casual, unreflective racism. As a young man in 1930s California, Guthrie sang minstrel songs on his radio show until he received a "politely incandescent" letter from a young Black listener. The effect of this letter upon Guthrie was profound: he read the letter on air, publicly apologized, and promised he would never use the word "nigger" again. From Guthrie's subject position as a "Dust Bowl refugee," he slowly developed an empathy for the underdog that would characterize his later lyrics and activism. He began to examine the stories of other marginal and disenfranchised people in songs such as "When the Curfew Blows," which described police harassment of migrants. Fascism had always been creeping in around the edges of American politics, but now it had sprung up overnight in poisonous fluorescence, threatening the vitality of the entire landscape.After World War II began, Guthrie joined the merchant marines. He grew angry at American hypocrisy, at segregated troops, and at the arbitrary cruelness of Jim Crow. In reaction, Guthrie began honing his own theory of fascism: "Anybody that hates a whole race or color or a whole nation or a whole continent of people is a Nazi and a fascist," he declared. He believed that the American people needed to be on constant guard against the fascists and Nazis in their own country, not just overseas. To his alarm, these forces did not recede after the war. Guthrie worried that World War II had been fought for nothing: America retained its status quo.In the late 1940s, Guthrie wrote a series of letters to his mother-in-law, the Yiddish poet Aliza Waitzman Greenblatt, in which he reflected on his sense of anguish that the forces of hate that brought the world into two massive wars could still endure. Guthrie worried that past generations made "sad and terrible mistakes" that the current generation could not undo. He wondered if his generation "did not do all in our earthly powers to set those wrong things right." Borrowing from the language of the Jewish prayer Al Chet, the confession of sins recited eight times during Yom Kippur, the day of repentance, Guthrie composed his own pseudo-liturgical invocation. "We trusted wrong friends," he wrote. "We followed wrong crowds. We read wrong words. We went lost ways and walked in the wrong winds. But we did fix up our rooms a little speck better than we found them. We found two faiths, two gospels, when we passed by this very spot, one gospel was the gospel of hate, and the other gospel was the gospel you call love … to the best of our mental ability, some of us in your generation and my own worked and labored to make the gospel of love sound out a little plainer."*Peekskill didn't change Guthrie's vision, but it tinged it. For those on the left, men and women who had fought against fascism in Spain and then across all of Europe, homegrown fascism looked like a toxic bloom. It had always been creeping in around the edges of American politics, but now it had sprung up overnight in poisonous fluorescence, threatening the vitality of the entire landscape.By the late 1940s, it was sickeningly clear that Franklin Roosevelt's New Deal, a rough coalition of labor unions, Jews, African Americans, Catholics, and Southern Democrats, was finished. In 1948, FDR's former vice president Henry Wallace ran a third party presidential campaign under the Progressive Party, advocating government-funded universal health insurance, full voting rights for African Americans, and an end to the Cold War. He received zero electoral votes, and eked out a popular vote tally behind that of segregationist Strom Thurmond.1949 became symbolic of this vertiginous transition from the FDR years into a more fractured, chaotic era. Reflecting on 1949 from the relatively removed vantage point of 1974, playwright Arthur Miller wrote an essay for New York magazine entitled "The Year it Came Apart." Miller applied a dramatist's eye to the transformation of American society in the late 1940s. He called 1949 "the last postwar year," arguing, "an era can be said to end when its basic illusions are exhausted." In early 1949, Miller's Death of a Salesman first appeared on Broadway. His audience that year came of age during the Depression, elected the same president four times, witnessed Pearl Harbor, and won a World War. They understood Willy Loman's struggles intuitively. But Miller soon lost his sense of communion with the public—the "tender pity for the fallen man" that characterized initial responses to Death of a Salesman became "a new bellicosity" in the public sphere, characterized by the vicious takedown of the vulnerable for the sake of power harnessed to moral authority.Psychoanalysis overtook Marxism, and suddenly everyone was searching for hidden meanings, Miller believed. "We would be entering a period of what the Puritan theology called Spectral Evidence, the testimony of afflicted persons against their invisible, devil-sent persecutors," he wrote. In 1952, veterans groups picketed the film version of Death of a Salesman, and pressured Miller to issue an anti-Communist declaration. In response, he wrote The Crucible, a story of the Salem witch trials.On December 15, 1951, William Patterson and Paul Robeson delivered a petition to the United Nations, accusing the United States government of genocide. The document, hundreds of pages in length, censured state-sponsored racism, from police slayings in the North to lynchings in the South, and blasted "lives deliberately warped and distorted by the willful creation of conditions making for premature death, poverty, and disease." The petition included an appendix listing hundreds of cases of the killing or assault of Black people since 1945. The American paradox was stated boldly for all to see: the ostensible guardian of democracy and freedom could not bequeath basic human rights to a portion of its own citizens. Largely ignored by the press and ridiculed by politicians, the petition nonetheless served future generations of Black activists, from the Black Panthers to Black Lives Matter, as a record and a template for holding the state accountable for its crimes.A year before the Peekskill riots, Guthrie wrote in his diary, "Fascism is the gospel of hate that makes so much noise. You'd think that the gospel of hate was more in our mainstream than down in our undertow. The yells of hate are not as loud as the soft little echo of love and democracy. This fascist hate will wax your ears and spike your eyes, and love and love alone can heal the dead." For Guthrie, this soft little echo of love and democracy was the only thing that could stand up to the Goliath of homegrown fascism. For many Americans now, it is the only tool they have left."We trusted wrong friends..." Woody Guthrie, May 26th, 1949. Copyright Woody Guthrie Publications, Inc."Anybody that hates a whole race..." Woody Guthrie, June 14, 1949. Copyright Woody Guthrie Publications, Inc."Fascism is the gospel of hate..." Woody Guthrie, July 1948. Copyright Woody Guthrie Publications, Inc.Excerpts from "Peekskill Blues," by Woody Guthrie, Copyright Woody Guthrie Publications, Inc.
The specific way men interview women (5:05), Rory Gilmore, journalist (17:17), and the Avril Lavigne riots of 2021 (48:27)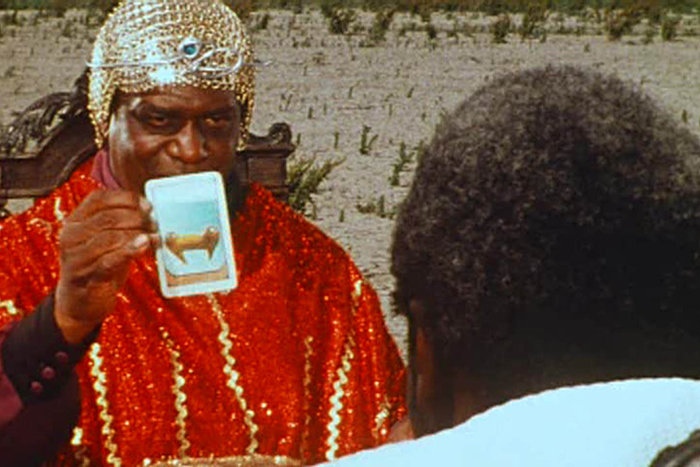 In order to find purpose and affirmation, Black artists rethink time and space as we know it to find a place for themselves.
In September 2015, Kyle Lydell Canty of Rochester, New York, travelled to British Columbia. He hadn't planned to stay for long, but after two days in Canada, Canty decided to apply for refugee status. He appeared before the Immigration and Refugee Board of Canada in October of that year with the argument that Black Americans were "being exterminated at an alarming rate." As proof, Canty alleged that he had been harassed by the police in six states in which he held offenses, such as jaywalking and disorderly conduct, that he claimed he never committed. Although the Board ultimately rejected his candidacy on the grounds that Canty would not be subjected to "cruel and unusual punishment" upon his return, Ron Yamauchi, an IRB member, did find that the actions of the American police "raise a question about [Canty's] subjective fear," a fear that, according to the United Nations, is rooted in historical and racially terroristic acts, such as police killings and "state violence."In 1838, after a failed attempt that led to his incarceration, twenty-year-old Frederick Bailey used his nautical knowledge while working at a waterfront to disguise himself as a free Black sailor and boarded a train from Baltimore to New York where he then changed his last name to Douglass to avoid suspicion.James Baldwin could not reconcile himself with America. He travelled and lived in places such as Istanbul and Paris in the 1960s, where, according to a 2009 essay in The New Yorker by Claudia Roth Pierpont, he would not be shamed for the color of his skin or his sexuality. Nina Simone revealed in her autobiography I'll Put A Spell On You why she left America for Liberia in the 1970s: "I had arrived in Liberia with no idea of how long I intended to stay; after a few hours I knew it was going to be for a long, long time—forever." When she returned to the States for financial reasons, "I flinched at every noise, expecting terrible events that always hit me when I arrived in the country that disowned me ... I ... longed for Liberia …"The desire to escape endures within many Black Americans. It manifests in literal attempts at relocation, as in Canty's case, but also through our art. "I think to be born Black in America," said the video and performance artist Lex Brown, "is to be fully in touch with, one, the universal existential crisis of being human, two, the crisis of carrying on the body of an un-chosen evidence of the fundamental hypocrisy of America (i.e. home of the free, land of the slaves) and three, the impossibility of escaping or delaying crisis number one because of number two." Our perpetual lack of belonging fuels our desire to flee, but where do you turn when there seems to be nowhere to seek refuge?*Sarah Yerima, a Rhodes Scholar studying sociology at the University of Oxford, has been moving between countries for five or six years, from the United States to Brazil to the United Kingdom. "I've been trying to find some peace and it's all terrible. No matter where I am, the anti-Blackness is pervasive. However, the arts give a kind of comfort." In 1977, The Isley Brothers released "Voyage to Atlantis," in which lead singer Ron Isley croons to an unnamed woman about sailing to a "paradise out beyond the sea." That same year, DC Comics released issue #452 of the Adventure Comics series, in which Black Manta, a Baltimore native turned supervillain whose nautical and birth origins are reminiscent of those of Frederick Douglass, seeks to take Atlantis from Aquaman, a blonde-haired, white superhero, by killing his son. In a standoff, Black Manta says to Aquaman, "This city ... shall ... be a new empire over which I alone shall rule! ... I had recruited enough of my own people to serve that purpose …""Your people?" Aquaman responds. "You mean ... surface dwellers?""No," Black Manta says, "I mean exactly what I said, 'My people.' Or have you never wondered why I'm called Black Manta?" Black Manta wanted to create an underwater colony in which African-Americans could rid themselves of a white-dominated surface world.In the packaging for Outkast's 1996 sophomore album ATLiens, the artwork features Big Boi and Andre 3000 as freedom fighters against censorship and population control; Atlanta is re-pictured as the lost city of Atlantis. These artistic renderings of a Black utopia present a hopeful future—places where we can live in all of our complexity and without oppression."If you think about how American planning has worked, it has always pushed towards a utopia. New York, Chicago—all major American cities—as violent as they were, were utopic visions," says Jess M., a student and researcher of the Massachusetts Institute of Technology's Department of Urban Studies and Planning. In designing cities deliberately to oppress people of colour, she says, "planners believed that if Black and brown people didn't exist, then these utopias would."This racism has led many Black artists to reimagine fictitious nations, such as Atlantis, or develop new mythologies altogether through Afrofuturism, a literary and cultural aesthetic that blends historical components, along with science fiction and fantasy, in order to center Black people.The musician, philosopher, and filmmaker Sun Ra was one of its pioneers, creating what Ytasha Womack, author of Afrofuturism: The World of Black Sci-Fi and Fantasy Culture calls, "sonar sounds for the space age in the '50s." In the 1970s, the Afrofuturistic sound began to expand. Combined with sci-fi elements in works such as "Spaceship Lullaby" and "Africa," in his 1974 film Space is the Place, Sun Ra, playing the protagonist, seeks to transport African-Americans to occupy a new planet in outer space he discovers with his crew, The Arkestra.Sun Ra's influence continues to be felt. George Clinton and the Funkadelics incorporated Afrofuturism into their works through electronic instruments, space costumes, new mythology, and mind-boggling wordplay. Janelle Monae's android aesthetic is a direct descendent of Sun Ra's innovation. Contemporary artists Amaryllis DeJesus Moleski and Sheena Rose depict black women as goddesses, mythical creatures, and arbiters of their universe. As Stephanie George, former curatorial fellow of New York's Museum of Contemporary African Diasporan Arts, puts it: "You have to disrupt temporality." In order to find purpose and affirmation, a Black artist must undermine time and space as we know it to find a place for his or herself.*Since the 1800s, refuge and relief from racist violence and oppression has meant any number of things: escaping to the North, fleeing to a different country altogether, or staying put physically while moving forward in one's imagination to create a world where Black people are uplifted and able to live as multidimensional human beings. Many of the greatest African-American works of art have been the products of times of oppression. Our art is a form of resistance.So now, days away from the inauguration of a president whose platform was praised by the Ku Klux Klan, what happens to that art? Will there be a new renaissance or simply a continuation of established genres? Geraldine Inoa, a playwright at New York's Public Theater, says that disturbing events like the Trump inauguration often inspire people to "retreat" to other artistic movements. "But because this art exists in this reality under this president, it will be different. Trump is rather unique in that he has risen during new a technological world that has changed the way art is created and shared. We will see a new renaissance based on the current reality that combines the modern tools artists have their disposal."Or, as the queer femme writer and editor Myles Johnson puts it, "there's going to be a renaissance and we can't help it. Black people have never not been creative."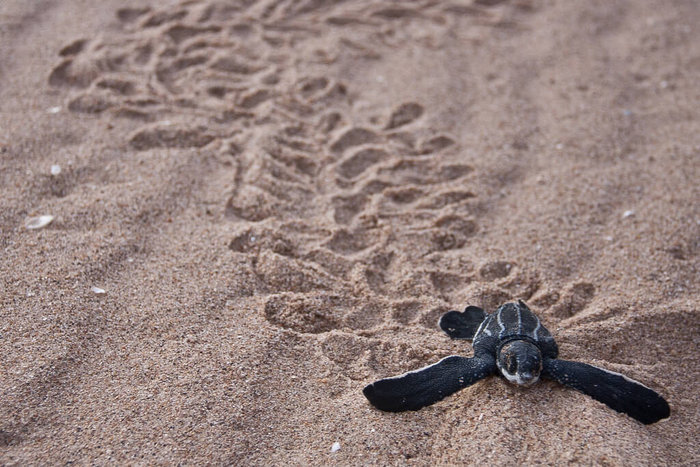 Before I read The View from Saturday, I saw anger as a luxury, a way to take up physical and emotional space that I didn't think I deserved to occupy.
Anger has always mystified me. My natural inclination is to observe the world and myself from an objective distance rather than dive into a messy free-for-all of emotional expression. I don't fight with people or punch walls, or do anything that might betray the equilibrium that I try to maintain out of habit. But a few years ago, I got into a fight with a college roommate. When she yelled at me, I yelled back. I was terrified, but also felt a foreign rush of power and relief. I tried to explain the gravity of my actions to my friends when I recounted the incident, and it was hard to keep the smile off my face. To this day, I remember how good it felt to be heard, something I've been striving for my whole life.When I was younger, I was fixated on the idea of being normal, a fantasy in which no one would ask me where I was from or what I was. When other people at school asked if my name was Eggo-waffle Schifellite, or commented on my food, "Burfi? More like BARF-I!" I never got angry out loud. Instead, I asked my parents why people were so mean—as if understanding their motivations might erase the feelings of rage and shame that come from feeling like you don't belong. Even adults who asked me what languages I spoke at home were trying to label me before they knew me. Being a self-reliant and suspicious child, I didn't trust that expressing my frustrations with the adults around me would change their behaviour. Instead, I decided to let people put their labels on me as if I were a blank canvas, to give up in the face of constant, implicit demands to justify my existence. I strived for neutrality and calmness on the outside, thinking I didn't have the luxury of an emotional outburst; it was hard enough to get people to look past my face and see a person rather than a curiosity. This became a natural state for me, but when I wanted to express anger, I didn't know how to do it. As a preteen, I looked to feisty heroines such as Ramona Quimby and Sammy Keyes in my search for guidance on how to feel out loud, but my role model for anger, then and now, was Nadia Diamondstein in E.L. Konigsburg's The View from Saturday.Konigsburg's 1996 Newberry Award-winning children's novel tells the tale of a group of four sixth-grade nerds in the town of Epiphany, New York. It's an oddball group and Nadia, the only girl, is a smart, cherubic redhead who has deep convictions and a fierce attachment to her dog, Ginger. I was initially drawn to her because, like me, Nadia is mixed ("Half-Jewish; half-Protestant," she says, a combination I found exotic in its tameness). In the book, she's spending her first summer back home in Florida with her father after her parents' divorce. Her father has moved into a "swinging singles" apartment building and her Grandpa Izzy has gotten married to a woman named Margaret, whose primary pastime is working with the Department of Environmental Protection to help monitor the spawning sea turtle population in the Sargasso Sea. Despite her cool demeanour and tendency to intellectualize the world around her, Nadia is very, very angry. When she learns that Margaret was the person who helped her mother get a job in upstate New York after the divorce, she's overcome with rage. "There is no worse feeling in this world than the feeling that someone knows something about you that he has kept to himself," she narrates. "My heart was pumping gallons of blood up to my face. I could feel my neck throb." But, she is careful to say, "I controlled by voice so that it would not quiver."When I encountered Nadia on the beaches of Florida, I had had a lot of practice rationalizing my anger into submission, and I thought I was pretty good at it. But when I read The View from Saturday, I realized my well-honed coping strategies weren't as effective as I had imagined. I was in awe of Nadia's honesty with herself; she doesn't self-censor, or talk herself out of things, or deny her anger when it becomes too big to ignore.Nadia erupts at her father as they sit trapped in his condo during a violent tropical storm, and the fight is a propellant—a new beginning. Instead of brushing her off after their argument, Nadia's father finally hears her. And her anger also propels her into action: in expressing it, she realizes she can either exist alone in her fortress of solitude, or help to save hundreds of baby turtles from being swept out to sea. She chooses to help, and in doing so finds that she has also asked for help in a tough situation.Nadia analyzes her feelings of despair and pain, but ultimately it's her anger that helps her speak up for herself, to articulate what she wants and to not apologize for her feelings even if they seem illogical. Nadia slowly realizes why she's angry, reflecting on the helplessness she's felt since the divorce and her move across the country—"No one seemed to think that it would matter to me where I lived," she says. Konigsburg never implies that Nadia's anger is invalid; rather, Nadia's anger is the momentum that drives her forward, that forces her to spring into action when the turtles, and her own family's happiness, are in danger. Konigsburg also gives Nadia the room to reach the end of her journey on her own terms and in her own time, indulging in the character's grappling for a methodical answer to a messy problem. Konigsburg is patient with Nadia, and from that I gathered that maybe the world would be patient with me, too.When I revisit The View from Saturday for a hit of nostalgia and cultural comfort, I'm reminded all over again about the simple, essential lessons I learned from Nadia. It seems obvious as an adult, but before encountering Nadia, I saw anger as a luxury, a way to take up physical and emotional space that I didn't think I deserved to occupy. Afterwards, I saw it as a show of strength, in Konigsburg's portrayal of a bookish kid trying valiantly to keep a leaking raft afloat. When Nadia finally realizes she can't feel better all by herself, nor does she have to, something clicked for me too. I think of Nadia when I'm marching in a political rally or arguing with my boyfriend instead of pretending that I don't care about what happens to me. She taught me that I deserve to have my voice heard. Through Nadia's story, Konigsburg shows us that silence may be an effective weapon for shutting people out, but anger can help bring them in.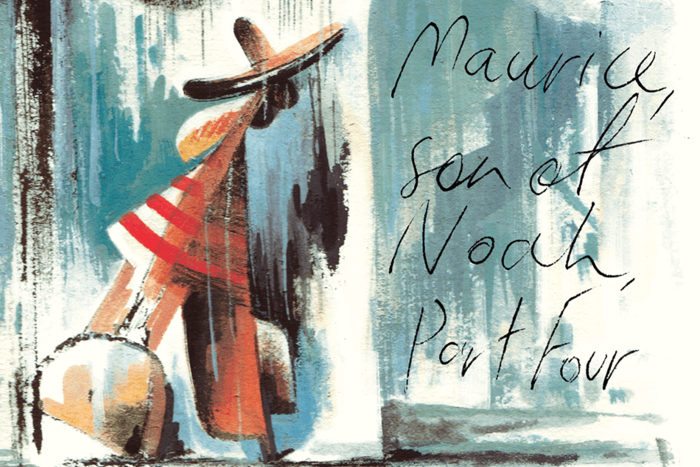 There are an approximate 239456789987565 flood myths in recorded history. Here's another one.